How to Optimize Website Conversion Rate With Dynamic Content
You have invested money and spent a lot of time developing an ecommerce store. Of course, you expect to get high sales, but you cannot boost ecommerce conversions simply by having an online shop. You need to put a lot of effort into attracting new customers and motivating them to purchase your products.
Dynamic content powered by artificial intelligence and machine learning can help you to optimize your website conversion rate by making the customer experience more relevant and intuitive.
If your retail business doesn't use ecommerce personalization, you're losing revenue. Over the past year, businesses lost $756 billion due to a lack of personalization.
Gartner predicts that by 2020, smart personalization engines will enable ecommerce businesses who successfully apply personalization to increase their incomes by up to 15%.
To understand how your ecommerce business can benefit from personalization you need to understand dynamic content and its role in boosting conversions. In this article, we will show you six efficient ways of using dynamic content to increase ecommerce conversion rates.
The power of personalization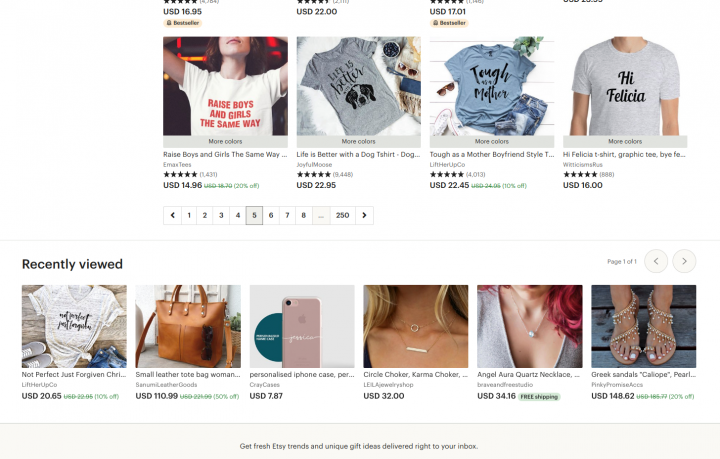 Customer expectations have increased so much that retail companies name personalization as a top ecommerce technology investment priority.
Website personalization is the process of creating the best possible user experience (UX), one that is tailored to every online visitor's needs and desires. A dynamic site displays a unique experience based on the preferences of the visitors who reach your online store.
Web personalization used to be a challenging and time-consuming task. These days, with personalization tools for ecommerce, personalization became much easier to achieve.
Ecommerce personalization highlights products and shows individual offers and product recommendations based on a customer's 'buyer persona' which guarantee that their offers are relevant to them.
There are numerous benefits of personalization in ecommerce. For example, personalization allows you to deliver targeted messaging, which helps to:
Increase customer engagement
Improve customer loyalty
Boost conversion rates
Develop brand affinity
Improve customer retention
Best examples of ecommerce personalization
Companies like Amazon and Etsy have already brought forward personalization through their retail product recommendations, influencing the way marketing managers, retail businesses and customers interact with content.
When it comes to ecommerce personalization and predictive modeling, Amazon is number one. For over 20 years, Amazon has been leveraging high volumes of customer insights and machine learning algorithms to deliver a personalized buyer's journey from product discovery to checkout every day.
For instance, Recommended for you and Top picks deliver recommendations through retail product categories. Interesting finds provides the option to choose some of Amazon's most popular products, updated daily.
On Etsy, you can customize products by going to Personalization on the listing page. From customized onsite content to personalized emails and offers, the company provides its customers with smart content in real-time. Etsy uses advanced algorithms to personalize the homepage and tailor product recommendations based on customer search history.
What is dynamic content on websites?
Dynamic content, also referred as smart content, is a type of HTML content that changes constantly based on a visitor's browsing habits, such as personal preferences, buying history, customer lifecycle, demographics, engagement metrics, geo-location, and other corresponding characteristics. Dynamic content is applied to build an experience that's customized specifically for the end user.
There are lots of benefits to adding dynamic content to your website. Beyond offering advanced personalization and helping retail companies stand out amongst the competition, dynamic content increases conversions by presenting customers with relevant information about products or services.
For instance, you can send personalized emails to customers who leave their shopping carts. These emails are based on the customer's previous shopping behavior and last viewed products. One of the most famous examples of the dynamic content website is Amazon's recommendation engine.
Enhanced personalization is achieved by using ML (machine learning). ML employs data for continuous optimization and allows a system to learn over time without explicit programming. Marketing managers depend significantly on ML technologies to get a fuller picture of customer purchasing behavior and personalize the customer experience through dynamic content.
To function properly, dynamic web content needs a robust marketing technology and CRM (customer relationship management) system to analyze relevant information connected through APIs. It is crucial to mention that dynamic content usually requires a well-structured client base. Thus, dynamic content solutions frequently:
link to a CRM through an API
comprise of integral parts, modules or extensions of a CRM
collect separate databases - which might be integrated with a central CRM - and gather customer data by themselves (grouped by cookies)
Dynamic content vs static content
The content of a website that doesn't change depending on the request is called static content.  Static web pages are written in the HTML language and stored in a web server. A server gets a request concerning a web page and sends a reply to the user without performing any further processing. For example, on static websites, the navigation menu or any other information on its pages would not change according to user behavior.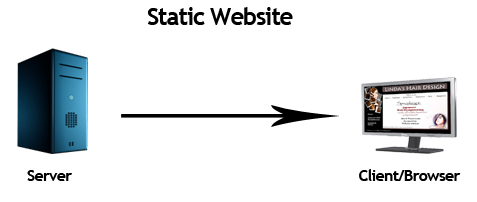 Static Website. Image credit: Javatpoint
Static websites are easy to code and can often load more quickly than dynamic sites since they don't have to employ any kind of algorithms to figure out what data to show from multiple servers. Nevertheless, the drawback is that static content is not personalized and therefore reduces the performance of the website.
On the other hand, dynamic content is steadily updated according to user inputs. Newspaper websites, online stores, and in-browser games all have dynamic pages showing various data, images and videos depending on who's visiting and when. However, dynamic sites can take more time to load.  
Dynamic Website. Image credit: Javatpoint
6 powerful ways to crank up your conversion rates with dynamic content
Below, we'll outline six most common ways in which dynamic content can be applied on an ecommerce website to boost conversions by building a smoother, more user-friendly and personalized UX.
Personalized Product Recommendations
Over the past few years, recommendation engines have become an integral part of ecommerce businesses. Recommendation engines, otherwise known as recommendation systems, are the "brains" behind dynamic content solutions. The most commonly used recommendation method is called "collaborative filtering." Collaborative filtering is an algorithmic method to collect and analyze customer preferences and behavior to come up with the most useful product recommendations for each individual.
In effect, it implies "Others who viewed this, also viewed…" recommendations. The main advantage here is that the recommendations embody the real preferences and interests of your customers.
A recent study on personalized product recommendations says that the conversion rate of visitors who clicked on product recommendations was five times higher than the conversion rate of visitors who didn't click. As a rule of thumb, ecommerce businesses that have a larger number of products to offer benefit from personalized product recommendations the most.
In the example of collaborative filtering below, recommendations are showing the range of items bought or viewed by other people who were interested in the same books as the current visitor.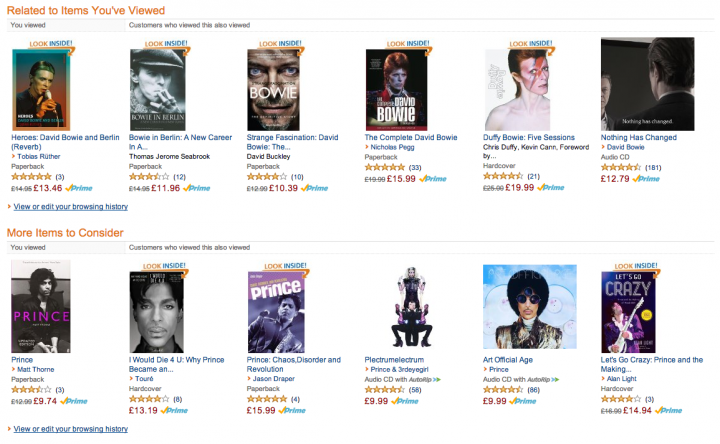 Personalized Product Recommendations. Image credit: Econsultancy
Call to action buttons are crucial parts of any business website, as they form direct points of connection between customers and the retail business from the first interaction to conversion. To incorporate a customized call-to-action, it's significant to maintain customer information across channels.
Dynamic CTAs are meant to simplify the buyer's journey. To achieve this goal, such systems should be extensions of a central CRM which guarantees that visitor data is kept across all channels. Thus, signals coming from each of these channels are gathered and processed at the same time.
For example, say a potential customer is interested in your offerings. If the customer needs to fill in the form again, that could be a constraint for them to proceed further. Dynamic calls-to-action identify the user as an existing customer based on previous searches and provides them with a relevant call-to-action, in turn delivering the experience smoothly.
Dynamic pop-ups are quite efficient in boosting ecommerce conversions as well. Dynamic pop-ups show dynamic content based on exit intent or time spent on page. The main goal of pop-ups is to notify customers about discounts and update or motivate them to log in and leave their reviews.
Usually, pop-ups are displayed when the visitor intends to leave your ecommerce website. Make sure you customize the message using data like geolocation or browsing history to display relevant pop-ups for each potential customer. A well-timed discount offer or reminder about products left in an abandoned cart can save a lot of conversions.
For example, on Marimekko's website (a well-known fashion and home collection brand), which was designed by our developers, the brand displays a dynamic pop-up to encourage visitors to make a purchase by signing up and checking their email for the discount code.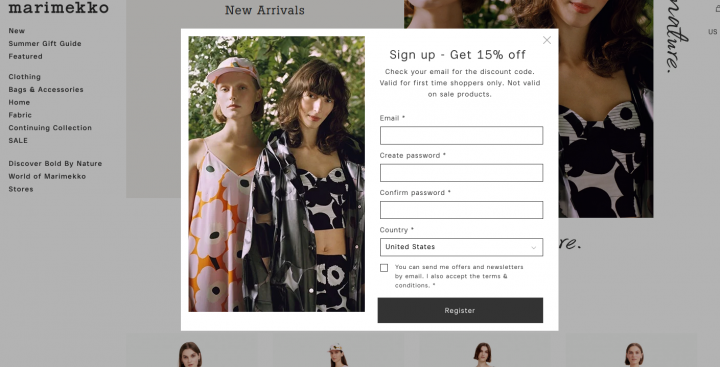 If you've invested time and money into improving the buyer's journey on your online store, why should you stop at the moment when a customer abandons your website? Dynamic banners are tools that can save the progression of a customer's experience and preference even when they leave your online store.
Dynamic banners are a form of "retargeting," a strategy marketers use to get people who visited the website to return. They are the opposite of static banner ads. Dynamic banners don't have any fixed content but update themselves for each customer in real time. Personalized banners are shown on offsite channels, not on the product's original ecommerce website.
In order to detect previous users on offsite channels, it is essential to store unique identifiers that comply with their user histories in cookies. For example, on Facebook, this is done with Facebook Pixel, which detects users through cookies across your website and social media.
The example below is a Dynamic Facebook Retargeting Banner, showing (suggesting) products assumed to be relevant to the visitor based on purchase history and previous interaction of the visitor with the main ecommerce website.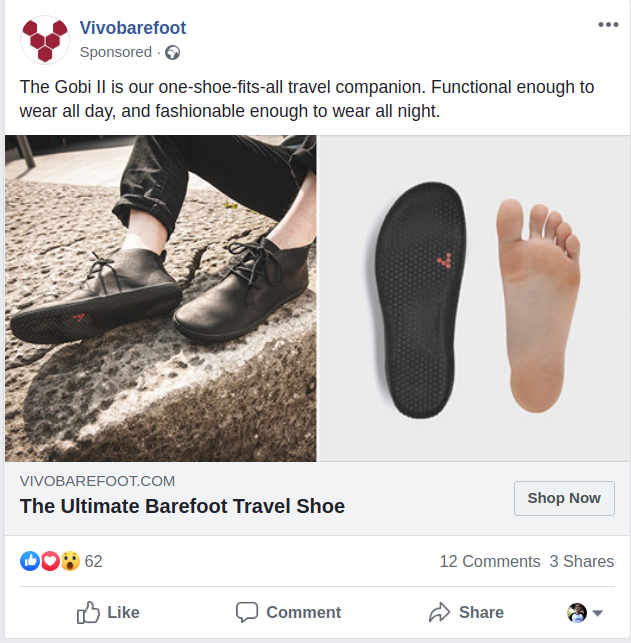 The progress in search technologies in the last few years has had a considerable influence on how customers interact with a digital interface. With the help of dynamic content, a search function is becoming a 'navigational' and 'conversion' tool that helps users to complete and narrow the scope of their searches, leading them to the products directly.
Autocomplete and autocorrect features are the most common example of dynamic search content. For instance, on Turcom's online store (a consumer electronics brand), designed by our developers for our US-based client, customers can find products faster. All they need to do is type the first character and the website will predict what they are searching for and show results as they type. Moreover, customers can hover over any of these 'suggested phrases' and find the most frequently used keywords.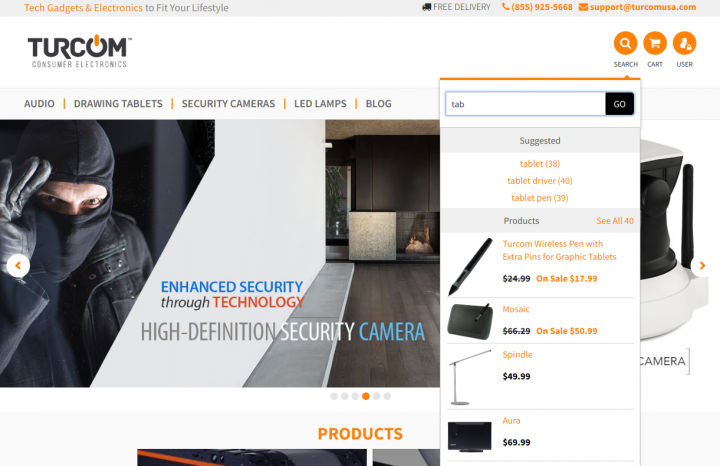 Successful personalization includes customization of every email for your customers. You should combine dynamic content with email marketing to develop a strategy that will boost conversions. Dynamic content can be used in product promotions, transactional emails, and shopping cart abandonment emails.
One of the smart uses of dynamic content can be seen in transactional emails like e-receipts. E-receipts are the only emails that your customers require you to send, therefore they automatically generate higher open rates.
You can also send emails with dynamic content comprised of product reviews or feedback. The content can be chosen based on browsing history or demographic data.
Cart abandonment emails are a popular method for displaying the power of dynamic content. We integrated the Magento module "An abandoned cart" on the Marimekko website. An abandoned cart module is intended to notify customers about the products they added to their shopping cart but didn't purchase by sending them personalized emails. After getting an email notification, the customer can easily recover their shopping cart and complete their purchase.
Conclusion
The progress of dynamic content technologies has provided an efficient way to increase conversion and drive online sales. Dynamic content allows you to deliver a superior user experience with its user-friendly approach to online sales.