Ecommerce Trends for 2015
Our company always stays on the cutting edge of web technologies. That's why our business analytics always analyze market trends in order to provide our customers with the most progressive solutions out there.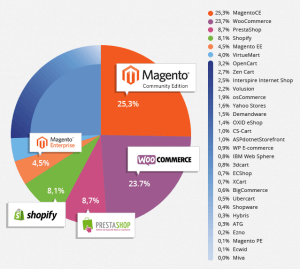 1. Magento
As for now, Magento remains the best open-source ecommerce platform on the market with the biggest marketshare of 25.3% and it will grow, because of the enhancements to be made in the feature Magento 2 release and it's scalability and integration possiblity.
2. WooCommerce
WooCommerce is growing rapidly, because of the easiness of implementation and flexibility, but there is still no scalability and it is suitable only for the really small web shops.
It's market share is 23%
3. OpenCart, Shopify and PrestaShop
Unfortunately their marketshare decreased and this platforms show no potential as for today
Google search trends: