The 2019 Blueprint for Voice Search Ecommerce Optimization
A report by OC&C Strategy Consultants projects that voice search ecommerce will jump to $40 billion by 2022, rising from $1.8 billion today. In addition, the report suggests that over half of the US population will have a smart speaker in their homes by 2022.
Voice-activated speakers and voice assistants on smart devices allow people to get things done quickly and efficiently — and this includes shopping. Currently, Amazon is the leader of the pack in voice shopping — 90% of sales are done through Amazon and its smart devices.
Voice has entered the home in a big way and is now driving change and shaping consumer behavior. As an ecommerce merchant, it's time to think about how to prepare. To do this, you will need to consider how people use voice tech to search for products and how your content, advertising and ecommerce strategy will be impacted.
But first, we need to understand who uses voice search, which devices they talk to, and what they shop for.
Who uses voice search and what do they search for?
As is expected with any new technology, a lot of the early adopters are part of the 18-24 demographic. However, usage is a different story. A PwC survey showed that more 25-49 year olds are using voice assistants on a daily basis.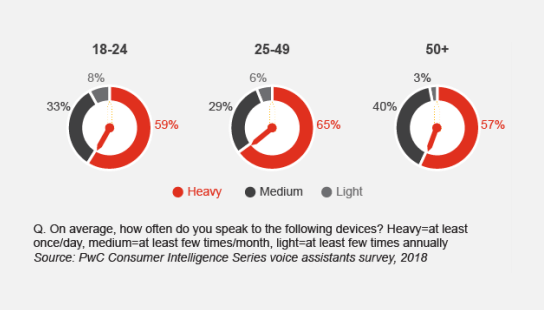 Here's a breakdown of which devices surveyed individuals have spoken to:

The next question is: what are people using their voice assistants for? The same survey demonstrated that despite being popular for more mundane tasks like checking the weather or playing music, voice assistants aren't used that often for shopping online.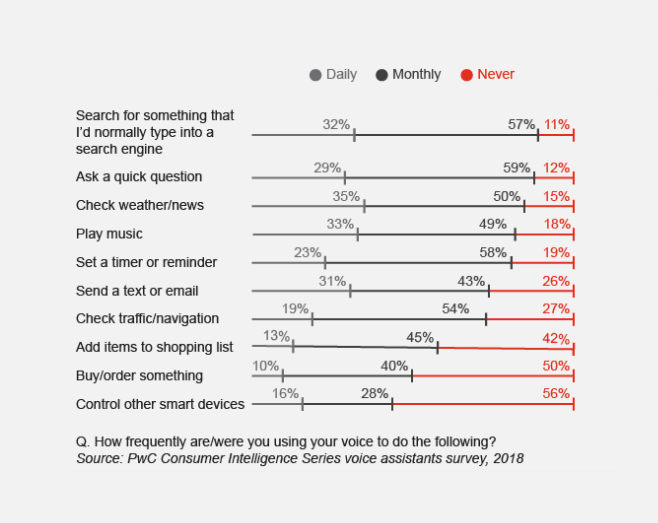 At the moment, voice shopping is mainly seen by customers as a sales channel rather than a browsing experience – 70% of purchases are made by consumers who know precisely what they want to buy. As a result, food products and better known items such as electronics and homewares are the most common categories purchased using voice commerce. These purchases are typically for low-value products.
Now that we know the who and what, let's look at how voice technology is changing consumer behavior and why it's becoming increasingly popular..
How are voice-activated devices shaping consumer behavior?
A ThinkWithGoogle study identified five ways voice-activated devices are shaping consumer behavior:
1) They make life easier
They allow people to more easily multitask.
They enable people to do things faster than on other devices.
They empower people to instantly get answers and information.
They make the daily routine easier.
2) They're at the center of the home
The study showed that 52% of people keep their device in a common room, such as a family room or living room; 25% have them in their bedroom; and 22% in their kitchen.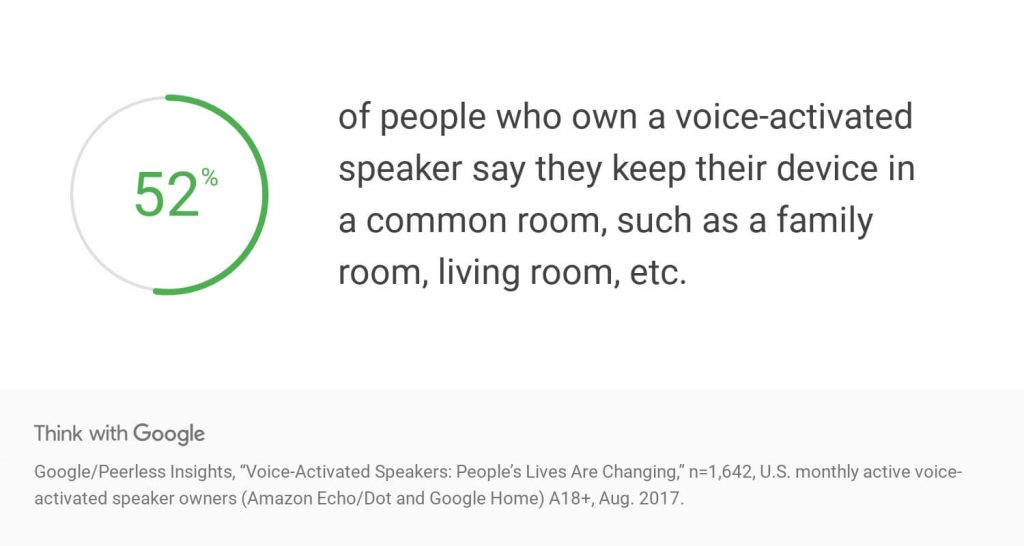 3) They're part of the daily routine
People use their voice-activated devices to quickly make notes, set reminders, check the weather, and other on-the-go activities. Not only are virtual assistants part of the daily routine, they also make tasks more efficient.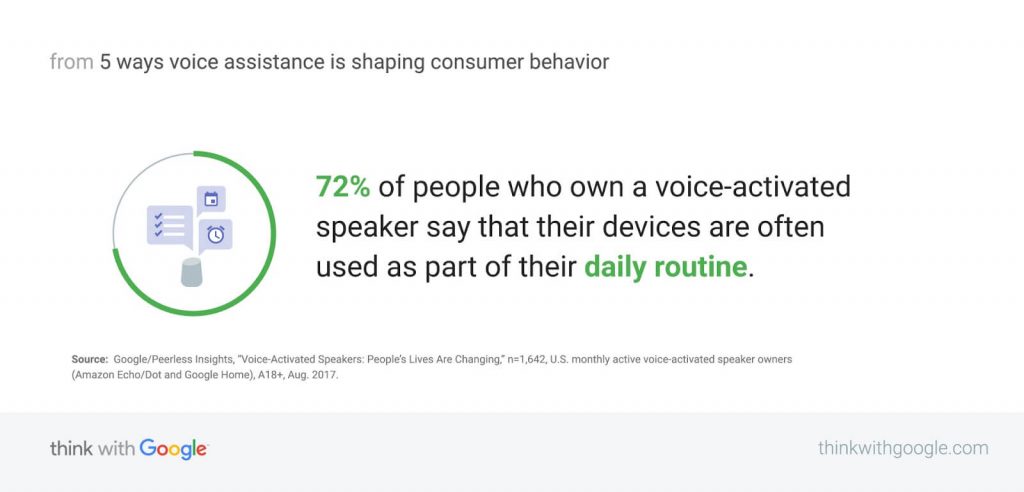 4) They offer a new, more human relationship with technology
Yes, we've all seen the movies and TV shows that show the dark side of AI and the future of technology, but voice-activated speakers are not malevolent at heart. Most people find it easy to talk to virtual assistants, and using your voice to search for things is often quicker than typing. The Google study noted that, "People perceive the devices as more than just an electronic toy, they're more akin to another person or a friend."
5) They're a new playground for brands
This is the part we're most interested in as ecommerce experts. More and more people are shopping online using just their voice (mostly through Amazon). But voice has the potential to boost any ecommerce business through simple voice searches. Since voice assistants give you a limited amount of results to your question or search queries, being at the top of search results (this means SEO) is vital.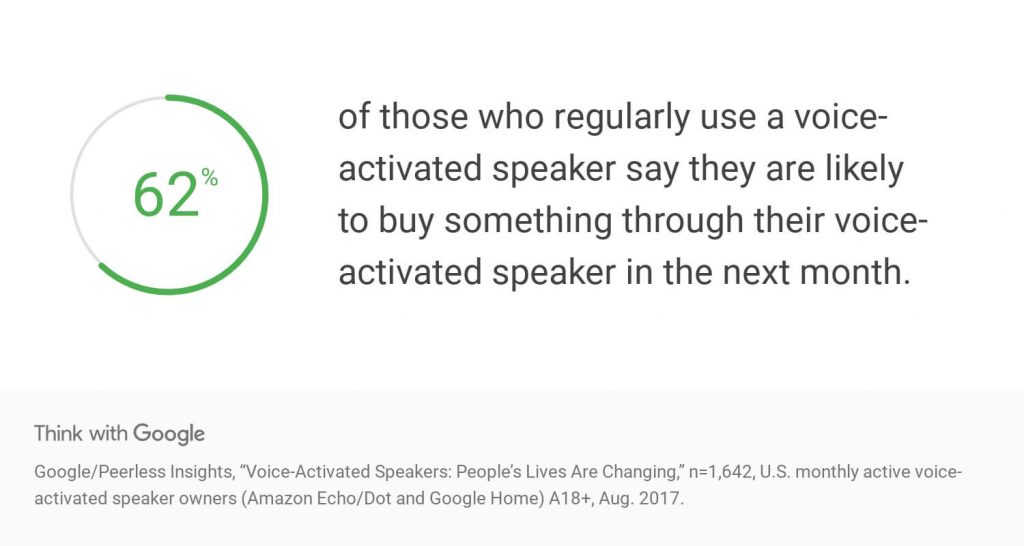 How are companies using voice shopping for ecommerce?
Voice is on the rise and many big names are getting on the bandwagon. Amazon still holds top position, but companies are catching on to the possibilities.
Amazon's Alexa: An ecommerce breakthrough
Amazon has a big advantage — it controls both the voice technology and the marketplace. This makes it technically much easier to connect all the ecommerce functions you know, such as stock levels, shipping, checkout, and everything in between.
With a few voice commands, Amazon's Alexa Voice Shopping service can tell you what the deals of the day are, and upon your request, it can find what you want, add it to your cart, and your order will arrive at your doorstep.
Although Amazon says its voice shopping service is available to all users, the company recommends having a Prime Account as well as a device that is compatible with Alexa Voice Shopping (it is also possible to do voice shopping through the Amazon app).
The list of compatible devices:
Amazon Echo
Amazon Tap
Amazon Echo Dot
Amazon Fire TV
Amazon Fire Tablets
Amazon app (available on iOS and Android)
There are caveats though. First, many users are turned off to voice shopping because of how inaccurate it is. Sometimes it simply doesn't understand what you want. Other problems include adding multiple products to cart (which is currently unavailable). Amazon is investing heavily in its Alexa-related services so these sorts of issues will eventually be solved.
Walmart: Voice-assisted grocery shopping
Walmart is the world's largest brick-and-mortar retailer. However, the retail giant pales in comparison with Amazon's ecommerce sales. They're not taking it sitting down though. Walmart recently announced that they have partnered with Google for voice-assisted grocery shopping.
Walmart's voice shopping service is already available in more than 2,100 Walmart stores and online delivery at more than 800 Walmart Stores. Thanks to the deep integration between Walmart and Google customers' purchase histories will be linked to Google Assistant, so the assistant will know which types of products customers prefer.
Customers can use commands to add items to the cart, checking the cart, modifying the cart, checking product availability and price, as well as order status and frequently asked questions.
Local businesses: Find _ near me
One of the best ways brick-and-mortar businesses can drive customers to their stores is by improving their rank in local search results. Google ranks businesses based on three main factors: relevance, distance, and prominence. If all three are aligned, you're more likely to rank at the top.
If you've recently voice searched with the term "near me" then you're part of a huge trend. A Google Data comparison that looked at data from 2015 and 2017 found a 500% increase in volume when combined with "to buy," "can I buy," or a similar phrase.

In the next section, we will show you what you can do to optimize your ecommerce store (and your brick-and-mortar business) for voice search.
What you can do to optimize voice search: ecommerce, accessibility, SEO
Voice isn't going anywhere. If you haven't thought about how to best leverage this emerging technology, we're here to help. Since we're still in a transitional period, don't worry about getting everything perfect right away. However, with the knowledge we'll share, you can get the upper hand on the competition and ride the wave of voice search popularity.
Adjust your content strategy
When most people engage with their voice-activated device, they don't stuff it with SEO keywords. And they don't treat voice assistants like traditional search engines. They tend to ask questions. The way you answer those questions will influence your rank in voice search.
♦ Add a Q&A page
If you don't have an FAQ page, start writing one today. A strong FAQ page with the right questions and short, concise, and easy-to-understand (9th grade level) answers will propel you to the top of voice search results. The reasoning behind this is that people generally don't want to listen to a long-winded response when they're on-the-go. And more importantly, Google doesn't like long, inaccurate responses.
Add questions using <H2> headers with answers in the body text. Try to use long-tail keywords (strings of 2-4 keywords) instead of 1-2 keyword strings. Also, remember that people using voice search will not have visual references to look at, so if you want to get information across, you have to compress it into easy-to-read text.
♦ Use a conversational tone
As we already mentioned, long-tail keyword phrases will help you to better answer natural language questions. The reasoning behind this is Amazon and Google "teach" their voice technologies to process normal human conversations, not choppy-sounding queries.
Traditional SEO is an amazing tool, but for voice search it's unnatural. Nobody says "used car Boston," they're more likely to casually ask "Where's the nearest used car dealership?"
ThinkWithGoogle data shows almost 70% of requests to Google Assistant are expressed in natural language.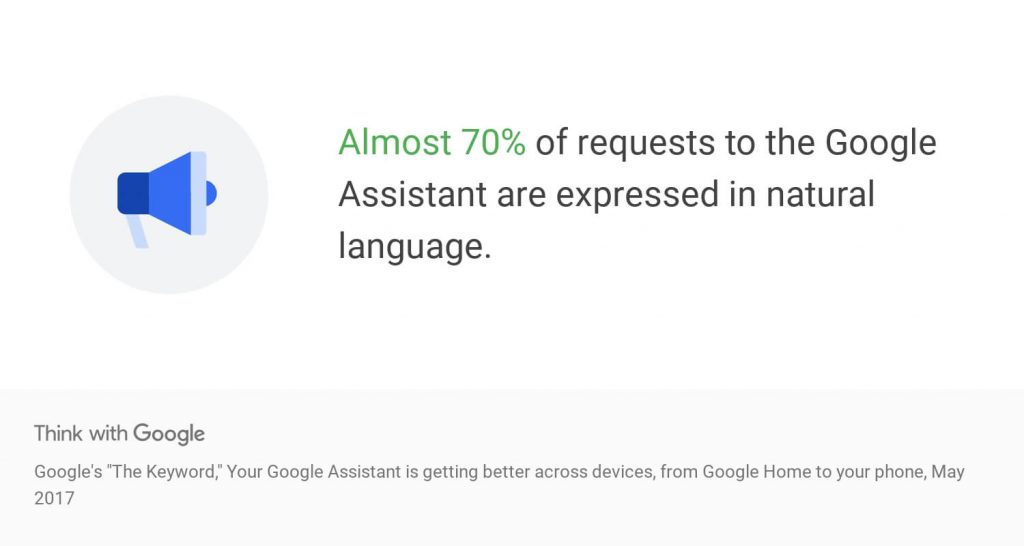 Snippet to win it
One of the best ways to rank higher in voice search results is through featured snippets. You may be unfamiliar with the term, but you know what it looks like. A featured snippet is Google's way of expediting searches by presenting information from a page that answers the search query, often in the form of a question.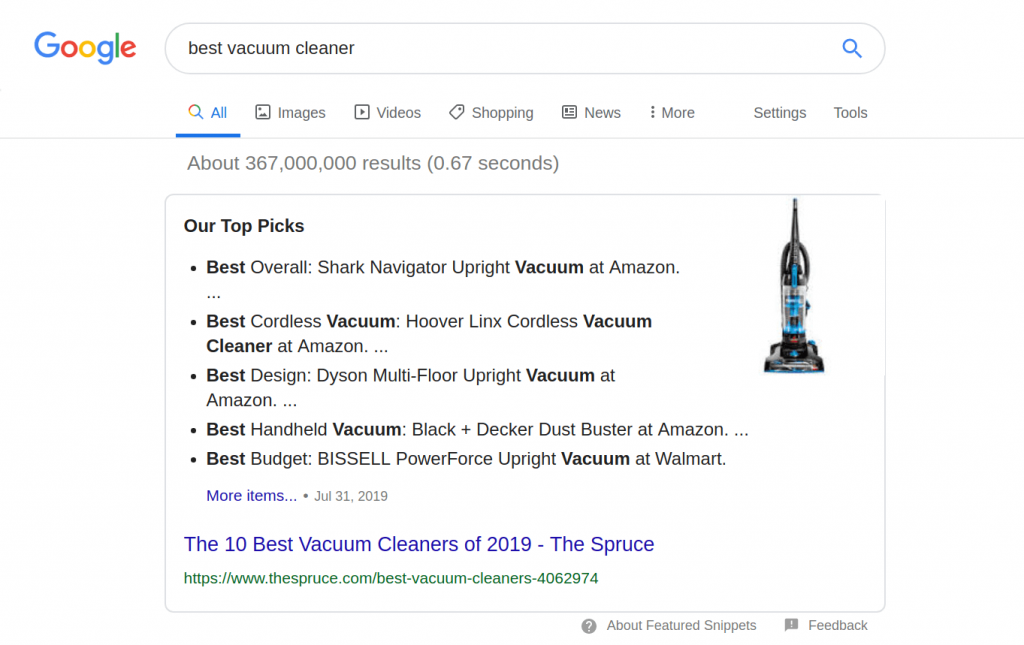 Google says that:
"We display featured snippets when our systems determine this format will help people more easily discover what they're seeking, both from the description about the page and when they click on the link to read the page itself. They're especially helpful for those on mobile or searching by voice."
Where do these snippets come from? Google crawls the Internet looking for questions and answers by keywords. The automated system determines if it is useful to display the answer before all other search results.
This also ties in with the Q&A section above. You can get your answer in a featured snippet only if you ask the right question and offer a useful response. There are a number of ways to get featured. Neil Patel has a great guide on this subject — click here to check it out.
♦ Structured data and rich snippets
Structured data, also known as schema markup, helps search engines better understand your content. Essentially, you have to mark content with tags to give Google clues about the meaning of a page or product by including structured data. Schema markup is a standardized classification format.
Useful links to get you started:
Get started with Schema (schema.org)
Understanding how structured data works (google.com)
How to structure products (google.com)
For ecommerce, focus on product pages. By properly structuring your products with markup, you enable rich product results, which let you show off your products including product information, images, reviews, price, etc. Google recommends merchants maintain the accuracy and freshness of the product information so customers can find relevant items.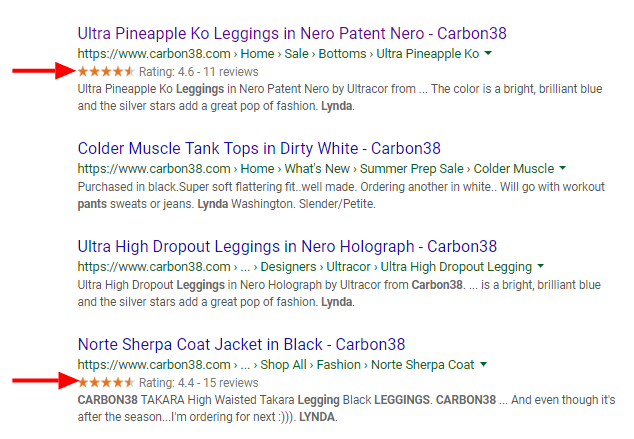 Improve local voice search results
If you have a brick-and-mortar store and you haven't updated your business listing on Google in a while, follow this link, log in, and make sure you fill in every field. Remember, if someone is searching for "X near me," Google only shows three businesses. In addition to keeping your info up-to-date, don't neglect to respond to customer reviews, add photos of your products, and maintain accurate business hours.
Google displays voice search results based on three factors: relevance, distance, and prominence.
Google defines prominence as "...how well-known a business is. Some places are more prominent in the offline world, and search results try to reflect this in local ranking. For example, famous museums, landmark hotels, or well-known store brands that are familiar to many people are also likely to be prominent in local search results."
Prominence is also based on information that Google gathers about a business from across the web (like links, articles, and directories).
Focus on site speed and mobile-friendliness
Speed is everything. Since July 2018, Google has used page speed as a ranking factor for mobile searches. In a nutshell, if you rank high on desktop searches but your mobile site is slow, your mobile and voice search results will be affected. This is a colossal undertaking by Google to optimize the user experience for everyone on the web.
Please note: the Google policy is a blanket policy and applies regardless of the technology used to build the page.
If you're worried about losing rank, our guide on optimizing Magento 2 is a great start. We cover the main aspects that apply to desktop and things you can do to speed up the mobile experience like:
Reducing the overall size of your page
Finding an optimal caching solution
Reducing server requests
Avoiding page redirects
Prioritizing how content loads
Testing your mobile site
The future of voice search technology
Voice-activated devices are helping people optimize their lives. In the future, we may not need keyboards at all. Just imagine, someday we will simply talk to our devices and get stuff done much quicker.
We foresee that voice technology in ecommerce will supercharge brand integration across the board. You will be able to order your favorite products online with ease through a personalized, secure platform.
For developers, Google and Amazon offer ways to build "apps" with Google Actions and Alexa Skills. Using these tools you can engage with customers, reach out to them with fresh content, and expand your brand across all channels.
Takeaways - Voice search ecommerce
Over the past 10 years, voice search has transformed from a trend to a daily timesaver for millions of people. The current state of voice search in ecommerce is exciting. There's tons of interest in the latest voice-activated gadgets, which fuels research and investments into new innovations.
A strong SEO strategy remains the cornerstone of voice search optimization: long-form content, strong link authority, HTTPS secured sites, an authoritative domain, and content that's popular.
If you want people to find your store when they ask Google, Siri, or Cortana a question, follow our guidelines and remember the famous words of Henry Ford: "Competition whose motive is merely to compete, to drive some other fellow out, never carries very far. The competitor to be feared is one who never bothers about you at all, but goes on making his own business better all the time."