Checkout with Apple Pay for Ecommerce Websites: How to Capture More Orders from Mobile Devices
Online stores offer various options for accepting payments, with debit and credit cards being the most popular. However, as more customers use mobile devices to buy online, there's a shift towards mobile-friendly payments. Mobile ecommerce sales are projected to make up to 67.2% of total ecommerce sales in 2019.
For ecommerce businesses, Apple's payment option is a must-have. Apple Pay allows customers to purchase online without entering their card and personal details.
Worldwide mobile payment revenue is expected to exceed $1 trillion USD in 2019, making mobile payments the best investment for your retail business. The adoption of Apple Pay will undoubtedly continue to grow and you'll miss out on great business opportunities if you don't add Apple Pay to your ecommerce website.
Expand your online business with Apple Pay
Officially released on October 20, 2014, Apple Pay is a mobile payment solution and digital wallet service that enables owners of Apple devices to make payments on the web and within apps. Apple Pay on the Web is a new technology that helps merchants manage ecommerce websites easily by adding Apple Pay as a payment option. It is supported on the iPhone, Apple Watch, iPad, and Mac, including (as of this writing):
iPhone 6 and newer

iPad Air 2 and newer models

iPad Mini 3 and newer models

Apple Watch-compatible devices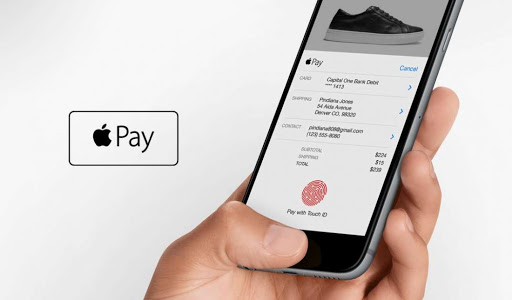 The Apple business payment option supports most major credit and debit cards, including American Express, Visa, Mastercard, and UnionPay. You can find below lists of all the banks supported in each country:
Apple Pay provides a smooth and secure way to pay for products and services such as groceries, clothing, electronic devices, and bookings. It has more than 250 million users, and this number is expected to continue growing as Apple releases new smart devices and new technologies. With that many potential customers globally, why not use Apple Pay to expand your online business?
How Apple Pay works on the Web
When you add a new card to the digital wallet on your mobile device, Apple creates a Device Account Number (DAN) which is a code name for the card used to process the transaction. A DAN is created using tokenization and is not a real card number. Once the DAN has been stored on your phone, Apple deletes your credit card number from its database.
When you check out with Apple Pay, iPhone or Apple Watch transmits your DAN over a coded connection (after checking your fingerprint or Face ID). Then the merchant sends the total purchase amount, your DAN, and unique transaction code to the bank to be approved and verified according to the records saved on your phone.
Even if hackers try to decode and steal your DAN, it's completely useless without your fingerprint. The customer enters their card data once, and then Apple Pay stores the data for future use.
The way the Apple Pay payment option is displayed on your website depends on the browser your customers are using.
Safari:

Customers with stored Apple Pay data will see an Apple Pay button.

Chrome and Edge:

Customers with stored payment details on desktop and Android will see a "Pay with Browser" button.
The benefits of Apple Pay for ecommerce websites
Implementation of Apple pay for ecommerce websites isn't just about keeping abreast of the latest technology trends. There are quite a few good reasons to add Apple Pay as a payment option for both you and your customers:
provides better protection against data theft
Apple Pay uses the latest technology for mobile services to encrypt and protect financial transactions. Each added card is assigned with a Device Account Number. That Device Account Number is then encoded and stored safely in the Secure Element, which is a dedicated chip in iPhones, iPads, and Apple Watches used to prevent unauthorized access.
Thus, your actual credit or debit card numbers are never shared by Apple with merchants minimizing the threat of data theft. Furthermore, every merchant is verified before the financial operation takes place. Every time a buyer clicks the "Buy With Apple Pay" button, Apple first checks if you are a valid merchant who is authorized to accept Apple Pay.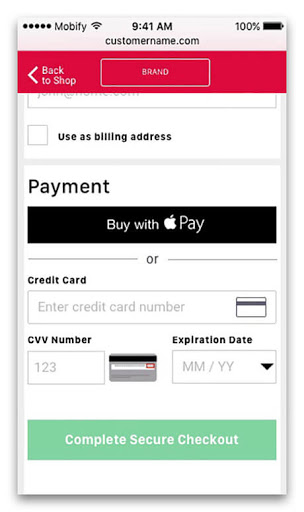 simplifies the checkout experience
As mentioned above, with Apple Pay there's no need for customers to fill in shipping, billing, or payment information,. Shoppers click "Apple Pay," check the purchase order and authorize it with their fingerprint or face identification. It's the smoothest and fastest way to make a payment on an iPhone.
Moreover, you shouldn't worry about creating confusion on the part of the buyer: shoppers are only shown the Apple Pay button if they're using a supported Safari browser and have a device compatible with Apple Pay.
As has been mentioned above, Apple doesn't monitor customer transactions. Moreover, the use of Device Account Numbers versus the credit card data makes the transaction even more private as merchants do not see the shopper's personal information (name, surname) and other details, such as the billing address. When you use Apple Pay, information is stored only for troubleshooting, fraud prevention, and regulatory purposes.
maximizes your sales potential
According to the Baymard Institute, an ecommerce website can get a 35% increase in conversion rate through a better checkout experience. Apple Pay is one of the easiest and most efficient ways to make mobile checkout experience as smooth as possible. If your payment gateway still doesn't support this mobile wallet, it's high time to consider switching.
How to add Apple Pay as a payment option on Magento
There are several payment gateways (Braintree, Stripe, Authorize.Net) that accept Apple Pay as a payment option, and there are different Magento extensions you can use to integrate Apple Pay with your ecommerce store. Here's how to add Apple Pay through the Stripe payment gateway.
How to integrate Apple Pay through Stripe
S

ign up with

Stripe Apple Pay for the web

.

Install the

Stripe Payment Extension for Magento

module in your codebase.

Log in to the admin panel and select Apple Pay from a variety of payment options.

Connect the extension with your Stripe account and click 'save settings'.
Now you should be able to accept payments in your Magento online store! As you can see, it's a simple process that won't take much of your time.
What to do if your payment system doesn't support Apple Pay
In case your payment gateway doesn't accept Apple Pay as a payment method, you need to place an Apple Pay button by writing code. This Apple button will be displayed on the checkout or shopping cart page.
To get the Apple Pay button, you need to integrate JavaScript code to receive the data regarding the financial transactions from Apple Pay service. Then, you have to implement a code for transaction confirmation with your payment provider to verify if the financial operation has been accepted. And now you should be able to accept payments with Apple Pay in your Magento 2 online store.
Final Thoughts
More and more customers are moving toward mobile shopping. If your online retail business is struggling with low mobile conversion and you want to get more orders from mobile users, make sure you're constantly improving the mobile checkout experience.
Apple Pay VP Jennifer Bailey said at the conference in 2018 that Apple Pay was accepted in 50 percent of all retail stores, which is incredible considering it all began with just 3 percent of stores when Apple Pay first released in 2014.
Apple Pay is not difficult to add to your website as it's offered by several payment gateways, and there are different Magento extensions you can use to simplify the implementation process.
Thus, supporting Apple Pay should be a top priority for all owners of ecommerce websites.