The Importance of Magento Solution Architect to Design Your Ecommerce Store
"Good architecture makes the system easy to understand, easy to develop, easy to maintain, and easy to deploy. The ultimate goal is to minimize the lifetime cost of the system and to maximize programmer productivity." — Robert C. Martin, Clean Architecture.
There are a lot of moving parts under the hood of an ecommerce website. Since most of the architecture is mapped out before any development begins, it's vital to get everything right the first time.
Good architects create good Magento ecommerce architecture. To get the most out of Magento and the technologies that are available, you need a good Magento Solution Architect.
What does a Magento Solution Architect do?
Magento architects have the same core responsibilities as any other software architect — they describe and document a system at the component level, including the structure of the components, how they interact with each other, and the underlying principles governing their design and scalability.
Other responsibilities include:
Coming up with simple solutions to complex technical problems
Defining scope, estimating tasks, and providing support for developers
Choosing the technologies, third-party integrations, and other solutions and components that are required to meet the business goals
Creating scalable, maintainable, flexible, and well-documented architectural solutions and designs for Magento sites
Overseeing the development process to make sure the system design is implemented
Engaging with clients to identify business requirements
Supporting the Magento site through post-deployment and future iterations
Out of the five stages of a project's life cycle (initiation, planning, execution, control, and closure), architects are active in three: planning, execution, and control.
A Magento architect's daily workflow includes completing documentation, creating and assigning tasks, meetings with developers and clients, and coming up with smart architectural solutions to make your site flexible, extensible, and usable in the long term.
What's the difference between a Magento Solution Specialist, a Magento Solution Architect, and a certified Magento developer?
To gain a better understanding of the difference between these three roles, we asked Oksana Yakovlieva, Head of Project Management at our company. She used the analogy of a traditional construction project.
Building a custom website is like building a house — you need an architect to plan the building, an interior designer to make the rooms look nice, and a team of developers to lay the bricks. A Magento Solution Architect is like an architect in a construction project, whereas a Solution Specialist performs the role of an interior designer. Magento developers — like property developers — are responsible for building the project.
Magento 2 Certified Solution Specialist

Magento Solution Specialists are responsible for taking business, sales, and marketing requirements and transforming them into deliverable digital solutions and features.
Magento offers a certification for experienced managers who want to demonstrate their ability to leverage the best Magento has to offer and show clients how they can generate more revenue from marketing and sales.
A Magento Solution Specialist doesn't have to have a technical background. Their job is to propose ideas for better business practices. For example, they can identify ways to optimize your business by adding a third-party extension: enterprise resource planning, product inventory management, shipping software, and others.
Magento Solution Architect
An architect comes up with the structural plans, decides the best way to put all the pieces in place, and is responsible for delegating development tasks.
Another way to think about it is this — a Solution Specialist tells you it's a good idea to add certain software, and an architect incorporates this into the system's design.
Magento Certified Developer
Magento Certified Developers are responsible for delivering quality code at a predictable pace to meet quality, budget, and deadline demands.
They are crucial for project success. You can have the best plan and yet fail to meet deadlines if the development team isn't on the same page as the Solution Specialist and architect. Of course, it's not always the developers' fault, because we have seen our share of so-called professional architects who can't communicate or delegate properly.
Check out our article, which includes insider info to learn more about what to look for in a Magento development agency.
How to become a Magento Solution Architect
There is no official certification or accreditation for Magento architects.
The road to becoming an accomplished architect is long and arduous. There's a steep learning curve for anything Magento-related, and architects have to stay ahead of this curve. Simply put, they need to know Magento inside and out — all the intricacies, sticking points, and pitfalls.
From our experience, a Magento architect should have:
7+ years of experience in PHP building object-oriented websites
2+ years of experience with Magento, ideally Magento 2
5+ years of experience in ecommerce
Knowledge and experience with design and architectural patterns, including MVC, GoF, and Enterprise Integration patterns
Solid experience interacting with MySQL database systems through abstraction layer, plus the ability to write raw SQL queries
Excellent experience using PHP to create and consume web services (SOAP, XML-RPC) and/or other experience implementing data integrations within the platform
Experience in project and solution estimation and team structure definition
Ability to elicit requirements and communicate clearly with non-technical individuals, development teams, and other ancillary project members
Experience with the agile delivery process
Architects usually begin their careers as developers. After a year or two, they can get certified. As they progress and their skills improve, they can take on more responsibilities and get involved in more complex projects. Eventually, they are promoted and become team leads or technical leads. After a period of being on the management side, they can start developing software architecture.
Not every developer or team lead gets to this level because it requires a serious commitment to architecture as well as the Magento platform.
What makes a Magento architect so important?
Magento is a platform for creating ecommerce stores. Each store has its own products, requirements, documentation, server architecture, and frameworks.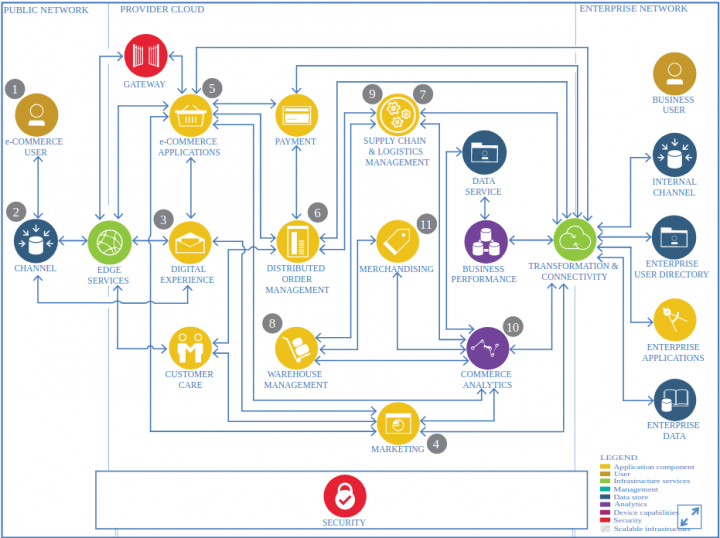 The image above is an example of how complex an ecommerce site can be. Data flows in and out, nonstop, from one extension to another. Accurate data and high performance mean the store can run on all cylinders.
There are stores that spend millions of dollars on maintenance because they lack good architecture. A sound architecture will reflect in your conversions, SEO, site responsiveness, performance, and revenue.
For your project to succeed, the architect needs to:
Be active in the project as early as possible – Like we already mentioned, architects are active in three stages of a project's life cycle: planning, execution, and control. If the architect isn't present at the planning stage, you may as well start over because the architect will likely make significant design improvements.
Take scalability, flexibility, and your future plans into account – If your business takes off and you're not able to handle an increasing amount of orders, you'll lose customers and hurt your brand's reputation. A good ecommerce store needs to be open to change. Architects are up-to-date on emerging technologies and can tell you when it's time to upgrade.
Find simple, effective, and reliable solutions – You can have an interactive site design with all the bells and whistles, but if it's not functional, you won't see the results you expected. Architects can find a balance between aesthetic and effective and they know what it takes to build a stable site that loads quickly.
Takeaways — When to call a Magento Solution Architect
Architects are great at managing complexity. They are able to unify components under one all-encompassing structure that takes security, integrity, and scaling into account.
Magento Solution Architects are the smartest people in the room when it comes to Magento. They can resolve technical and business challenges of all shapes and sizes while keeping people and processes in check.
If you're developing an enterprise-level system, a custom Magento module, or a custom site — an architect is critical to your success.
Get in Touch
Looking for a partner to grow your business? We are the right company to bring your webstore to success.