What Are Magento Certifications and Why Should You Care?
Any idea in the world is just as good as the people implementing it. In IT, much of a project's success depends on the tech partner. Luckily, several ways of validating a developer and agency quality have been designed to help business owners choose the most fitting partners, and for developers to easily prove their skill level to potential clients.
In particular, Magento offers a certification exam for different types of developers at different proficiency levels to cater to a wide variety of specialists. Below, you will find out exactly how to get a Magento 2 Certification and what perks does it bring.
Magento Certifications Overview
If you go through our how to choose a Magento development agency guide, you'll see that we always recommend checking their Magento certifications first. But what are Magento Certifications all about and what do they look like? Let's take a closer look.
What Is Magento 2 Certification?
In order to efficiently validate developer skills and qualifications after a certain time working with Magento, the company introduced its very own certification exam. Essentially, the Magento 2 Certification is a practical test that specialists at different levels can take to become certified Magento developers.
With the Magento 1 system not in play anymore, developers with Magento 2 skills became IT-royalty – and core players for companies that run their stores on Magento 2. Magento 2 is a far cry from Magento 1, so one has to really learn the ropes of the platform to pass the Magento 2 Certification exam.
With Magento becoming part of Adobe in 2018, some certification rules changed as well. As of August 17, 2020, Magento Certifications are now called Adobe Certifications and need to be renewed every 2 years before their expiration date.
This may sound like a drag, but this update is actually incredibly useful and motivates developers to grow professionally, gain more hands-on experience, and even increase Magento developer hourly rate. On top of this, the exam contains 60 practical questions and can be quite tricky with its pitfalls, which can only be caught after years of hard work.
A Magento 2 Certification doesn't come for free. Depending on the certification badge a developer is trying to receive, the exam will cost between $195-395. To renew the certification, a fee of $150 (worldwide) and $80 (India) will be charged.
Magento 2 Certification List
Currently, there are eight Magento certifications types. After the company became part of Adobe in 2018, they received new titles. Here's a short overview: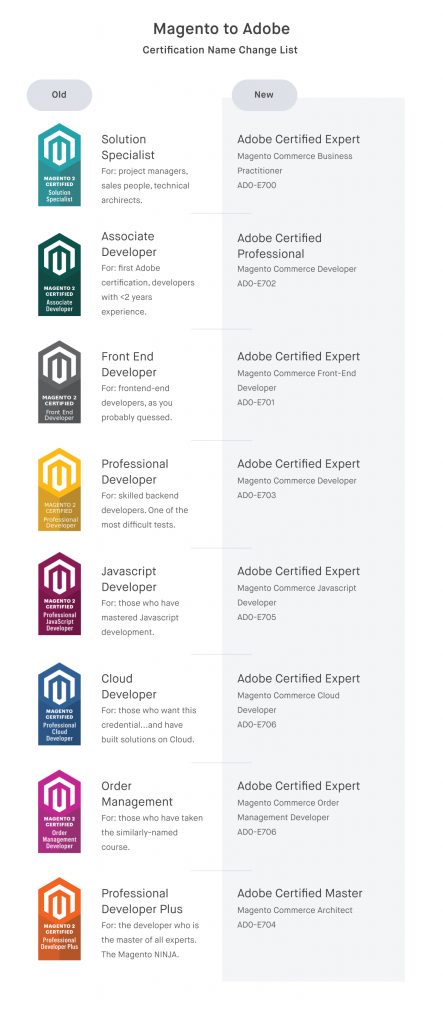 Is Getting Adobe Certified Worth it?
But is becoming a Magento certified developer really worth the hassle? By getting certified (and recertified) developers can not only prove their qualification and verify their authenticity, but also grow the number of clients, get access to higher fees, and build customer trust. Not to mention that every Magento 2 certified developer is added to the Magento Certification Directory which, again, allows them to get more exposure.
On the other hand, there's more than one benefit to hiring a Magento certified developer. A Magento 2 professional developer certification isn't easy to get. Thus, business owners can be sure that any Magento/Adobe certified developer or expert they may hire will meet the highest quality standards. This may not mean much to, let's say, a one-person enterprise selling hand-made goodies, but for mid-sized and large companies with high stakes, it's a reliable quality guarantee.
A Complete Guide to Magento Certifications [+Their Adobe Certifications Equivalents]
Now that we have given an outline of what Magento Certifications are, we can get into more detail about each type. The list below shows all existing certification types and badges, their target audiences and necessary skill sets, as well as prices.
Magento 2 Solution Specialist (AD0-E700 Adobe Certified Expert – Adobe Commerce Business Practitioner)
​​
A specialist at this level is an expert user of the Magento 2 eCommerce platform who can independently and effectively align a company's business objectives with Magento 2 functionality. In addition, they're able to optimize the use of native features in the most proficient way.
For business owners, a Magento Solution Specialist is an important multifunctional role. They collect eCommerce website requirements from stakeholders, manage a project's development team, and are good at finding ways to increase ROI and/or website performance.
This exam has been created for project managers, salespeople, and technical architects. Generally, one has to have a basic understanding of networking, cloud, and server infrastructure. Most importantly, ​​product knowledge of Magento 2 Open Source and Magento 2 Commerce are required. This includes system functionality, system architecture (basic level possible), integration, and the most popular third-party modules used in the standard Magento 2 installation.
Price: $295
Magento 2 Certified Associate Developer (AD0-E702 Adobe Certified Professional – Adobe Commerce Developer)
A developer at this level is on the verge of their career as a Magento Developer. This exam helps validate skills such as UI modifications, database changes, customizations, admin modifications, or functionality changes. This is the most common basic badge at any Magento certified agency, and its owners are certified to do a wide range of tasks to support developers of higher ranks.
The Adobe Commerce Developer certification is the first badge of honor for a developer with work experience of <2 years. However, they have to bring experience with PHP, MySQL, Apache.Nginx, and Linux to the table. But most importantly, skills from the Magento 2 Development Essentials training are necessary.
Price: $195
Magento 2 Professional Developer (AD0-E703 Adobe Certified Expert – Adobe Commerce Developer)
Similarly to the Adobe Commerce Developer Certification test, this one was designed to validate the skills necessary for UI modifications, database changes, and admin modifications. In addition, skills in checkout process customizations, order management integrations and customizations; catalog structure and functionality changes are being tested. Thus, at least 1.5 years of experience are required.
The target audience for this exam is primarily highly skilled backend developers, as this is one of the most difficult tests.
Price: $295
Magento 2 Professional Developer Plus (AD0-E704 Adobe Certified Master Magento Commerce Architect)
Candidates for this test are Magento architects and developers with 2 years of experience in customizing different Magento platform areas, as well as working in leadership roles like leading Magento teams and projects. In addition, one has to have worked with customers on building project requirements. All in all, this is an exam for Magento wizards.
Any architecture only works well with a solid foundation – especially considering how much more complex the Magento 2 architecture is. This is why Magento Commerce Architects are crucial for businesses that aim for success.
Price: $395
Magento 2 Front-End Developer (AD0-E701 Adobe Certified Expert – Adobe Commerce Front-End Developer)
To take this exam, a Magento developer must have at least 1.5 years of experience with Magento 2. The test is for front-end developers whose task is to create and customize Magento themes. This is a primarily scenario-based test.
As the frontend is the part of the website most open to the public, hiring a certified Magento Commerce Front-End Developer is crucial to establish a solid connection to customers online.
Price: $295
Magento 2 JavaScript Developer (AD0-E705 Adobe Certified Expert – Adobe Commerce JavaScript Developer)
As the name suggests, this exam validates skills in regards to developing new JavaScript modules for Magento 2 as well as customizing existing ones. Candidates have to bring at least 1 year of JavaScript experience.
JavaScript developers with this badge will provide the Magento-based stores with a smart look and dynamic visual elements necessary to create a smooth and transparent User Interface.
Price: $295
Magento 2 Cloud Developer (AD0-E706 Adobe Certified Expert – Adobe Commerce Cloud Developer)
To get this credential, Magento 2 developers/architects must have completed at least two Cloud implementations over 6 to 12 months. This particular certification validates the knowledge required to deploy, test, troubleshoot, and operate in the Magento Cloud environment.
A specialist like this has the ability to enhance project operations and performance by leveraging Cloud platform features. Which is, essentially, the main difference as opposed to the Magento Commerce Architect badge.
Price: $295
How to Check if a Magento Developer is Certified?
Many Magento development companies like Elogic, taking pride in being certified and partnering with Adobe, display their badges directly on their websites.

In addition, official certified Magento partners can be found on the Adobe Partners page.
In order to check individual certifications, business owners hiring developers might have to either ask for a direct link to their badge at youracclaim.com or validate their candidates' skills during an interview.
Ways to Prepare for a Magento Certification Exam
Essentially, developers aren't required to complete any special training before the exam. But it isn't just the real life and work experience that can help a developer prepare. To do so, several steps can be taken:
revising theory
working on Magento projects
developing Magento 2 modules and/or themes
For every selected Magento 2 Certification type, candidates can prepare by completing courses on the Adobe Digital Learning Platform or by going through the Magento 2.4 Developer Documentation. Read more about it below and find some more valuable resources a Magento developer might use to prepare for the certifications exam.
Courses on the Adobe Digital Learning Platform
The Adobe Digital Learning Platform offers versatile courses to prepare developers for their exams. Themes of previous courses include Core Principles for Theming in Magento 2, Managing Your Magento 2 Store, Requirements Discovery, and many more.
Magento 2.4 Developer Documentation
The Magento 2.4 Developer Documentation is now available as the Adobe Commerce 2.4 Developer Guide. It's a collection of guides, tutorials, and community resources that can help Magento Developers to learn and grow.
Development Guides, MOOCs & Informal Learning
Of course, there are other alternative learning sources provided by developers of the Magento community. Here are a few options:
Wrapping Up
Now that we covered all the essentials regarding Magento 2 Certification, it's clear that it is indeed a great validation tool for a variety of Magento developers and companies working with the platform.
Looking at how many brands and corporations run their stores on Magento 2, there will always be a need for top-notch Magento developers. And using the Magento certification badges, it's possible to:
Validate developer skills and qualifications to find reliable tech partners – for business owners;
Get exposure and access to larger projects and bigger incomes – for Magento developers.
Hire Magento-certified developers at Elogic
Source certified Magento 2 developers of any level of proficiency to migrate, launch, or maintain your online store
Get in touch now
Get in Touch
Looking for a partner to grow your business? We are the right company to bring your webstore to success.