Choosing a Magento Development Agency: Insider Info + 10 Things to Look For
Have you ever been involved in a development project that failed miserably?
A lack of management, accountability, and communication are among the top reasons why projects crash and burn. And most of the problems stem from one root cause — choosing the wrong technology partner.
In this article, we'll show you what you need to know before turning to a Magento development agency.
The first step is to figure out what you really need
Before starting any type of project, ask yourself the following questions:
1) What problem am I trying to solve?
Get an understanding of the whole picture — the business problems and challenges you are going to face and how the project will impact your business.
2) What do I need to solve this problem?
Identify the resources and information you need to solve the problem — preferably the simplest and most cost-effective solution.
3) What are the project success criteria?
Define criteria for measuring the success of your project. There's no way to determine if you have accomplished your goals and solved problems without success criteria.
4) How will the project be managed?
This is one of the most important questions and also one of the biggest reasons why projects fail. If you don't manage the project properly, you won't get the results you wanted.
5) How will we develop, test, and implement the solution?
Before the release date, the project has to be thoroughly tested, which involves feedback from end-users. Also, it's important to know what type of development methodology you plan on using and how the solution will be implemented.
When you have answered these five questions, you need to fully describe and outline your idea to create a scope of the work.
If you have no idea what we're talking about, don't worry! Any good Magento development company understands that not all clients are familiar with how IT projects work. That's why getting every detail nailed down isn't always realistic.
Insider info: Not everyone is a professional
We're not trying to criticize anybody in particular, but we have seen a lot of so-called professionals that make promises and then don't deliver the desired results. To save yourself from falling victim to a disreputable development company, be aware of these red flags:
They give you a very low quote
They agree to everything
They don't go over the scope of the project with you
They don't ask a lot of detailed questions
If the Magento development agency doesn't raise any red flags, your next step is to ask them questions related to their experience and internal processes. These are the five main questions you should ask:
How many Magento 2 projects have you successfully released?
How many Magento 1 to Magento 2 migrations have you done? (if this is the type of project you want them to implement)
What's the biggest store you have launched (in terms of scale — traffic, orders, etc.)?
How many certified Magento developers do you have?
What does the software development process look like?
Before any code is written, don't be surprised if the people you're hiring go through every minute detail with you. They're doing this to mitigate problems and misunderstanding down the line. If you've decided on a scope of work and your project development is underway, that doesn't mean there won't be setbacks. You have to keep in mind that some things may take longer than expected, so being flexible and open-minded is essential.
Often as a client you may feel that the company or person you are hiring is obligated to do whatever you say without any constructive criticism. A professional Magento website development company will give advice and try to implement as many best practices as possible.
10 things to take into account when choosing a Magento development agency
A good idea is useless without the right people to manage it. For a Magento project, you need more than just a group of people who can code. It's always better to opt for professional service providers with domain knowledge that will ensure successful implementation of ideas in the design and development process.
Use the following criteria to create your own shortlist of companies that you feel are the best fit based on your needs:
1) Reputation
There are a lot of business review sites out there like Foursquare, Clutch.co, Trustpilot, etc. that put together lists of the top companies in different categories. The category you want to focus on is Top Magento developers and development companies. Elogic is a certified ecommerce development company that was recently listed as a Top Magento Developer by Clutch.
If the company offers references, we recommend you contact them for more information. That way, you can get a more objective view of the company and ask any pertinent questions.
2) Portfolio
A company without a portfolio is a bad sign. Look for a professional portfolio with information about what they have accomplished and, most importantly, how it was done.
Seeing what the company is capable of is a big benefit because you can judge whether the price and quality match up with what you're looking for.
3) Pricing model and rates
Don't be surprised if you don't see rates on the company's website. All projects are different and require deep analysis and a roadmap of when to add resources. For example, depending on your project scale, budget, and especially your deadline, you might need more developers to jump in.
Also, be prepared to answer tons of questions about the project — it's the only way a company can decide what pricing model (fixed price, time and material, dedicated Magento developer team) will mitigate risks for both sides.
4) Communication and transparency
Empty words and empty promises are meaningless in a business setting. They give us a false sense of security and progress. Communication is tied into every process and every task. Because of this, any dissonance or misconception between developers, managers, and stakeholders can result in missed deadlines and project failure.
Work communication is a two-way process, like a dialogue. To understand whether the development company has good communication standards and transparency, contact them. A prompt response loaded with accurate information is a good sign.
Before signing any contracts, you can judge the level of communication and transparency by how the agency answers questions. If they agree to everything and don't offer any constructive feedback based on their expertise, steer clear of them. You don't want "yes-men" to handle your project.
5) Location
Geography used to be a major barrier to communication. With the Internet, we've solved most of the underlying issues. However, if you're outsourcing to Europe and Asia, you need to think about time zones when you plan meetings.
Apart from time zone inconveniences, consider the cultural and social differences between you and your potential technology partner. Are they in stark contrast to yours? If they are, be ready to deal with more misunderstandings and miscommunication.
Be wary of companies that hide their true location. Also, keep in mind that a headquarters in the US that's presented on the agency's site may be a virtual office.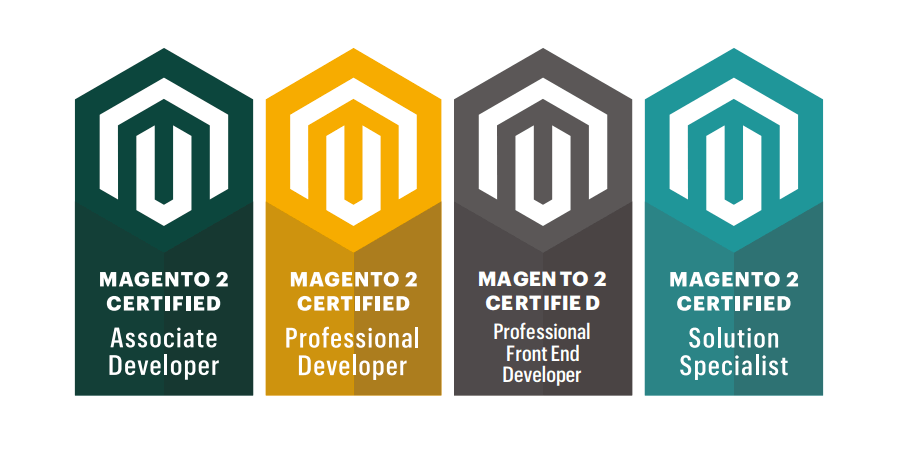 6) Certified Magento developers
In case you didn't know, Magento offers training courses and certifications. If you're deciding whether to shortlist a company, this can be the make-or-break step. A company without certified developers likely isn't serious about a partnership with Magento (which we'll discuss in the next section).
From the Magento website:
"Experienced Magento professionals can validate their real-world skills by earning a Magento Certification. Magento Certification Exams are geared toward professionals who want to differentiate themselves from the competition with the ultimate Magento credential."
Note: Certifications are offered exclusively through the Magento website, so if a company shows you another site, it's not a valid Magento certification.
To find out if the company has certified developers, you can enter either the developer's name, their company's name, or their ID number here.

7) Magento partners
Magento Solution Partners are trusted development agencies and consulting companies that are focused on helping merchants create the best ecommerce websites using Magento.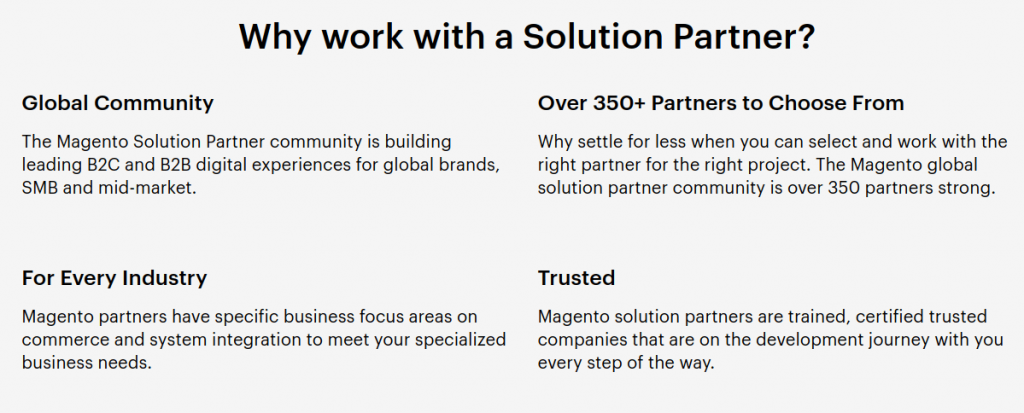 To apply as a Solution Partner (depending on the tier), you need to have a certain number of Magento Certified developers and Magento 2 developers who have completed Magento training on staff.
To check if the company is a Solution Partner, you can look them up in the Magento Partner Directory.
8) Domain knowledge
Domain knowledge isn't something you can read in a book or learn from launching a few stores. Magento experts spend years diving into the powerful capabilities of the platform and earn their stripes by finding solutions to challenges along the way.
We are proud ecommerce experts who have experience across a variety of verticals — fashion, electronics, retail, paints and coatings, gift cards, telecommunications, and many more. As a result, the ecommerce stores created by our developers contain fewer bugs and issues.
9) SEO and Data Privacy
A good Magento development company understands the importance of search engine optimization (SEO) and how it affects traffic and conversions. To get a higher rank in Google, you have to develop more than a content strategy. Google now includes mobile performance and overall site performance in its ranking algorithm, so a development agency should pay attention to performance optimization.
Data privacy continues to be a major concern. Facebook recently received serious backlash after their privacy scandal, which caused millions of users to stop using the platform. Securing your customers' data should be a top priority, which is why we recommend adhering to the General Data Protection Regulation model passed by the European Union. The reason? Because the standards are higher than the US model.
10) Post-deployment support
Support after deployment is an important, and sometimes overlooked, part of the development process. A professional Magento service provider will include post-deployment support in the budget. At this stage, the company will help you get used to the platform and show you the ins and outs of how to get everything from product categories to shipping set up properly.
This stage also includes processing feedback from end-users who may experience bugs that were not found in the development process.
The bottom line — The best Magento development agency
The novelist E. W. Howe said, "Instead of loving your enemies — treat your friends a little better." This works in the business world too.
Having a strong relationship with the company you're dealing with is mutually beneficial. Good relationships are born out of shared interests, values, and experiences. In the end, if you value quality and expertise, you should be willing to pay the extra money to hire a company whose goal is to build a long-lasting partnership with you.
If you ask the right questions and follow the checklists we've outlined in this article, you'll meet your business goals with no hassle.