Elogic Named a Top 2019 Magento Developer by Clutch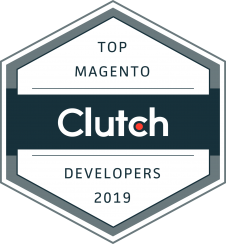 Since 2009, Elogic has helped retail brands from all over the world transform into e-commerce leaders. The dedication of our team members has earned us a spot among the leading Magento developers in Clutch's 2019 rankings report.
Our Magento development services include planning, design, and development of successful Magento ecommerce websites for our variety of online retail clients. We work with some of the leading brands from the USA, Finland, Great Britain and other countries. Our clients value our technical expertise and our ability to run and manage projects efficiently and smoothly. We maintain long-term relationships with the majority of our clients.
Operating in the heart of Washington DC, Clutch is a dynamic ratings and reviews startup dedicated to connecting companies with B2B service providers. By analyzing industry data and conducting in-depth client reviews, Clutch is able to stand out against competitors to prospective buyers. Potential clients can become informed on Clutch's easy to use platform before making a buying decision. The client reviews have proven to be extremely valuable to the rating methodology.
Our efforts have earned us a 5.0 rating on Clutch.
Not only have we been listed on Clutch, we also earned a feature on two of their sister-sites, The Manifest and Visual Objects. The Manifest is a business news outlet focusing on the state of tech and trends in the industry. Prospective clients can find us listed among the top Magento developers on The Manifest.
Visual Objects features company ratings alongside portfolios of their previous works. Here, we are listed among other web developers – our work presented in an aesthetically pleasing format.
"This is a tremendous year for Elogic Commerce," said our CEO Paul Okrem, "We've just received a Magento Community Engineering award from Magento at the stage of Imagine 2019, and now we are thrilled to be recognized as a 2019 leader among The top Magento Development companies by Clutch. I would like to thank our team for a great effort and their passion which stands behind all these achievements."