13 Must-Have eCommerce Website Features |
A development agency you've chosen for your project asks you to issue your ecommerce website specifications. What do you do? Panic for a moment, take a deep breath, and start writing down the must-have features of ecommerce website design.
While it's true that the quality of your product is essential, your customers won't arrive at it without an easy-to-navigate, intuitive website design. It takes 0.05 seconds — less than a blink of an eye! — for visitors to form an opinion about a website and determine whether they're going to stay or leave. So you'd better make sure those matters of a second are riveting.
In this article, we've compiled an ecommerce website features list that we often suggest to our clients during the planning phase of a project management cycle. These 13 features are subdivided into four categories — website navigation, products, marketing, and purchasing — and shall help you grasp the attention of your customer and never let it go.
Website Navigation
Website navigation is one of the most important factors of an ecommerce website design. Navigation should be intuitive and logical. If a visitor can smoothly access your online store's products/services and find their descriptions, the chances of visitors turning into customers increase considerably.
Feature #1: Breadcrumbs
No-no, it's not about crumbled bread with seasoning. In ecommerce website development, a "breadcrumb" is a superior website navigation element. You can usually find breadcrumbs on ecommerce stores that have a large number of product categories organized in a hierarchical manner. Breadcrumbs are a list of links indicating the location of the user within the site's hierarchy separated by the symbol (>).
These effective visual aids don't just tell people where they are on your ecommerce store, but they also help Google work out how your site is structured. Breadcrumbs facilitate website navigation by making it simple for users to move between a product catalog, categories, and homepages.
Thus, superior navigation helps potential customers find what they're looking for without hassle. Alternatively, poor navigation frustrates a user and may even cause them to leave your ecommerce store.
The question then is what actually constitutes superior navigation. The main idea is to present a clear path from the landing page to checkout with the help of a user-friendly menu, advanced search function, and customized call-to-action.
Feature #2: A User-Friendly Menu
A user-friendly menu is one of the most crucial features of ecommerce website design. Users usually expect a horizontal menu to appear across the top of the website, and vertical — down the left side. But even here you have options. Our customers usually choose between Mega, Dynamic, or Drop-down menus on their Magento websites.
A mega menu is an expandable menu that simplifies website navigation with a two-dimensional dropdown layout. It combines text, links, and graphic elements.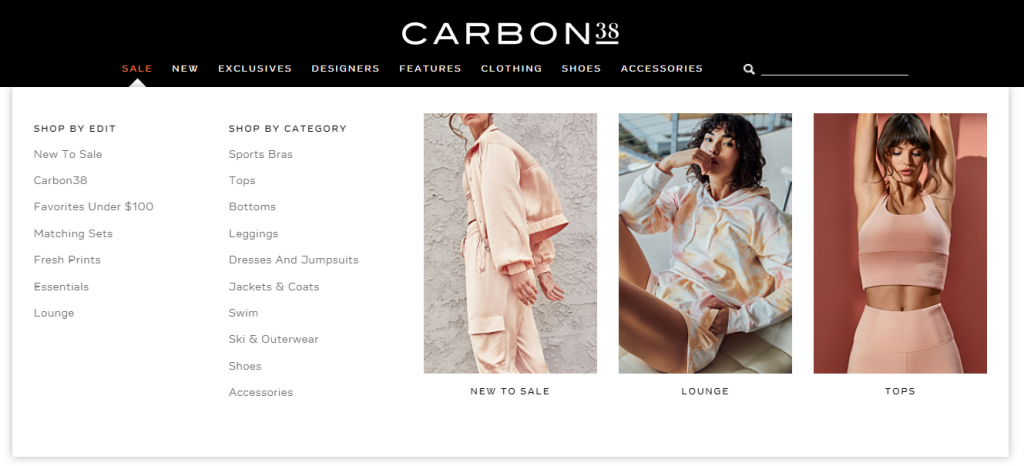 A dynamic menu builds menu trees that expand when selected by drawing the necessary data from the database. This makes it easy for the customer to view only those menu items that interest them.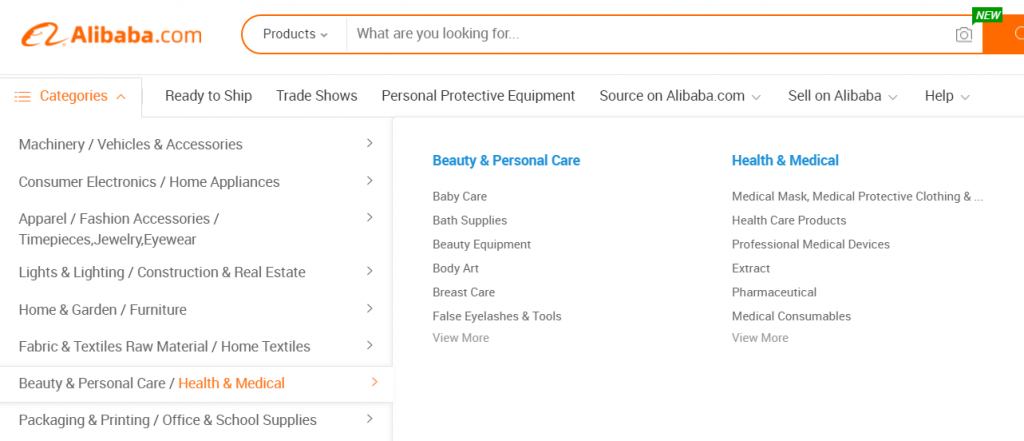 A drop-down menu allows customers to take a shortcut to the product category or subcategory they are searching, while also providing the possibility to promote certain products or offers.

Feature #3: Advanced Search Function and Filtering
Product search and filtering are top ecommerce website design features as they enable customers to find the products they are looking for quickly and with ease. Filters allow shoppers to narrow down product lists and focus on the products they're actually interested in, skipping over the pages and products they don't need.
Just look at Turcom, a Turkish consumer electronics brand website developed by our team at Elogic. An instant search function added to their website significantly improved the usability. All customers need to do is type the first character and the website will predict what they are searching for and show results as they type.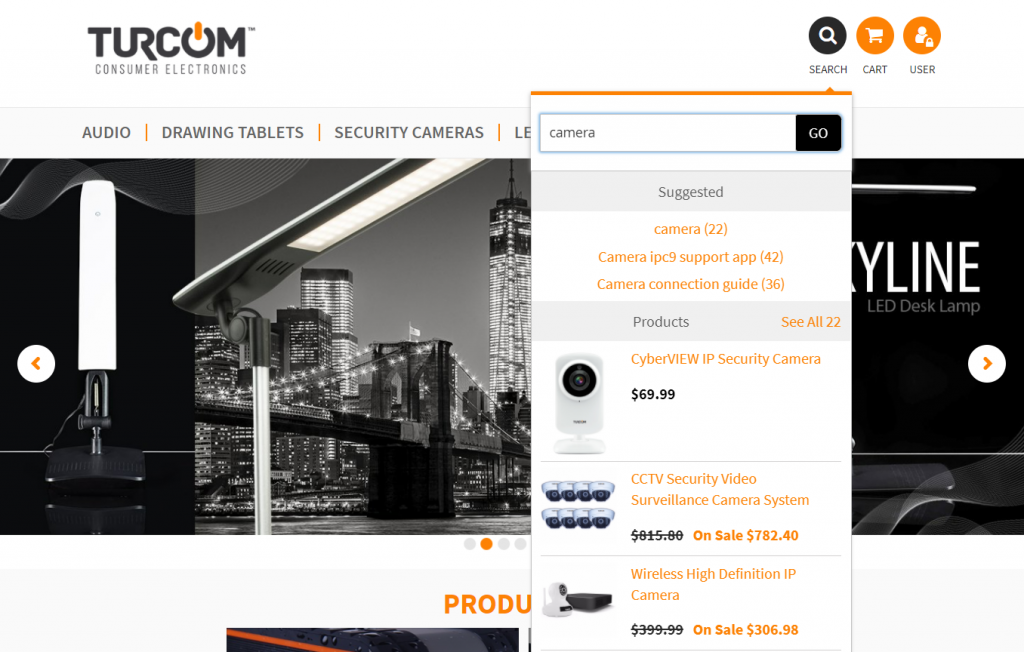 Feature #4: Customized Call-to-Action
A call-to-action (CTA) is a way to encourage customers to take action on your website. If placed strategically, CTA buttons move your customers through the sales funnel and increase conversion rates on your website.
Implementing a call-to-action button is one thing, but crafting a customized call-to-action that customers really relate to and act upon is a whole different ballgame. On the website of Marimekko, a Finnish design brand, customers are encouraged to explore their new collection via the CTA button "Shop Now."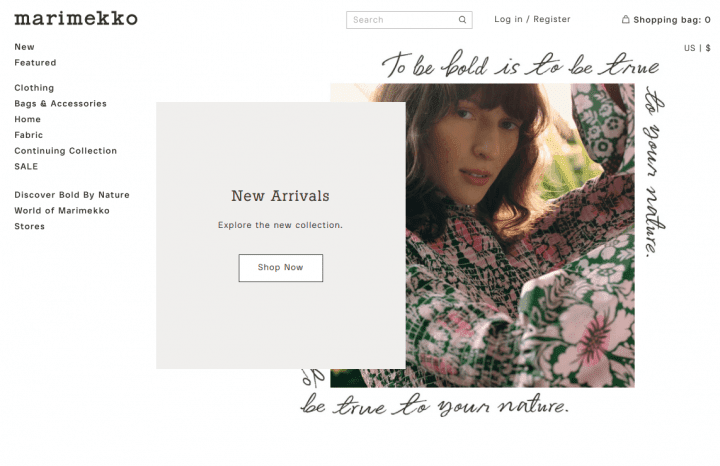 This is the kind of CTA you'd want to appear on your website
Get in touch with Elogic and have this feature implemented in no time!
Design your ecommerce website now
Products
No one likes rummaging through the clutter to find what they need. The same works for product listings on ecommerce websites. A customer wants to easily browse product categories and items to discover what products are available and which best suit their needs.
Let's talk about three key things you should have when displaying your products online: product images, catalog, and product page.
Feature #5: High-Quality Photos
Ecommerce websites should display high-quality, eye-catching photos optimized for page load. Just think, when you are shopping, would you purchase a product that looks poor? You may be selling the top quality products in your ecommerce store, but if the photos of your products look bad, people are unlikely to buy them.
Make sure that your photos can be viewed from different angles, especially if you're selling jewelry, watches, or customized items. For instance, we've implemented a special Magic Zoom Plus feature for our British client, Watches of Mayfair. Now, the users can instantly see the product they are about to purchase with a 360-degree view.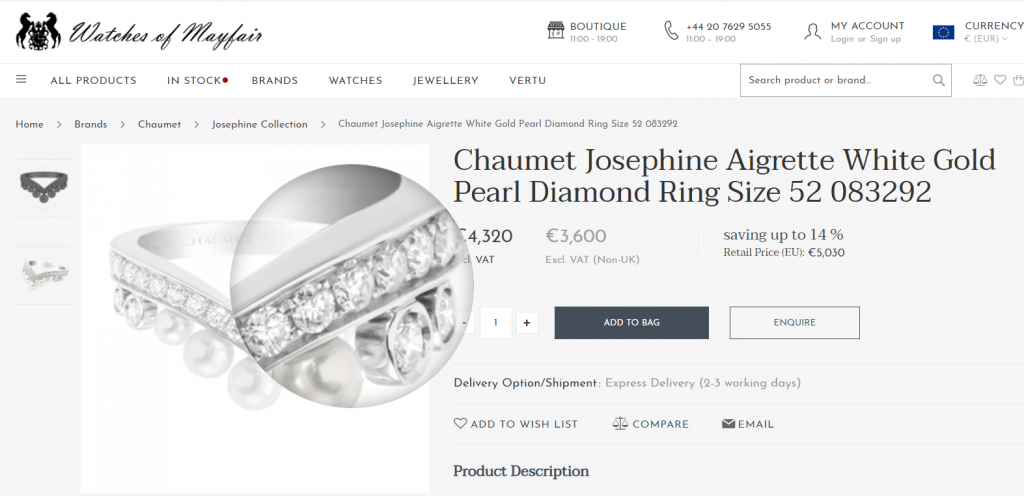 Pay attention to high-resolution images on your homepage too. Insider tip: combining a photo with a CTA does an incredible job of giving information about your products and motivating your customers to look at something specific.
Feature #6: Product Catalog
Creating an information-rich product catalog is one of the key features of ecommerce websites and a major driver to customer conversion. A product catalog is a detailed document displaying a store's inventory. It usually includes product images and descriptions, delivery options, price, order fulfillment charges, the available quantity of SKUs, etc.
How your catalog is organized significantly influences buying behavior. Products are generally organized into groups of categories depending on a business niche. For apparel & fashion, you might see such common categories as Clothes, Shoes, Bags; for consumer electronics — Laptops, Wearables, Mobile Devices.
Check how our Swiss client Glassmania organized their product catalog according to different types of glasses. Users have the subcategory options displayed beside each product category option. So if you're looking for specific rosé wine glasses, no need to hassle — you see it right in the catalog.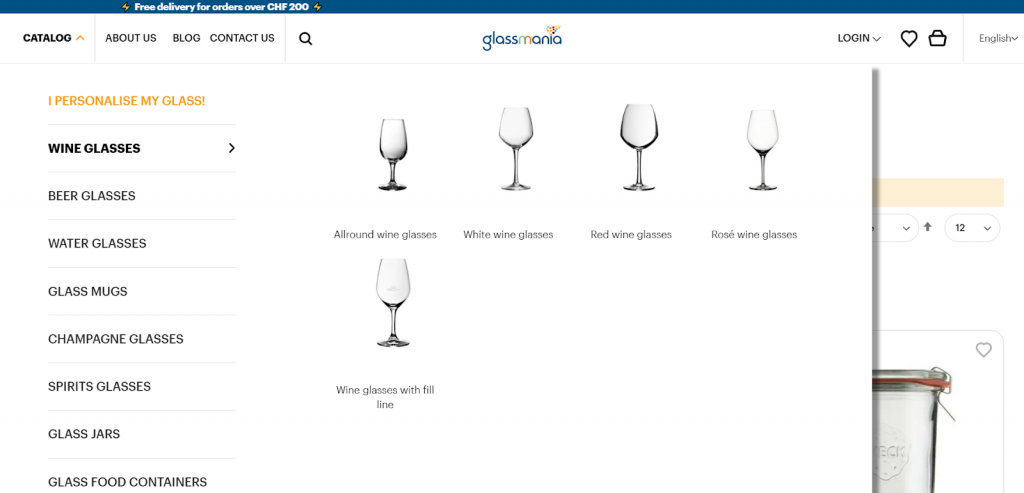 Showcasing such structured and diverse categories helps customers understand what your website offers and makes it easier to browse the products they are interested in.
Feature #7: Product Page
In this ecommerce website feature list, an informative and engaging product page is probably the most obvious functionality. Not only it helps you convey the value of your products, but also the customers can understand if they really want to purchase the items.
Here are some tips for a product page design:
Include sections for featured products, best-sellers, exclusive items, related products, or top savers. These will encourage customers to continue exploring your website.
Upsell by showing product bundles that are frequently bought together.
Implement CRO (conversion rate optimization) techniques on a product page: add customer reviews, product recommendations, pop-ups, and micro-animations.
Using micro-animations on an ecommerce website can really improve the overall user experience (UX) and highlight areas of a page where you'd like your customers to focus. Typically, micro-interactions take the form of confirmation messages, hover animations, scrolling visuals, transition animations, sound effects, and error messages.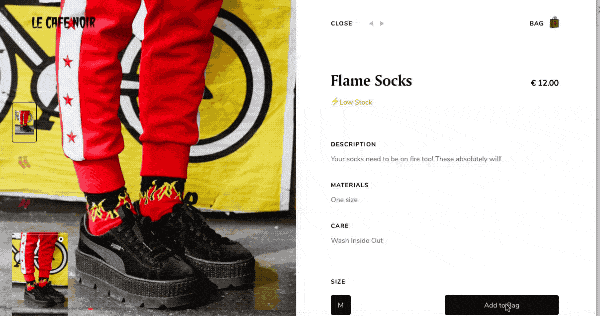 The animation above takes place when customers add the product to their shopping cart. It's engaging and fun, providing feedback that indicates the product has been successfully added to their shopping cart.
Marketing
Marketing is all about a strategy for reaching customer leads. And you can materialize this strategy in ecommerce site features. Discount coupons, special offers, gift cards, custom pricing rules, and more are added to boost your marketing campaigns.
Here are the most common marketing features that can help you to sell, upsell, and cross-sell your products.
Feature #8: Product Reviews
Reviews are creative ecommerce website design features that drive social proof and improve customer loyalty. About 88% of consumers trust online testimonials as much as personal recommendations. Depending on website functionality, ecommerce stores can apply modules from the most popular review platforms such as Yelp, Trust Pilot, and Facebook.
Encouraging customers to write feedback on the products gives your website credibility as it shows that you have real paying customers. Furthermore, customer reviews will add keywords to your online shop, which improves your site SEO (search engine optimization), another main element for any ecommerce website.
Take a look at the Watches of Mayfair, a luxury brand supplier mentioned earlier in the article. We implemented custom widgets from the Trustpilot consumer review website to increase credibility and provide social proof. Of course, you always take the risk of getting negative reviews, but the potential advantages of customer reviews outweigh the disadvantages.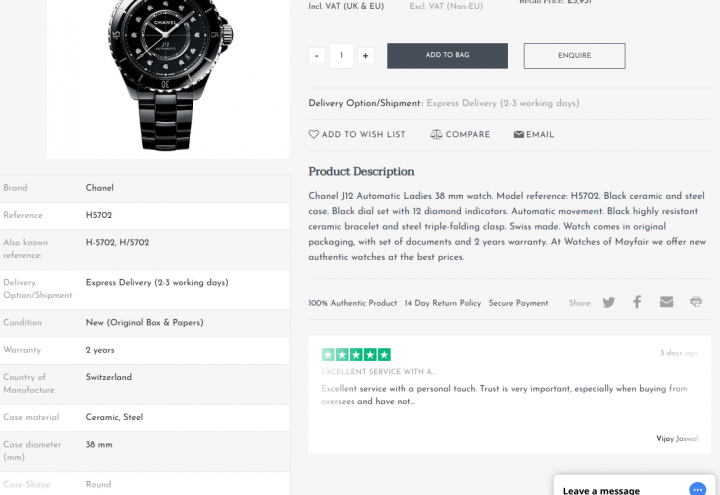 Feature #9: Special Offers and Discounts
If you still think that special offers and discounts will leave you broke, you can't be more wrong.
Discounts, offers, and freebies listed right on the product page is one of the best ecommerce website features for one simple reason: people will purchase more because they think they're saving more. Limited offers give customers the now-or-never drive to finish a purchase while they're already on your site instead of saving it for later. Add on-sale buttons, offer private sales to registered users, create "buy one, get two" promotions — all to lure your customer like a magnet.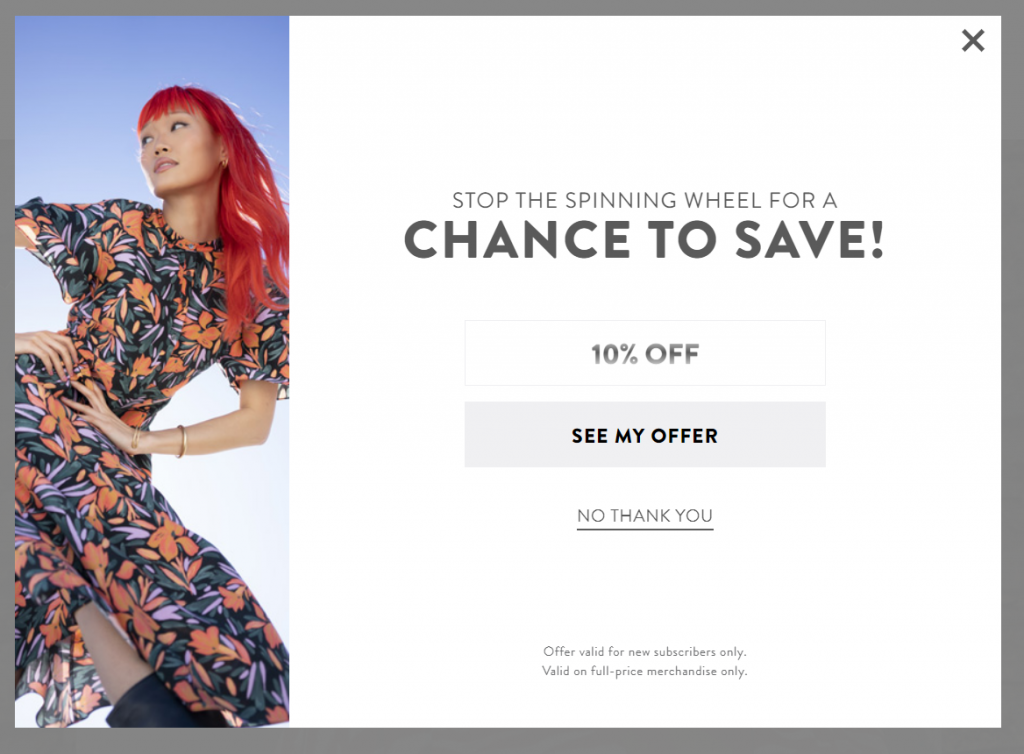 What's better than savings? Free shipping! People are likely to complete an order and purchase the product if shipping is free, thus, reducing a customer's shipping fees will eventually increase your sales.
Purchasing
In a brick-and-mortar store, you choose a product, wait in a queue, pay at the cashier, and leave. So why shouldn't it be just as easy on an ecommerce website?
An easy-to-use checkout, well-designed shopping cart, secure payment options, and various shipping possibilities are some top ecommerce website features in our customers' functional and non-functional requirements. Let's take a closer look at these purchasing features.
Feature #10: A Well-Designed Shopping Cart
A shopping cart is the #1 requirement for all ecommerce websites. This is where your customers keep their products to continue with the checkout process. A shopping cart should be simple to use. It has to give customers the option to add or remove products to the cart, change quantities, choose shipping options, enter promos, or purchase something else. A shopping cart layout also needs to have a simple visual design, displaying company branding (colors, logo, motto) and including prominent checkout buttons.
A shopping cart can be a place to engage with customers too. For instance, our fashion & apparel client Marimekko requested us to integrate an abandoned cart module with the website. Now the customers get notified about the products they've added to their shopping cart but never purchased. Having received a personalized email notification, the user can easily recover their shopping cart by following the link in the email and completing their purchase.
Feature #11: An Easy-to-Use Checkout
The average online shopping cart abandonment rate is 69.89%. This can be damaging to your retail business, especially if you consider how much it took to gain visitors to your ecommerce website and turn them from visitors to customers, only to have them head elsewhere at the very last moment.
Optimized, easy-to-use checkout is one of those features of ecommerce that will reduce your cart abandonment rate and keep your users coming back to your store.
Insider tip #1: Make your customers fill out only the information required to complete a purchase, including mailing and billing address, credit card number, and shipping option. Anything else can cause frustration, and customers will either abandon your site or make their purchase but choose not to return.
Insider tip #2: Customers usually don't want to browse through more than a couple of pages. That's why the increasing number of Elogic customers request a one-page checkout extension. In the case of TurcomUSA, the extension helped to reduce a shopping cart abandonment rate and increase conversions.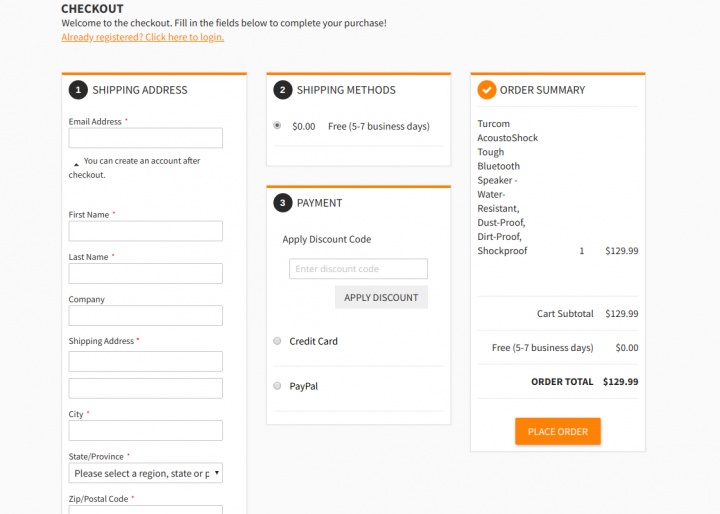 Feature #12: Multiple Shipping Options
Shipping is one of the must-have ecommerce features to drive sales and create return visitors. Obviously, you might need to integrate some ecommerce shipping software, but it's important that a user can place an order and receive it on time.
Furthermore, your customers should be able to select the type of delivery options for their orders. The system also needs to automatically calculate the shipping fees and include delivery time and options for faster delivery.
For example, DHL and FedEx provide real-time shipping rates. By integrating FedEx API on Turcom ecommerce website, we made it possible to display a predicted time of delivery, which instilled trust in users.
Feature #13: Secure Payment Options
Similar to shipping, the payment option is one of the most important ecommerce website features. A credible ecommerce store should have a secure payment gateway such as PayPal, Stripe, and Braintree. Furthermore, your customers should be given the possibility to select from a list of various payment gateways as different payment options are popular in various parts of the world.
Mobile payments are also gaining momentum. Mordor Intelligence reports a compound annual growth rate of 26.93% for the use of mobile payment apps between 2020 and 2025. So it might be a good idea to add Apple Pay or Google Pay to your checkout to capture more orders from mobile devices.
Mobile payment options on the website of Elogic client, Mount-it!
Final Thoughts
The best ecommerce features are not limited to the abovementioned list, you can add to them based on your business budget and scope. Still, these 13 website design features will surely help you start building an unforgettable customer experience.
Remember: whatever design solution you will come up with, your website should be easy to navigate. It should provide value to a user — be it in the form of informative product descriptions or a one-step checkout. Only then you'll see occasional passers-by converting into loyal customers and clicks — into sales.
When you're ready to commit to setting up your store, make sure you select a reputable ecommerce website design agency that has extensive experience and is aware of your business requirements to provide you with the best solution.
Get in Touch
Looking for a partner to grow your business? We are the right company to bring your webstore to success.