What to Sell Online: How to Find the Trending Product Ideas for 2023
Due to the COVID-19 pandemic, more than ever before people are shopping online. One of the best parts about starting an ecommerce business is that you can sell online globally without leaving your work office. But where do you start?
Before you choose the ecommerce platform and start building your website — or even write an ecommerce business plan, — you should figure out what to sell online. Finding high-demand products can help your ecommerce business thrive.
Struggling to find high-profit margin products? You're not alone, many merchants get stuck in this beginning phase because they can't find the niche products to sell.
But, don't worry! In our article, we'll dwell upon trending product ideas, talk about product selection criteria, and have a look at this year's top-selling products online. Let's get started!
What to sell online: trending product selection criteria
The biggest mistake ecommerce businesses make is neglecting their customers' opinions. First of all, you should understand the needs of your potential customers before you market to them. There are 4 keys to a great product:
Size and weight
An ecommerce business can suffer from many problems such as the stress of a bad batch, difficult storage demands, and expensive shipping costs. It's better to sell goods that are light and don't occupy a lot of space. The smaller your goods are, the easier it will be to ship them to your customers. Avoid selling potentially fragile products, unless you have credible drop shippers or ship your products on your own.
Moreover, if your items aren't too bulky, this makes it much easier for you to start selling abroad. Choosing products that are simple to fulfill is more cost-effective and allows you to provide your customers with free shipping.
Price
To make your business profitable, ensure you're getting a good profit margin (that's what's remaining when you deduct all your expenses from your selling price) of at least 20%, if not higher. Expect to have not only the costs for products purchased but also costs related to shipping and marketing. If you decide to trade on eBay, Etsy, or Amazon marketplace be aware that they charge you with substantial fees.
The price range of $15-50 for a product is broadly regarded to be the "best price" for online sales. This price is perfect for impulse purchases, as customers tend to purchase without thinking twice. Any item selling under the $15 range is usually not worth the fulfillment and advertising costs, so customers would rather purchase these products in a brick-and-mortar store. We recommend providing some deals, and sales, if the item you're selling costs more than $50.
Competition
Competition is another product selection criterion we will discuss. Regardless of how unique your niche is, you will probably have at least some competition. Competition in the market isn't always bad and is evidence that the chosen niche has the potential to be profitable. However, in such a case you need to figure out how you plan to set your brand apart from your main competitors.
As you analyze the competition on the market, you should opt for the product that is the most exclusive. Of course, it doesn't mean that you have to sell an item that's never-before-seen, but adding your own exclusive touch will definitely be only an advantage. It's better not to trade the same goods that shoppers can get from a number of various retailers.
A large number of competitors will definitely lead to a price war where all sellers try to drop their prices which will eventually spoil the market and kill your profits. We recommend you find product niches with less than 10 competitors. The less the better.
Once you've analyzed the competition on the market and understand better your target audience, it will boost your chances to choose the best ecommerce products to sell online.
Popularity and demand
Last but not least, make sure that the products you're selling are popular and in demand. How do you know which products are in-demand? Begin your product research by analyzing the best-selling products online on sales channels, such as eBay, Amazon, or Etsy. Try to identify any specific trends like forms, colors, materials, or models. You can also find out the trending items using Trendhunter, and TrendWatching.
A handy tool for forecasting popular products is Google Trends. This online searching tool tells you how many Internet users have searched for a certain item in recent years and it's simple to use. With Google trends, you just need to type your search term and it will generate a report demonstrating the graphical representation of search interest over a set period of time. You can modify the settings and filter searches by location or category.
For example, if you intend to sell backpacks through your online store, all you need to do is go to Google Trends and enter "backpacks" and you will get the report. So simple!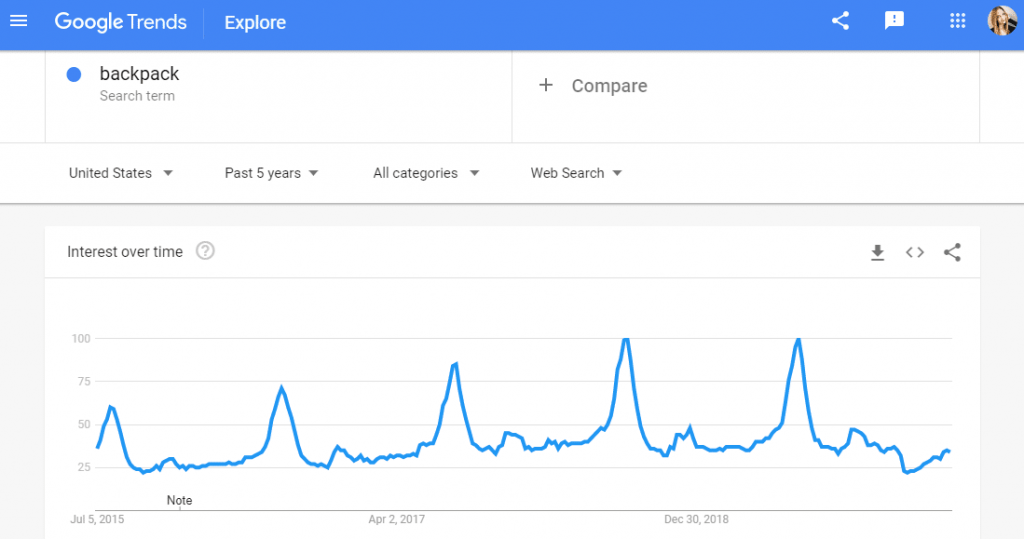 The good places for getting valuable insights about digital trending product ideas are Facebook groups and Instagram pages in the niche you're planning to trade products. Social media is a popular place where customers tend to share trendy items.
One of the most effective ways to find out the most searched products on Google is by doing simple SEO (search engine optimization) research including search volume and keyword difficulty.
Top 5 trending products to sell online in 2023
Now when you know the product selection criteria, it's time to mention some of the most popular and profitable trending things to sell online. So, what are people buying online? Here are the top 5 trending products to sell online in 2023.
Subscription boxes
The subscription box market is growing by leaps and bounds. If you're trading products that are regarded as "essentials," opting for a subscription service is a great solution to provide during the Covid-19 pandemic. You can deliver makeup, toiletries, medicals, books, and more on a recurring basis.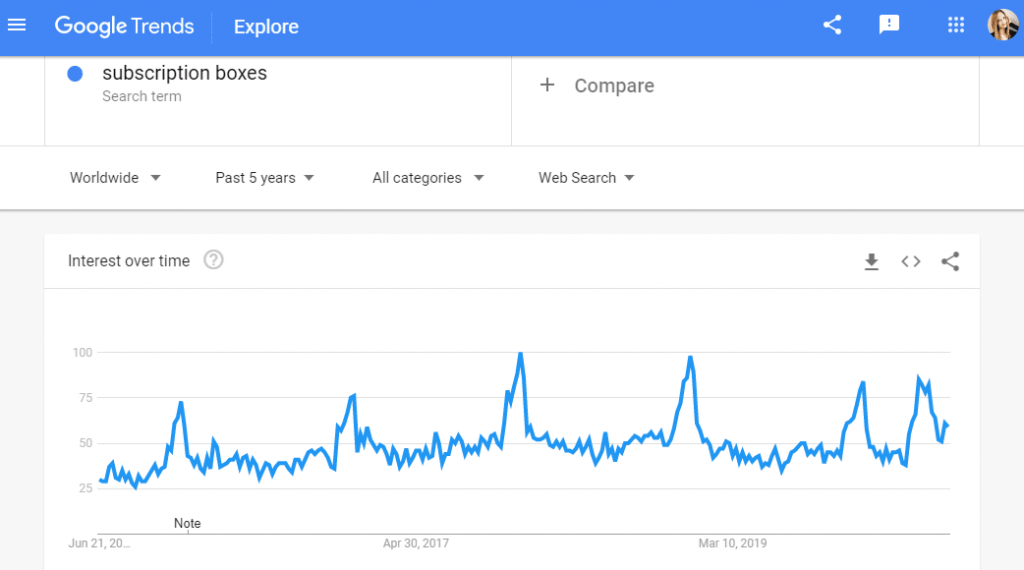 The point is that shoppers love subscription boxes and are excited to get the most essential products every month. You keep charging your customers until they cancel the subscription model. Subscription boxes are perfect options for people who hate shopping or just forget to buy products that they use on a daily basis.
Online food delivery
With all the isolation safety measures, people are staying at home and ordering food to their place. The demand for food, especially snacks, has increased over the last few months. The online food delivery sector is projected to reach $30 billion in sales by 2025.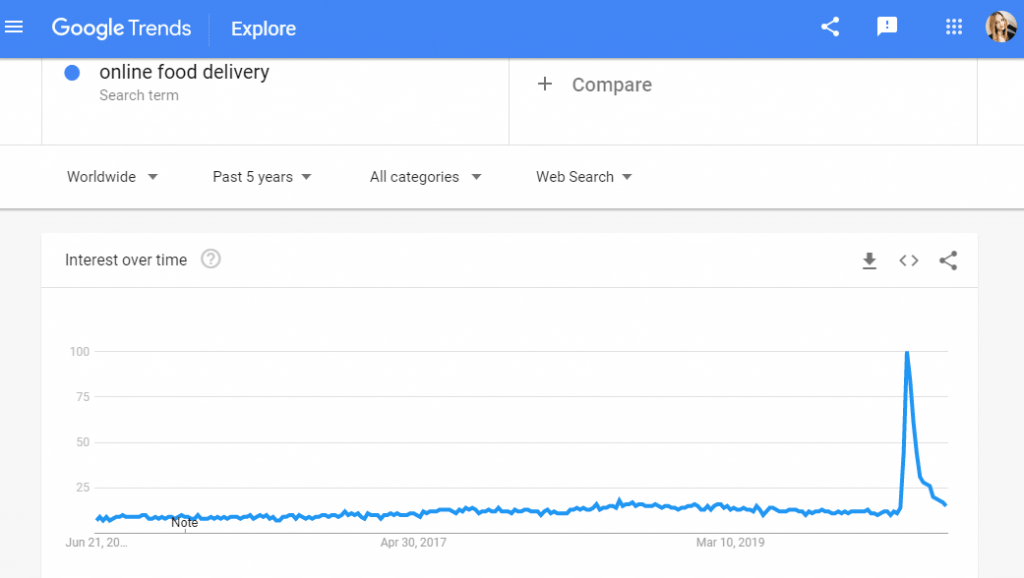 Food delivery offers a lot of advantages such as high-profit margins and cheap shipping costs. You could also combine food delivery with subscription boxes and benefit from two growing markets at the same time.
Adding snacks to your offerings might also be a good opportunity to make a little additional money. For instance, if you're selling coffee, you could offer shoppers muffins and buns as an upsell.
Shapewear
Shapewear is a tight-fitting bodysuit used to create a slimming silhouette. This type of underwear has been popular in the lingerie market for a long amount of time. The market for shapewear is projected to reach $5.6 billion in sales by 2023, that's why we have included this product on our list. What started as lingerie, now is also used as waist trainers.
A lot of celebrities and influencers in the fashion industry promote them on their social media. Looking at the Google Trends graph, it seems as if a large number of women purchase these trending products.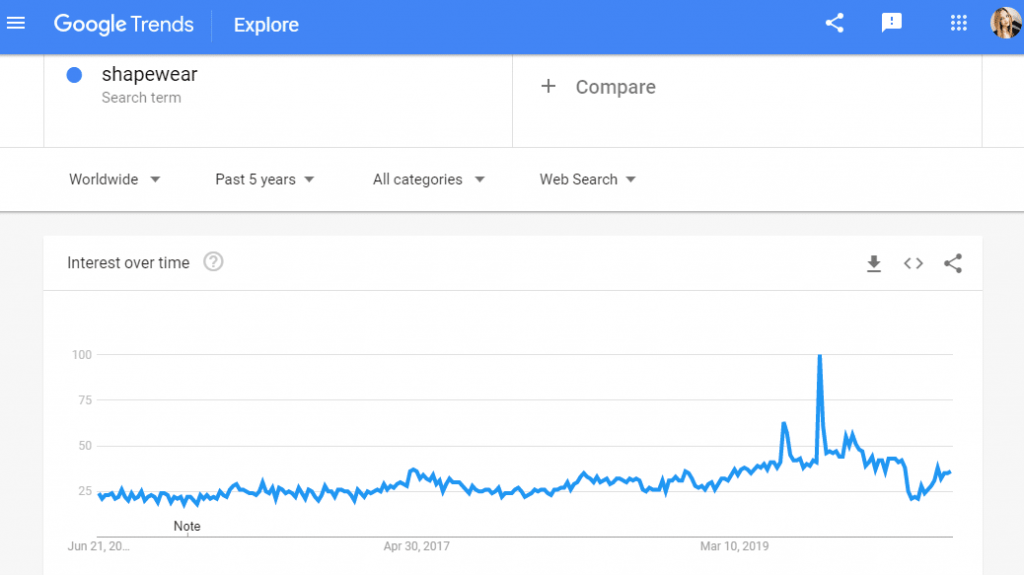 The biggest advantage of shapewear is that it offers sellers a lot of diversity. No matter whether you sell underwear or everyday clothes fashion, you can add shapewear in different colors, shapes, and sizes as a new category to your clothing store. They also are light and easy to ship.
NB! This is only an analysis of trends. We are not propagating any ideal body type or making any type of judgment.
Pet products
Pet owners continue to buy millions of pet products online. Actually, the global pet market is expected to exceed US$270 billion by 2025. Spending additional money on pet products becomes more popular and is not a luxury anymore.
Looking at the trend statistics, the pet market has constantly been on an increasing trend for the last few years and it is not expected to decrease anytime in the near future.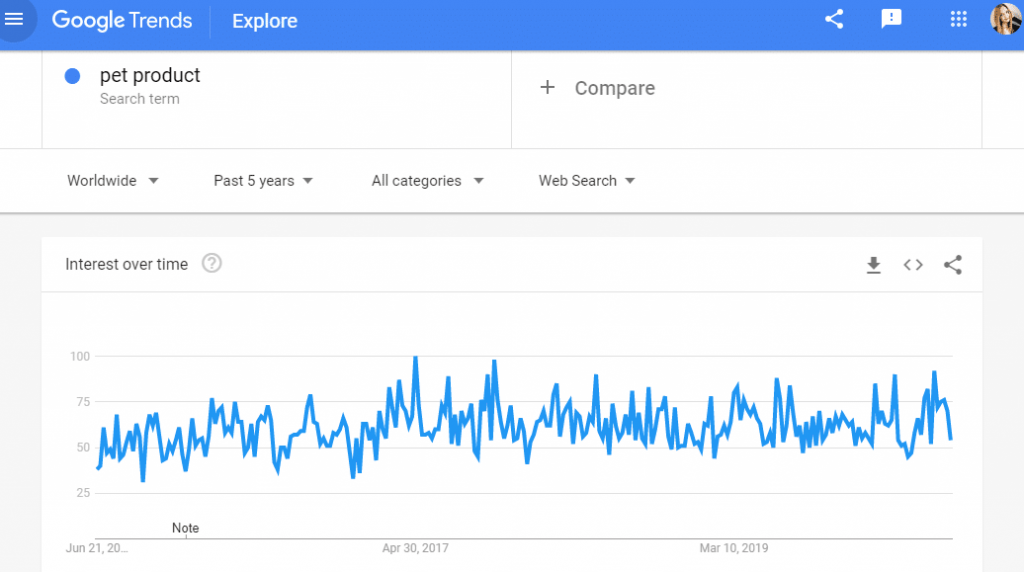 Products for pets usually include pet groomings, food, toys, beds, and clothes. For instance, you can focus on one category and sell pet beds or sell all different categories related to pet care. The highest selling products are pet groomings.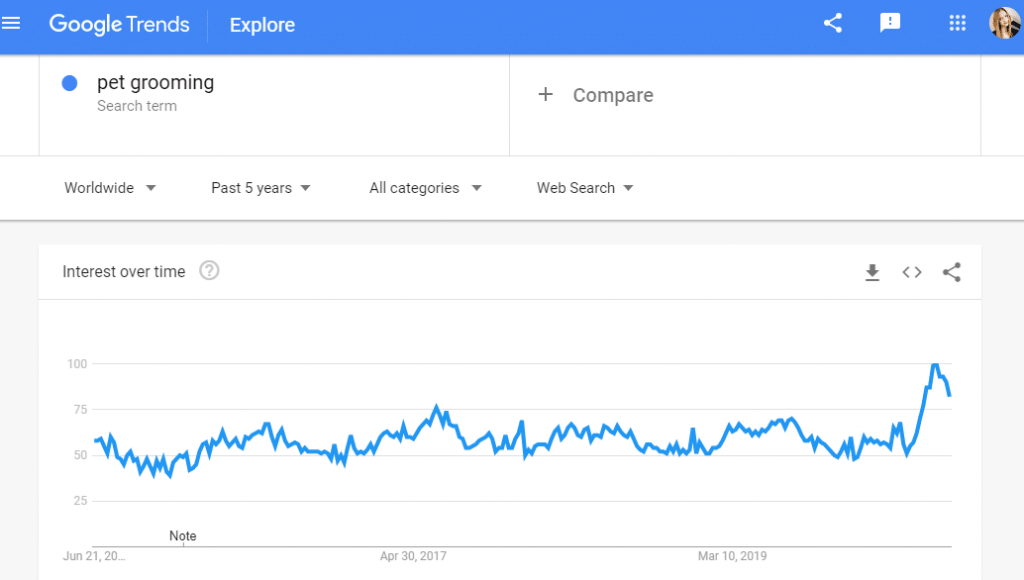 Athleisure
Athleisure is a mix of workout and activewear clothes, used for daily wear and not to exercise, such as sweatshirts, sports bras, sweatpants, tank tops, headbands, sports bags, leggings, sports shoes, and hoodies (read about how to sell shoes online). Athleisure has experienced constant growth in popularity over the last few years, especially among millennials and Gen Z.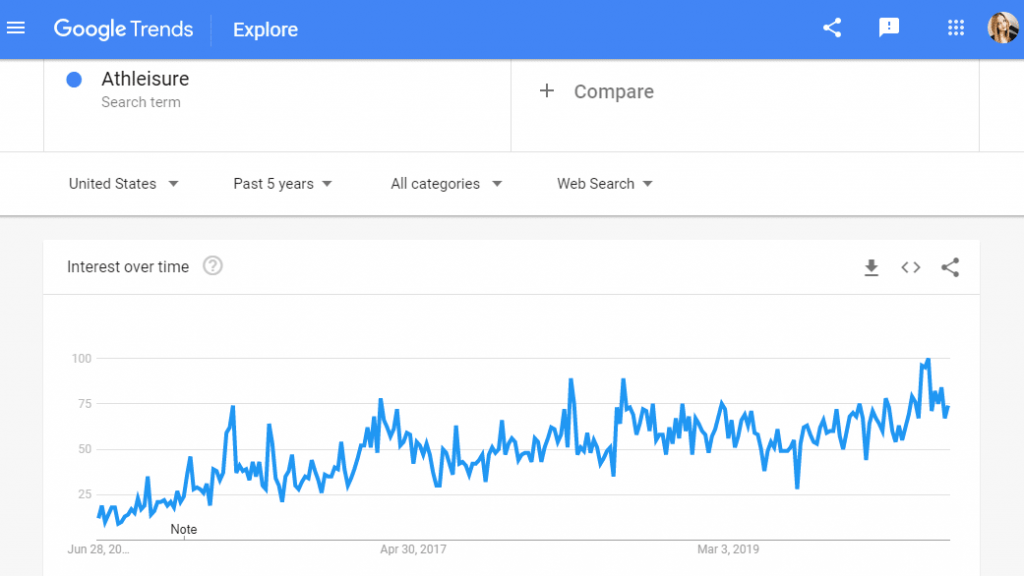 You can sell these high-margin products online via a dedicated store for athleisure or a subcategory within the clothing or fitness section. We also suggest focusing on social media (Facebook, Instagram, and Pinterest) and influencer marketing to promote athleisure online.
Trending Products to Sell Online: What's Next?
Making decisions on what trending products to sell online is one of the most challenging parts of starting an ecommerce business. We hope this guide gave the selling ideas you needed to identify high-demand products.
Now it's high time to build an online store where you will sell your products and start making a profit. If you need more information or help on this matter, feel free to contact us and we will collaborate to help you start and run your business efficiently.
Get in Touch
Looking for a partner to grow your business? We are the right company to bring your webstore to success.