Magento PIM Integration: Benefits for Online Store and the Best Solutions
When your online store is growing, it becomes difficult to handle product information and other data. There is a great integration that takes data management in your online store – Product Information Management (PIM) solution.
In this article, we will talk about Magento PIM integration, its nuances, features, and subtleties. Proper Magento PIM integration will help you achieve success in your eCommerce business and forget about the complexities of product information processing.
What is PIM (Product Information Management)?
PIM offers an opportunity to sell products through distribution channels, and manage all data in one place. PIM solutions are relevant for both B2C and B2B firms. Using PIM solutions helps you synchronize product data and collect data from different channels. This is a centralized product data hub needed to distribute information to sales channels such as e-shops, marketplaces like eBay or Amazon, social media, and so on. Magento stores often implement PIM solutions, offering different features and options to do so.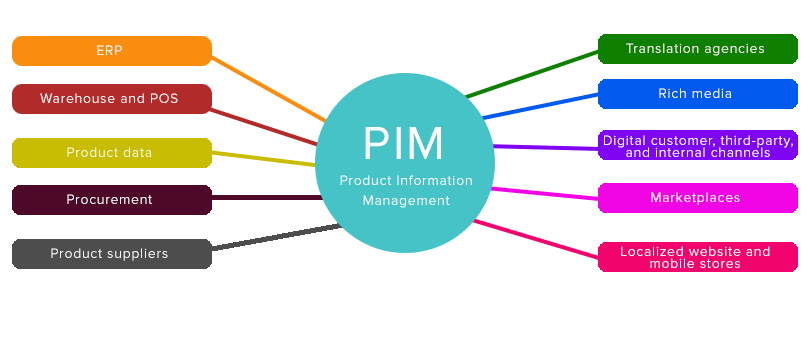 Why do you need a PIM integration in your online store?
Online shops store a lot of data, and importing data from various channels and managing these channels separately can be a nightmare. PIM solutions solve all these challenges and manage products catalog through different channels automatically. With PIM integration, you will increase productivity within your team as all data is standardized and centralized.
Abraham Jorij in his book Product Information Management: Theory and Practice, points out that manual item data cleaning takes about 25 min per SKU per year, and with automatic synchronization, it would take only 4 min. So, it's 20 man-months per 10,000 SKUs. Jorji also adds that before a PIM system, less than 2 h per week searching for products was spent by around 17% of staff at manufacturing companies. After implementation of a PIM system, this percentage had grown to 36%, and 47% to 58% for retailers.
What are the advantages of using PIM solutions in Magento?
PIM integrations help not only in data management but provide other crucial benefits for your store.
Thanks to PIM, it's possible to manage data in various formats. Usually platforms require a strict adherence to their own catalog structure but PIM can send different information to multiple channels automatically. Creating catalogs, collecting data, updating and distributing to other ecommerce channels is easy with Magento PIM integrations.
You can classify the products and manage data according to categories and data fields, sending data to a relevant channel. A single data location – is an opportunity to simply control and guarantee the integrity of product data.
It is possible to unload and download data from various sources, set import and export rules, manage the exchange of information with suppliers or contractors centrally.
In ecommerce, where you conduct various actions daily, including updating content, adding products, proper time management is crucial. PIM solutions help you to automate many processes and consequently save time.
 If you save time, you save costs. PIM solutions in Magento reduce operational and supply chain costs. Thanks to accurate data integration, you can audit and improve operations.
Read also: PWA in ecommerce
Main PIM features to implement in Magento
Magento has built-in tools to easily integrate PIM features. The core features of PIM software are:
Data Import
Importing products or other data in ecommerce is one of the main challenges as you need to constantly update your store. Especially if you use multiple devices and channels to sell your products and store data. Magento PIM integrations help you to integrate and import content or any other data easily and at once to different channels.
Viewing data by channel
Following the previous feature, PIM solutions also give the ability to view all content on various channels at once. This is very useful for content management when you need to edit content on each channel.
Easy editing
When you store data in multiple channels, ease in editing will save you a large amount of time. You can also easily adjust content on all channels at the same time. Bulk editing option is a big benefit of the PIM solution, just imagine how convenient it is to manage all data in your product catalog.
Multi-language
Multi-channel approach in ecommerce requires multi-language solutions. If you sell all around the world, a PIM solution will help you localize and adapt content to each country where you sell.
Digital Asset Management
PIM has an in-built DAM (Digital Asset Management) System to store the digital assets in one place. This will ensure that your digital assets are accessible for any sales channel, at any given time.
Best PIM software for your Magento online store
Here's the list of best PIM software that you can integrate into your online ecommerce store.
1. Akeneo
This is the most popular Product Information Management software, which is easy to use and optimize your processes. With Akeneo, it is possible to centralize all the product information and to manage your product information and assets across all your sales channels. Integration of this solution into your online store will result in better customer service, proper product information maintenance, and higher conversion rates.
Price: Free / Open Source
Integrations: Magento 2, InBetween, WooCommerce, Google Shopping, eBay, Drupal, Shopware, Microsoft Dynamics, Adobe InDesign, AliExpress, Salesforce Commerce Cloud, WordPress, BigCommerce, OpenCart, PrestaShop, Shopify, Odoo, WooCommerce, Google Shopping.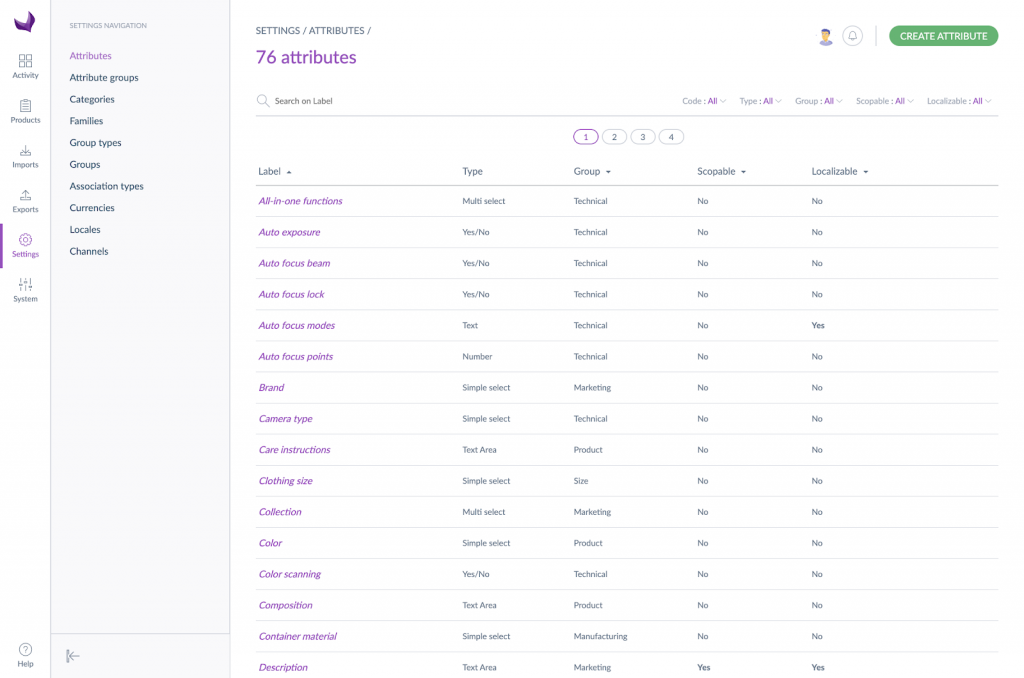 Image credit: akaneo.com
2. Salsify
This PIM combines both features of DAM and PIM platforms. Unlike other PIM solutions, Salsify offers data modelling options, turning multiple data sources into content. Salsify can automatically detect whether content meets requirements of each sales channel.
It also includes a wide range of APIs with imports/exports, connects to ecommerce platforms, review sites, analytics, ERPs, legacy product information management systems, and etc.
Price: Contact Vendor / Cloud, SaaS, Web
Integrations: Amazon, Walmart, Magento 2, Home Depot, Jet, Google Merchant Center, Drupal, Shopify Plus, Box, Epicor, Dropbox, MS Dynamics, NetSuite, SAP, Oracle, SiteCore.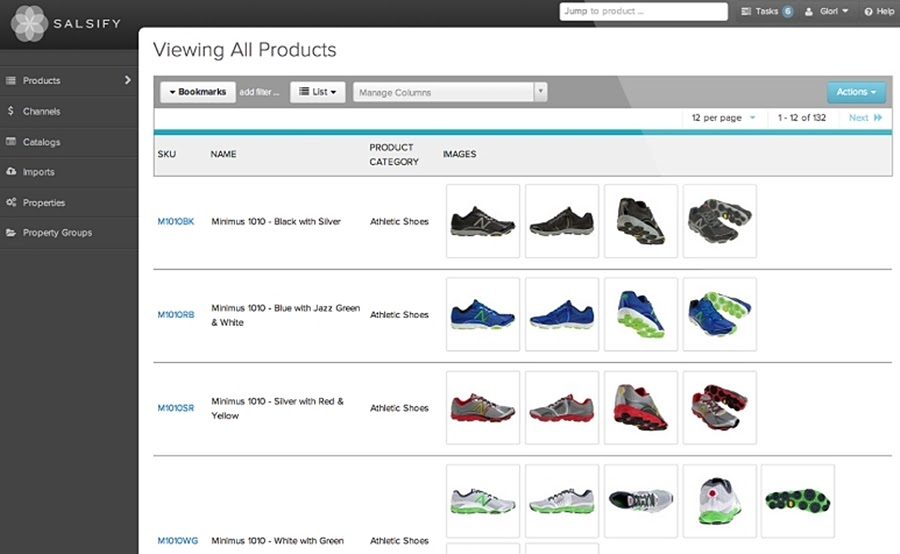 3. inRiver
This software also brings your e-shop an optimized product experience. inRiver connects different sales channels with data sources. In inRiver, you can accurately store data, using plugins, connectors, and APIs.
inRiver offers such features as catalog management, product creation template, content planning, product updates etc.
Price: Contact Vendor/ Cloud, SaaS, Web
Integrations: Amazon, Walmart, Google Shopping, Apptus, Magento 2, Shopify Plus, CloudCraze, DataFeedWatch, Intershop, Salesforce Commerce Cloud, Sana, ShopLogiQ.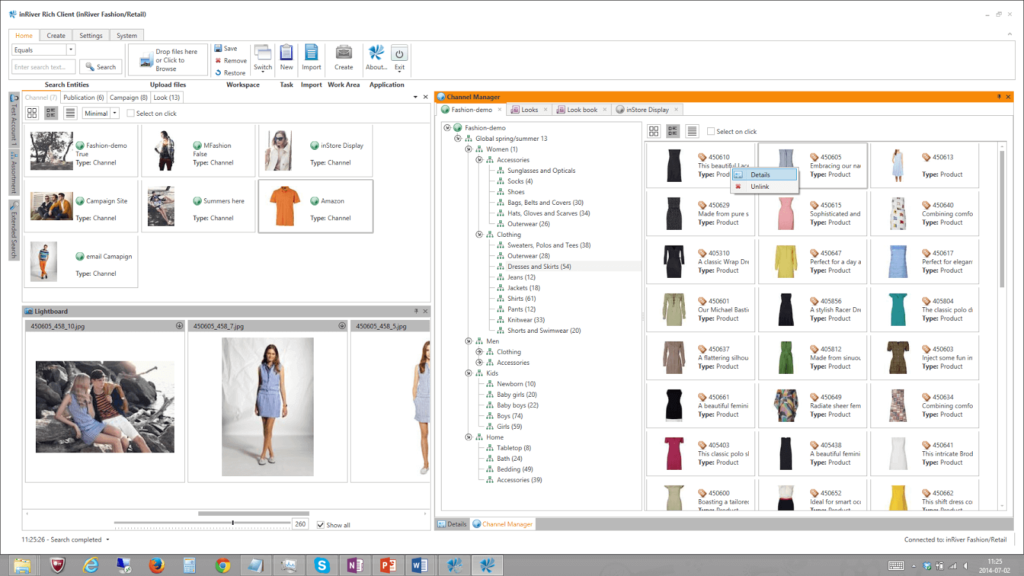 4. Pimcore
It is an open-source enterprise digital platform created for different ecommerce tools like PIM, Master Data Management (MDM), and Digital Asset Management (DAM).
Pimcore connects with different enterprise systems such as CRMs, ERPs, ESBs, BIs, etc. Also, offers editing options, different widgets, great design, and analytics integrations.
Price: Free / Open Source
Integrations: Pimcore API, Pixlr, Magento 2, Saferpay, Shopify, Shopware, Amazon, Google Shopping, eBay, Facebook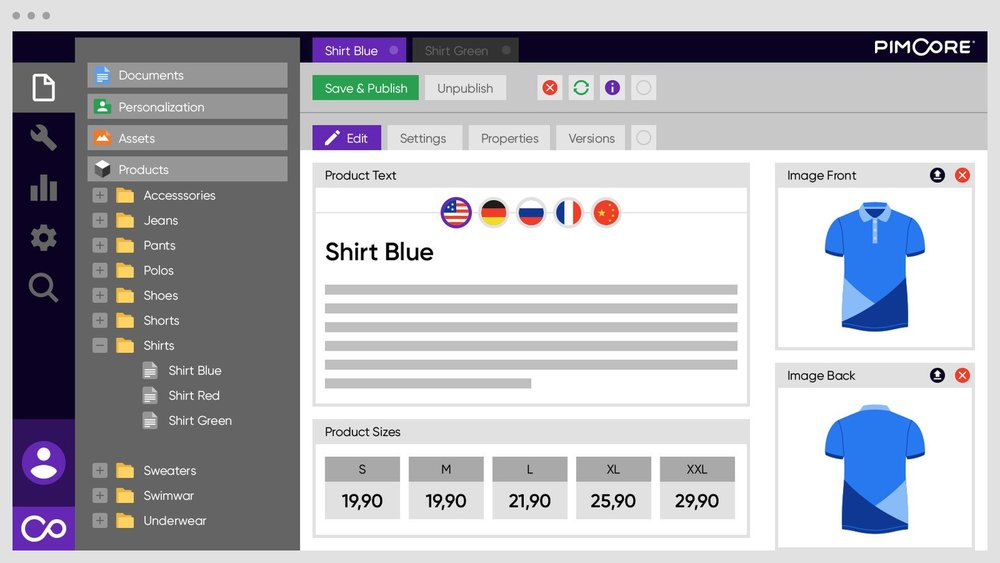 5. Bluestone PIM
This PIM is created for retailers and online stores, offering great user-friendly design and functionality. Thanks to this software, you can easily manage content, edits, updates, visuals, and categories management options.
Price: $1,000.00 Per Month / Cloud, SaaS, Web
Integrations: Magento 2, Amazon, Adobe InDesign, Slack, Digital River, Lipscore, Quicklizard, Tradesolution EDP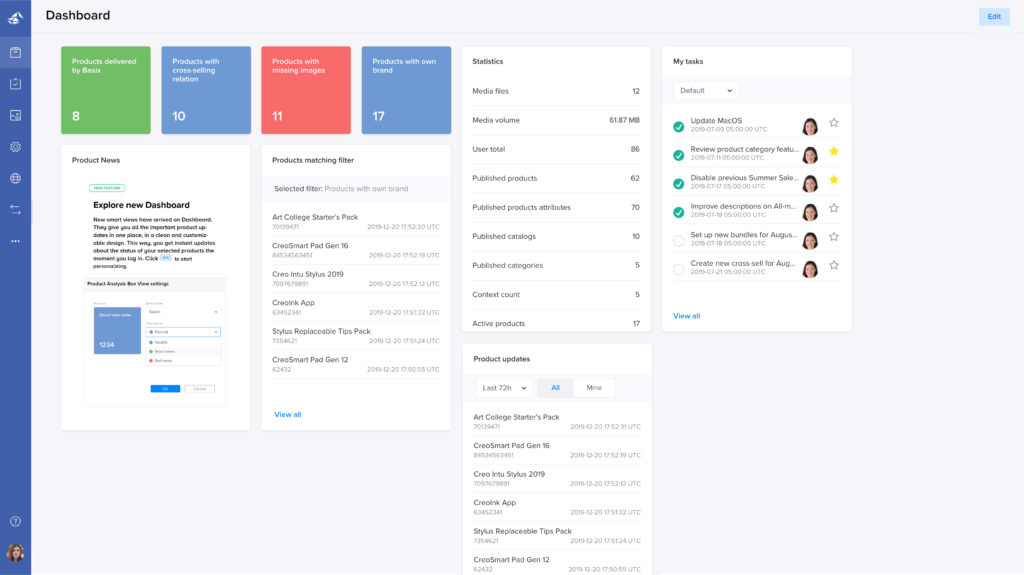 Interested in implementing PIM solutions to your Magento store?
Magento has built-in tools for working with products and additional modules for integration with third-party ERP-like systems and marketplaces. Therefore, PIM is not an absolute panacea and the optimal solution should be sought based on the current and future business goals of the company.
Elogic is ready to help you in every step of the implementation of top-notch solutions like PIM to your online store. Contact us and we will help you to transform your brand into an eCommerce leader.
Frequently Asked Questions
Does Magento have a PIM?
Magento has the ability to connect through PIM, sales channels, or other management solutions (such as CRM, ERP, and POS). PIM plays a significant role in driving the Magento ecosystem.
What is the best PIM for Magento?
Everything depends on your needs. You can try Akeneo or Salsify which will provide 99.9% of your requirements. In other cases, you can try other software that we described in the article.
Who can help implement PIM for my online store?
Our Elogic team is ready to help implement PIM and other solutions in your online store. It is very important that the developers you are looking for have experience. Our team has it.
How much does it cost to implement PIM in an online store by third-party developers?
Everything will depend on your requirements and the tasks assigned to the team. As a rule, this amount varies and you can find out the exact value only after contacting you.
Get in Touch
Looking for a partner to grow your business? We are the right company to bring your webstore to success.