6 Best Form Builder Extensions for Magento 2 in 2018
In order to improve your sales rates it is obligatory to know who your customer is. Do you want to know who your customer is? Well, you have to provide a descent customer acquisition services. All those forms and mails are an essential part of your client to customer communication. It also helps your business to become more client-oriented. But what do you do if Magento's form builder is not enough? Furthermore, it requires technical expertise to use it? We'll provide you with solution, even 6 of them! Let's take a look at freshly sorted top 6 form builders for Magento 2!
So here's the list of best Magento form builder extensions  for your webshop in 2018:
Custom Form by Amasty
Along with Amasty's development experience the great form builder comes. Custom Form has everything you need to implement effective communication in between you and customer. Amasty's extension is designed to help creating various Magento web forms. It also easily collects customers' info. In addition, simple constructor allows to generate multiple forms within seconds. You can also adopt each form for what you need. This form builder is one of the most often used due to it's simplicity. Analyzed data by this form builder might be used to learn customers' shopping habits and preferences.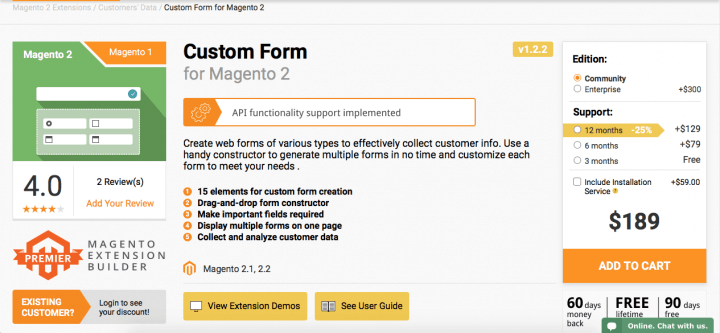 Main features:
15 elements available for custom form creation

Drag and drop constructor

Opportunity to make fields

*required

Ability to display several forms on one page
Price: $189 for Community edition/$489 for Enterprise edition. 
Form Builder by NextBits
This extension is an awesome Magento form builder! It is very reliable, user-friendly and easy to install. It also does not overload site's resources. All in all, the price of this extension is also very appealing. The form builder might be a good alternative to a solution Magento offers for a very reasonable money.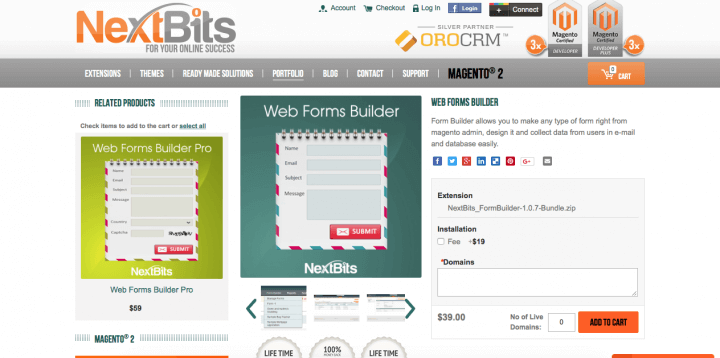 Main features
Unlimited forms per store
Unlimited fields per form
Ability to add custom html to any form
Easy 2-minute installation
Meets Magento programming practices
Free upgrades
Price: $39 (WOW!) + $19 fee. Get extension
Ves Form Builder
If you need to create a custom form in Magento 2 you might try using Ves Form builder. This form builder allows to create any kind of Magento custom form at ease. With Visual content creator you can come up with any kind of custom form that meets your needs. Furthermore, this Magento extension allows you to see the results at the same time you make changes. This option is available as all the changes are visually displayed for your better experience.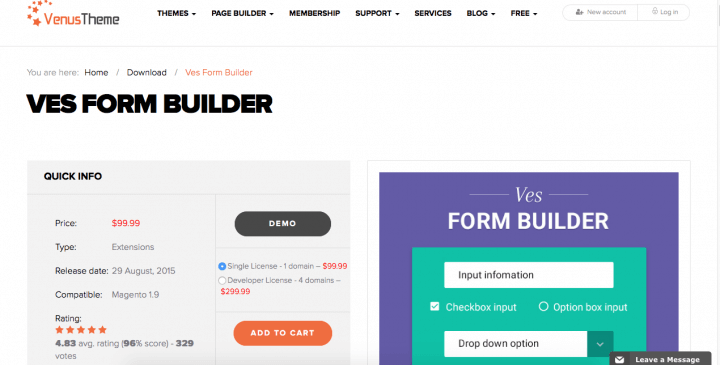 Main features
Drag and drop form builder
Multiple input types (text, check box, multiple choice, drop down, Google map, subscription and many more)
Responsive design
Price: $99,99 for Single license (1 domain)/$299.99 for Developer's license (4 domains). Get extension
WebForms Pro by MageMe
The creators of WebForms Pro took care and provided users with the best experience of using form builders in Magento. Furthermore, this module was one of the first released for Magento 2. It is a nice Magento custom form extension. It offers a great variety of functionality. As a result, it deals both with user input and works with results. Being one of the oldest ones available it become one of the most often used. Our engineers also prefer this extension. One more awesome thing about it - it can be faster and easier adopted to whatever the need is, as it is an open-source solution.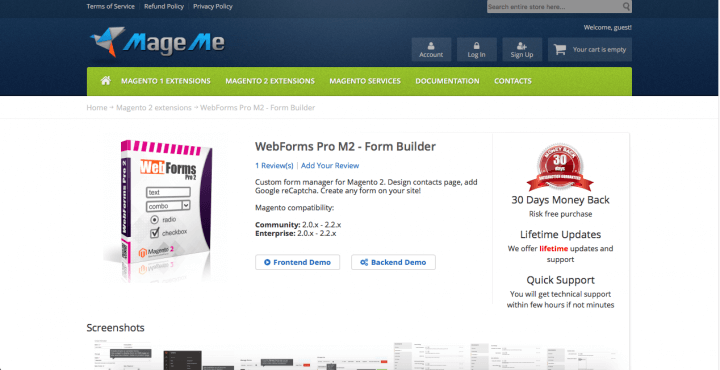 Main features
Conditional logic
Advanced email notification
Front-end widgets
Google reCaptcha v2
Export submission to PDF
Multi-step forms
WebForms Pro is an open source extension. Consequently it may be changed and improved faster opposing closed source ones. 
Price: $99,99 for Single license (1 domain)/$299.99 for Developer's license (4 domains). Get extension
Form builder for Magento 2 by LandofCoder
If you look for time-saving and convenient Magento custom form extensions then Form builder for Magento 2 by LandofCoder must be on your list. The extension has very simplified building process. In addition, form builder makes the operation of your website smooth and efficient. It is also one of the top choices of our developers. Being easy to use the extension provides great results for clients, thus makes it easier for us and fulfilling the clients' needs at the same time.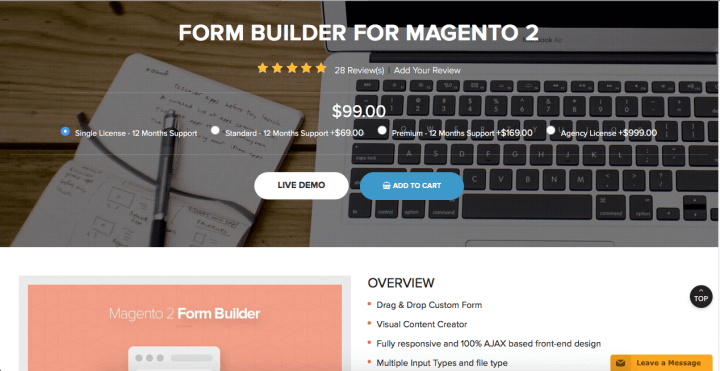 Main features
Drag and Drop custom form
Visual content creator
Fully responsive and 100% AJAX based front-end design
Multiple input types and file type
Customizable form appearance
Design options: Background, Font, Icon and Border
Automatic email notification
Support 14 pre-made form templates
Export data To CSV
Price: $99,99 for Single license (12 month support)/$268.00 for Premium (12 month support). Get extension
Contact Form Magento 2 Extension
If you are a happy Magento 2 web store owner, who needs to create fronted form — just try using form builder extension by Plugin company. It is a very user-friendly and feature-rich extension at the same time. This form builder lets creating as many custom forms as needed. Therefore, without any coding experience required. In conclusion, Custom Contact Forms provide solution for any Magento 2 webshop with a lot of contact requests. Furthermore, admin panel has rich assortment of options to choose from, which results in the form meeting all the special requirements there might be. All in all, the cost is very reasonable too.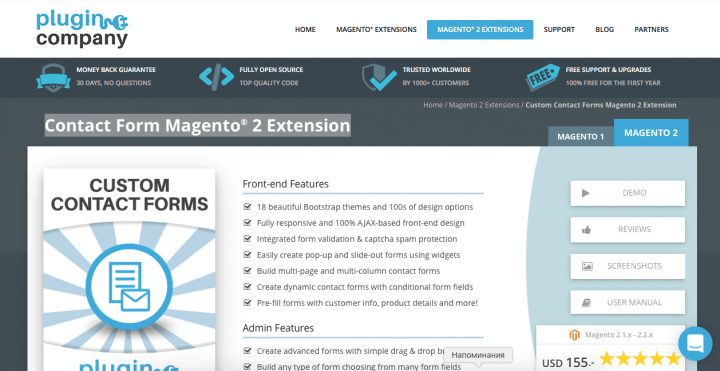 Main features
Drag and drop custom form
Fully customizable customer & admin notifications
18 beautiful Bootstrap themes and 100s of design options
Fully responsive and 100% AJAX-based front-end design
Integrated form validation & captcha spam protection
Easily create pop-up and slide-out forms using widgets
Build multi-page and multi-column contact forms
Price: $155.
Bonus: FREE Form builder by Ghuwad
Lets's be honest — this is not the best form builder in terms of documentation and variety of functionality. However, it still gives an option to build efficient and responsive forms. It's remarkable feature is being free for use. It is also relatively easily to change and adopt as it is and open source solution. To wrap it up, you get a nice product for free. We didn't really use this extension, however it might an awesome solution at the very beginning of the web store operation. So, it worth a try!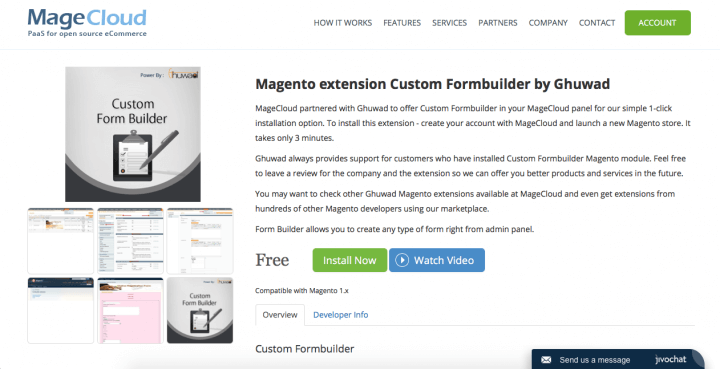 Main features
Supports a great variety of field types: radio, checkbox, etc
Unlimited number of forms
Great survey creation tool
3 min to install
Price: free!