Which Ecommerce Platform is the Best for SEO in 2023?
Planning to build an ecommerce store that ranks high on Google? Then you should choose the ecommerce solution with advanced built-in SEO features. Search engine optimization (SEO) is an excellent way to drive traffic to your ecommerce website.
Search engines are developing each year and change SEO strategies systematically to provide their customers with the best results. Thus, ecommerce businesses must keep abreast of these changes to keep ahead of the game. Those businesses that don't consider SEO functionality end up opting for the wrong platform for their business objectives would definitely regret later.
With the abundance of ecommerce platforms on the market, how can you tell which one is the best ecommerce platform for SEO in 2023? Continue reading and we will tell you the best SEO platform for your ecommerce business. But first, let's find out why SEO matters for ecommerce.
The importance of SEO for ecommerce platform
Why is SEO so crucial for your online business? Well, 93% of online experiences start with a search. In prior years, customers would typically go straight to their favorite online store to search for a product, but these days online shopping begins on Google. That's why you will have a difficult time getting expected traffic if shoppers can't find your website on the first pages on Google results.
How does it work? Let's imagine that you are a merchant who is selling women's handbags. Most buyers will search the desired item typing terms like "handbag." Some shoppers will search with more particular terms like "brown women's tote bags". The search results would then pop up in the customer SERPs (search engine results page) including several various products in accordance with the keywords applied in the search.
It can be easily understood from the above example, why SEO can make or break your ecommerce business. The higher the position the keywords get in the search results, the higher is your chances to get the desired traffic and boost your sales conversion rate. To be discovered in organic searches and rank high in SERPs, your store should be fully optimized so that search engines can index your pages without hassle.
Why Magento Is One of the Best SEO eCommerce Platforms
Magento is the best marketing platform for ecommerce due to its high level of customization. Magento 2 requires Mysql 5.6 which guarantees better query processing, re-indexing and caching. From an SEO standpoint, the Magento platform allows customers to easily manage meta tags, keywords, and more.
Let's talk in detail why Magento is the most seo friendly ecommerce platform and take a look at core ecommerce platform features that are necessary to rank high in search engines
Independent Page Titles
Every webpage has its own title. A page title also referred to as a title tag, is an HTML element that appears in the tab up at the top of the browser. The page title is a crucial element for SEO, as search engines index page titles in order to find out what information the website covers. When viewed in HTML code, the page title is enclosed in <head><title>Example Title</title></head> code.
Title tags are shown on SERPs as the clickable headlines for a given keyword and are the first things shoppers see when they are looking for a certain product. Effective title tags should include the relevant keyword for which the ecommerce store has been optimized and be a precise description of a web page's content.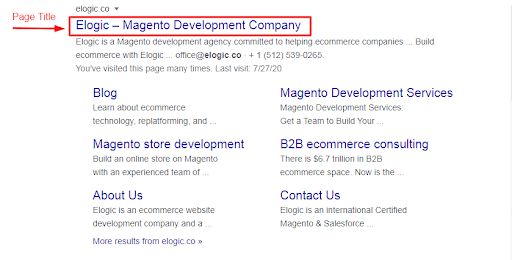 In comparison to other platforms that automatically create page titles using the product or category name, the Magento platform gives you more customization and flexibility, allowing you to customize page titles on your seo friendly ecommerce website.
Read more: eCommerce Website Planning Checklist
Customizable Meta Descriptions
A meta description is a meta tag that serves as 150-160 characters brief overview that represents the content of a web page and appears under your listing title in the Google results. You'll find a meta description in a page's code as <meta name="description" content=.
The meta description is not a ranking factor, however, it encourages customers to open the link to a web page. As more customers click through, that informs search engines that your ecommerce store is popular and relevant, eventually affecting your SERPs.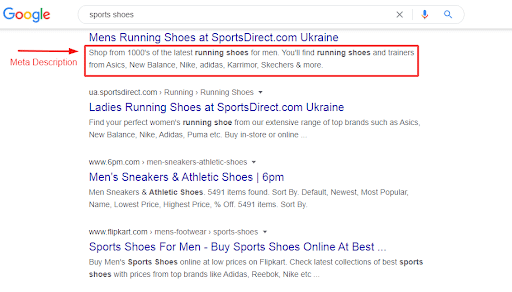 Some ecommerce solutions automatically create a default meta description without giving you the possibility to manage the text that shows up in your search engine listing. Magento includes a number of SEO tools that enable you to create custom meta values for each product and have complete control over editing. Just go to Basic Settings -> Search Engine Optimization and type the appropriate meta tags there.
Independent H1 Headings
One of the most challenging tasks of search engines is to figure out the context (main idea) of page content. One of the ways for search engine spiders to understand what your page is all about is to analyze the H1 Heading. When viewed in HTML code, the H1 is enclosed in <h1></h1> tags.
Each web page or blog post has multiple headings (h1, h2, h3, h4). The H1 tag is an indicator of the page content, typically used as the main heading of a page or post and is visible on your product and category pages. Regardless of numerous changes to how websites are ranked over the past years, the H1 tag still has significant value as a ranking factor. That's why marketing teams often go to great lengths to create the relevant H1 tag for their content.
If you sell a product that matches a search query of your potential customers e.g. "Green shoulder bags". It would be better for SEO if the H1 tag on the category page includes the same keyword. A powerful meta description should show the visitor that you are relevant to their search and include a strong CTA (call to action).
Another point why H1 heading is so vital for search engine optimization is that the H1 tag makes it much easier for customers to navigate on the website. You can imagine the disappointment of ecommerce store owners when H1 tags are created automatically for web pages and can not be easily modified.
Luckily, Magento can be configured to enable you to customize all the H1 headlines for targeting particular keyword variations.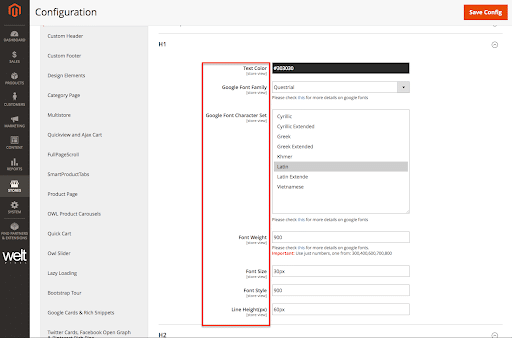 Canonical URLs
A Canonical URL is the original address of a web page that helps web crawlers to avoid duplicate content problems. With Canonical tags, you can tell Google which page on your site is the duplicate content and which one is the original source of information.
It is not a good idea for the same product to be listed under numerous URLs, but sometimes it's essential to copy the content. For example, "dining chairs" could be listed within a category of "furniture" and "home and garden". This could lead to the same item showing up under two independent URLs. Google will index these URLs as two different pages, both with the same content.
To Google, this could seem like duplicate content, so it punishes websites with a lower ranking. To prevent this issue, Google provides the "REL CANONICAL" tag which gives you a possibility to clarify which URL should be treated as the duplicate of the original page and where to redirect traffic.
With Magento, you can configure a canonical tag to appear on category and product pages in the Magento admin panel. Magento automatically applies the canonical tag in hierarchical product URLs to improve your site ranking.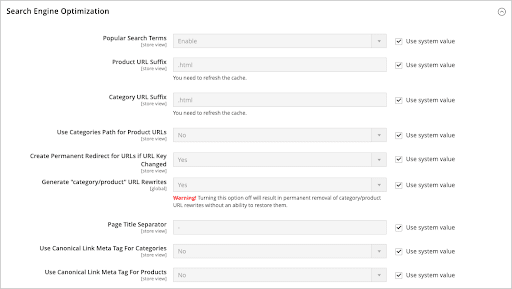 Site Speed
In the case of SEO, site speed makes a difference. Slow load time hurts crawl efficiency and results in a smaller number of pages being indexed. This is particularly the case in mobile commerce when customers are making purchases on the move and don't want to wait long for content to load.
That's why Google comprises site speed as a factor for identifying search rank and penalizes slow websites by placing their pages on the bottom of the list. If your online shop loads fast, the web bots will reward you with high rankings.
Magento provides a performance toolkit to manage heavy traffic and gives you a significant speed boost. With Magento, the average loading time is below two seconds due to full-page caching technologies such as Varnish and NGINX.
301 redirects
A 301 redirect refers to the HTTP status code that reports the permanent moving of a web page from one URL to another. If a web crawler comes upon a 301 redirect when indexing your ecommerce store, 301 redirect indicates the web bot to delete the old URL from their index and substitute the old page with the corresponding new page. The old URL will redirect users to the new URL whenever anyone tries to access it.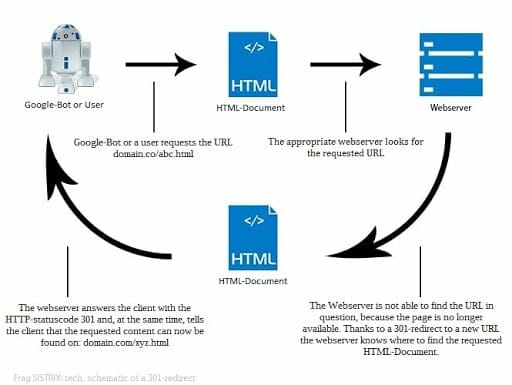 If you don't have a 301 redirect and delete a web page from your ecommerce store, search engines will view it as a 404 Not Found error response code. This can lead to the page being dropped from the search engine's index and loss of its ranking for a particular keyword on Google.
Magento platform can deal with 301 redirects automatically or on-the-fly. For instance, if you alter a category URL, it may redirect it without any effort from your side. You can test this by entering the old URL into a new browser window and trying to load the page. Your account should be set up to enable you to edit links.
Auto XML Sitemaps
An XML sitemap is a file on your web server that helps search engines discover important pages and crawl your content intelligently. An XML Sitemap functions as a table of contents for your website and includes valuable information about the webpage updates, changes, or any alternate language versions of a page.
Sitemaps come in XML (eXtensible Markup Language) format that Google can easily analyze to discover new URLs. Bear in mind that the XML sitemap distinguishes from an HTML sitemap that is aimed to help people find the content on your store.
Maintaining an XML site is not a job that you would like to do manually. Luckily, Magento automatically generates an XML sitemap whenever a new page is added or removed from your store. The Magento configuration gives you the ability to configure the periodicity of the updates (might be daily, weekly, or monthly) and the priority for each type of content.
Social sharing buttons
Social sharing buttons are icons that give your customers the possibility to share your products and blog posts on the most popular social media. Over the past several years the search engines have publicly acknowledged that social signals are becoming a leading ranking factor in its algorithm.
The more often a product is shared using a social button, the greater the effect on the SEO. Sharing on social media can boost referral traffic to your content, increases the diversity of backlinks to your site, and drives relevant traffic to the website.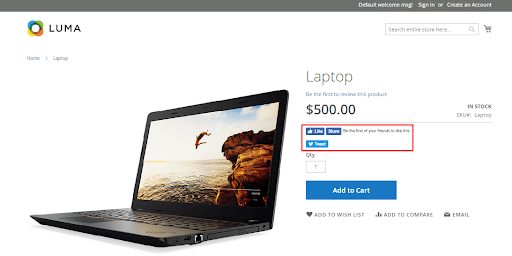 There is a great variety of options on how to integrate social sharing buttons to the Magento store. You can select from a few various free or paid extensions, create your own, or apply services like AddThis.
Read more: RFP for Ecommerce Website: Hunting Out the Best Vendor to Replatform
Robots.txt Noindex Capabilities
A robotx.txt file informs search bots which pages of your ecommerce store to ignore when crawling. The robots.txt plays an important role in terms of SEO, as it gives search engines useful tips on how they can crawl your website more efficiently. In general, any page of your website you don't want customers to see without completing a specific action should be blocked from search engine spiders.
For an online shop that could theoretically be listing thousands of products, it would be much better if the search engine indexes your product category pages rather than folders containing photos, PDF documents, scripts, and more. This improves the prospects of your product pages being crawled by search engines.
By default, the robots.txt file that is created by Magento includes directives for web crawler bots. These instructions help to avoid crawling particular areas of the website that include files that are used internally by the system. With Magento, store owners can use the default settings, or determine their own custom directives for particular search engines.

What is the Best Ecommerce Platform for SEO: Bottom Line
Magento is the best ecommerce SEO-friendly platform that gives store owners more control over the on-page and off-page technical optimization to increase organic search visibility. If a feature that you need isn't included, you can easily find or develop an extension to make it happen. In addition, this level of customization allows brands the highest level of control over user experience making it the leading seo ecommerce platform on the market.
Get in Touch
Looking for a partner to grow your business? We are the right company to bring your webstore to success.