Magento vs Shopify: Which to Choose for 2018?
If you find yourself stuck in between the choice of Magento vs Shopify for 2018 — no worries. This is one of the problems, that every online store owner faces. This is very important and life changing choice, so you should go along all the pros and cons of both platforms in order to come up with the best option for your business.
Since, Magento and Shopify are the most popular e-commerce platforms, they both deserve attention. Also both of them are often pitted against each other. However, in fact, they have a of cornerstone differences. Let's take a closer look at them and compare Shopify vs Magento to come up with the best solution for 2018.
Crucial differences between Magento & Shopify
Let's start with two main differences between Shopify vs Magento:
Shopify is a commercial platform, that operates on regular basis payments. There is Shopify and Shopify Plus Editions. With Shopify Plus you get higher level tools and more features than Shopify. You also gain the ability to scale your business. If you've already built a fair sized company and now need to run with the big dogs, you need to be on Shopify Plus. Magento is free open-source solution. It has OpenSource, Enterprise and Cloud editions with their own pros and cons. Community edition is free and designed mostly for smaller businesses.  The Enterprise edition is completely backed by the Magento team. Subscribers get full support by phone and email. Pricing also includes security updates, special features and exclusive product enhancements. Magento Enterprise Cloud edition provides all the flexibility of an open source platform, without the limitations of multi tenancy.
Shopify is hosted by Shopify, so it can be set up in minutes. Magento requires setting up your own hosting, followed by installation, setting up and configuration afterwards. Yet this all needs to be done before you even starts building your own store. To sum it up, it usually needs technical expertise and some programming skills even before you actually start working with Magento.
To be honest with you, we are Magento Experts and prefer Magento over Shopify, still we admit all the advantages of Shopify, and truly know all the disadvantages of Magento. 
Magento has more key features than Shopify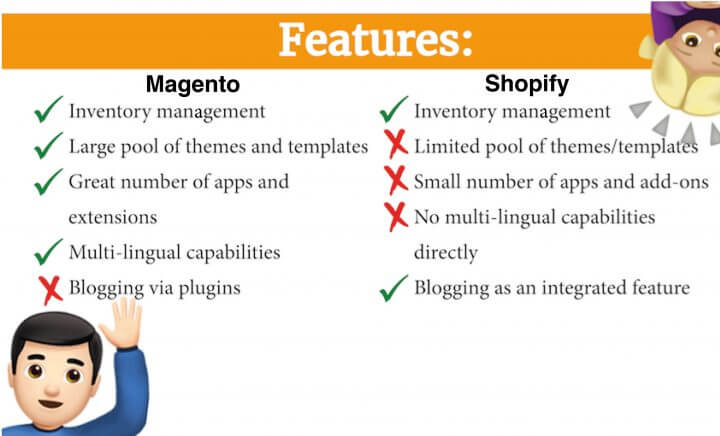 Let's start with some core features, so you get the basic idea of what the platforms are capable of. Both of them offer inventory management, which is pretty handy. The platforms have a Products section where products can be added and edited. Both offer a bulk upload feature, and both have the capability to be linked to your stock management or warehouse data. However, Shopify is much easier to use when you're adding and editing your products and categories. It also has more user-friendly interface, which lets non-coders use Shopify.
Magento has large pool of themes and templates as well as great number of apps and add-ons to it. This makes it more configurable than Shopify. However, Shopify's  themes are far better from a design and user-experience (UX) standpoint. Their designs are more mobile and tablet responsive directly from the box.  Another advantage of Magento is its multi-lingual capabilities, which makes it easier to go built multi-lingual store. Speaking of disadvantages, you won't find blogging features in Magento directly. It requires plugins to operate. On the other hand, Shopify has it as an integrated feature.
In terms of use Shopify is more user-friendly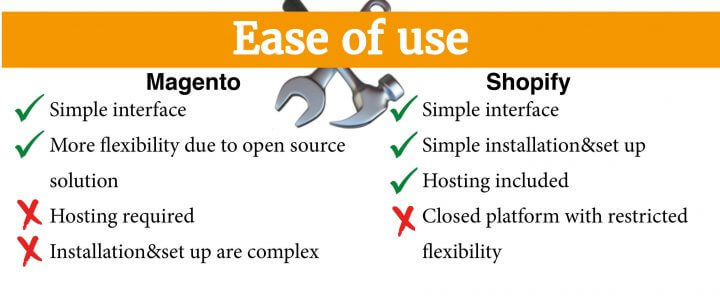 When it comes to the usability features — Shopify is the one, who wins. Even though, Magento's interface is simplified, Shopify's is way more user-friendly. Another advantage of Shopify is being simple in installation and setting up. Magento requires substantial design restyling, as well as it takes longer to set up and go live. It is also way harder to modify unless you have good technical skills. Such requirement  will make costs higher at the development build phase.
The platform does not provide a hosting, so there's another issue, you will need a solution for, as well as it also needs to be paid. Having hosting included makes Shopify more appealing, however, there is a disadvantage, you have to keep in mind while choosing. It is a closed platform with restricted flexibility. This means, that most of the times you will be forced to go along with what Shopify offers.
To sum it up, if you're more technically skilled give Magento a try. If you prefer something a bit simplified, but more manageable — go with Shopify.
If you need a support — do not really rely on Magento.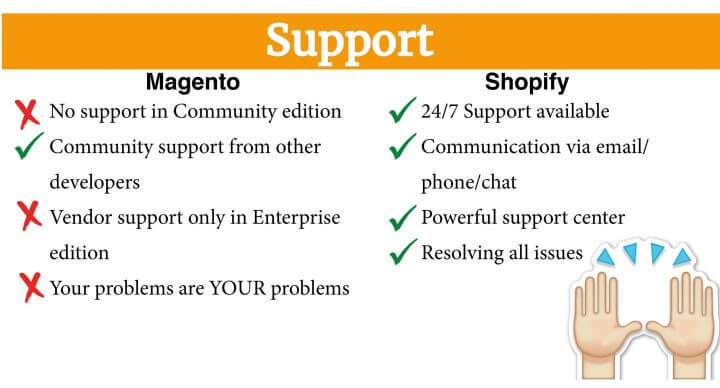 When you struggle with building your web store and need some help with it, that's where support plays a big role. Once you choose Community edition of Magento — you can count mostly just on other developers. There is no support provided, unless it is Enterprise edition. That's where Shopify performs much better. It offers 24/7 support, providing you with options for communication to choose from. Its powerful support center usually provides very qualified help resolving all the issues that may occur.
Does free mean better?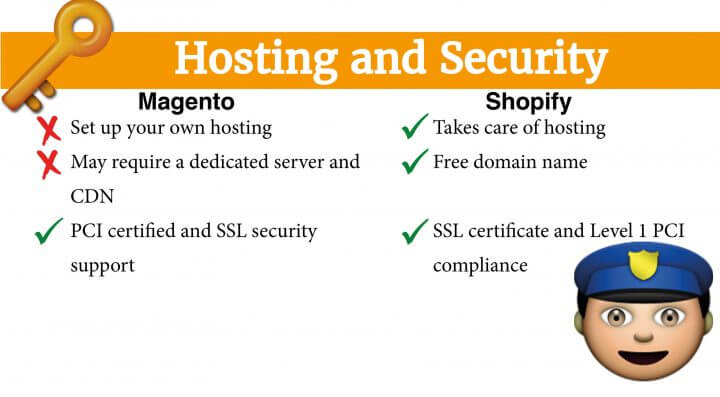 Security of your online store for you as a business owner must be a top priority. Your hosting choice may affect it a lot. Magento & Magento both allow you to have your own domain linked to your store. However, Shopify is a fully hosted solution, that can be easily set up in minutes.
On the other hand, Magento requires separate hosting and makes you go through pretty complicated installation and set up. Along with picking up your own hosting for Magento it makes you responsible for hosting security, for downtimeі or hacks. In addition, it effects costs.
Magento offers more tools for marketing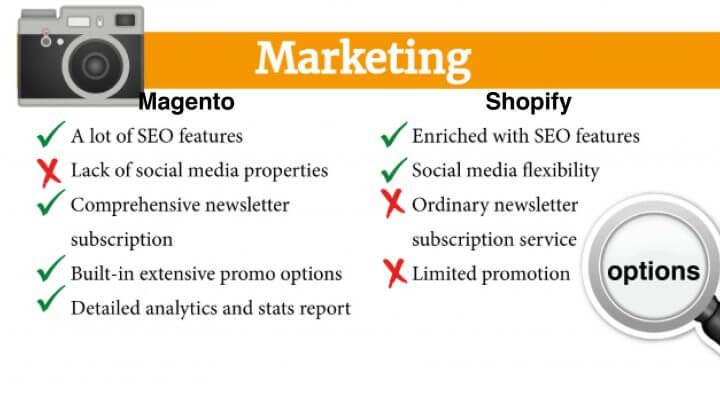 In this Magento vs Shopify comparison we could not ignore marketing and SEO features of both platforms. To be honest, both of them are quite good for marketing purposes. They have a lot of SEO features, which facilitates better and easier promotion of the web store.  You can simply  take the necessary steps to optimize your store.
This means no apps or extensions are needed to optimize platforms.
Both of them offer you an ability to:
Edit the page title and description. This helps to define how your store will appear in the search results pages.  Such information tells search engines what your store is about.  And displays it in relevant user searches. If a person finds good and relevant deal — it will turn out to be a purchase. Thus, that's how your SEO turns into money!
Add alt text to images to. If you add alt description to your images search engines will understand what they are about and offer them to customers, who are looking for the same stuff. The formula is simple — the more your website is comprehensible to search engines, the higher it will be placed in the results pages. This means more traffic, more leads and greater income!
 There are different prices available depending on services you get
One of the most significant features that you wold take into consideration is the cost. No wonder, since you need to understand what budget will you need and what could some hidden costs be. Both Magento's  community edition and Shopify are free. In the first case you have to pay for domain and hosting, which will bring you to $5-$100 per month. Hosting and domain are free for Shopify users. However, you will be charged $9-$299/ month depends on the plan you choose for your business. At first sight, Magento's Enterprise edition cost is high, but it definitely worth it, if you already have a big company or corporation. An awesome thing is that paid themes for this CMS are more than affordable, starting with $1.
One hidden cost that Shopify will charge you — is fee per each transaction made on your online shop. It is no big deal, when your shop just starts, but ones you get big incomes, you will have to pay more to Shopify. In addition, if you would like to use some paid themes — get ready to pay $80 and more.
To sum it up,
both of the platforms are the top choice on the market in 2018. If you look for something more user friendly and you are ready to give up on some flexibility and scaling of your business — go with Shopify.
If scaling your business is your goal, then give a try to Magento. You can start free and easily migrate to enriched Enterprise edition, once your business grows big enough. Magento also supports integrations from the 3rd party systems, which allows you just endless opportunities to improve and develop your web store.
Why do we prefer Magento?
Sometimes Magento gets more complicated and requires more technical expertise to build fully operating web store. However, it allows to do more.
Magento is more scalable.
It is more flexible.
The platform allows to migrate easily.
It is the best choice for fast growing business.
The pricing is reasonable.