Magento vs Shopify: Which Ecommerce Platform is Right for your Retail Business?
Anyone planning to launch the eCommerce website eventually runs into the challenge of choosing Magento vs Shopify. These two most popular eCommerce platforms are both used by big brands and have established themselves as experts on the market:
Statistics on Shopify usage: At the moment, more than one million businesses trust Shopify to host their stores, including PepsiCo, Heinz, RedBull, The New York Times, BBC, etc. The solution is used in 175 countries.
Statistics on Magento usage: Magento has 250,000 users and is widely used by big international corporations such as Nike, Ford, Lenovo, Nestle, Hermès, Olympus, etc.
We will not give you a straight answer about which of these is the best. There are no best and worst solutions but the ones that meet your business needs better.
In this Magento vs Shopify comparison guide, we will take a look at both platforms, learn about their peculiarities, pros, and cons so that you can decide what your perfect solution is.
What's the Difference Between Shopify and Magento?
Here is a small overview of both platforms so that you can grasp the main difference between Shopify and Magento.
Shopify Overview
Shopify is a Canadian subscription-based software that helps you create a website with the drag-and-drop builder, sell both online and offline, manage inventory, payments, and shipping. You do not need any knowledge of coding to start the eCommerce business with Shopify: just use themes and customization drag-and-drop tools for the development.
Shopify is a great fit for small businesses as you do not need a big team to manage the store on Shopify.
If you are an enterprise and still want to work with Shopify, then you will need Shopify Plus as it has more advanced features that are essential for large-scale business. Check our article on Shopify Plus vs Magento 2 to learn more about the platform.
| | |
| --- | --- |
| Shopify Pros | Shopify Cons |
| Easy to use: Shopify is a great platform for business owners with no tech knowledge and the opportunity to hire an IT expert | Additional costs: Many themes, plugins, and all payment gateways except Shopify payments are the paid options |
| Specific plugins for eCommerce: Shopify offers numerous plugins for accounting, customer service, shipping, etc. | Limits in customization: This disadvantage is not that critical for a small business |
| 24/7 support and big community: You would easily get assistance with any technical issues that may arise | Poor CMS: Shopify is designed for selling rather than publishing blogs or videos |
Magento Overview
Magento is a Platform-as-a-service solution where you can create more customizable eCommerce websites, easily scale up and down, manage marketing, catalog, and content. If you need a basic website, you can create it without the developer's help. However, the more complex the website gets, the more help from a PHP-experienced IT team you will need.
Magento is more about medium-sized businesses and large enterprises. It offers richer, more powerful functionality and more customization freedom but it comes at the cost of having to involve an IT professional.
| | |
| --- | --- |
| Magento Pros | Magento Cons |
| Easily scalable: Magento is an open-source platform, so with the help from the IT team you can benefit from the unlimited scaling capabilities | Costly: Features and customization come at a great price |
| Numerous extensions: Around 4600 extensions for functionality expansions | Performance issues: Customizations slow down the website |
| Variety of customization options: You can customize all templates as much as you want to truly fit in with the brand's identity | Necessary IT-team involvement: Magento is too complex for non-tech users, so you'd need the help of professionals to set up and manage the website |
Before we continue with this analysis, check out more reviews of Magento with other ecommerce platforms on our blog! See BigCommerce vs Magento, Magento vs WooCommerce, Drupal Commerce vs Magento 2 comparisons and make an informed decision for your future ecommerce website.
Magento vs Shopify Comparison
So we have scratched the surface but let's dive in just a little bit deeper into all peculiarities of both solutions. In this section, we compare 12 essential characteristics such as ease of use, features, SEO, costs, and others.
It is obvious that one solution is better at something but is worse at something else. Therefore, we suggest creating a priority list (and preferably organizing it into a website specification document). This way, you will understand what are the most important platform characteristics for you and which ones can be compromised.
Ease of Use
The ease of use will define how many people you need to build and manage the eCommerce platform and whether you will be able to fully use the potential of the solution.
Ease of Use: Shopify
Shopify has always been praised for its ease of use. The platform allows you to create a website without having to deal with programming languages and long lines of code. A clean, intuitive interface offers easy drag-and-drop tools for basic customization. The ease of use comes at the cost of deeper customizations and flexibility of third-party system integrations, but there are plenty of extensions in the Shopify marketplace that you can install alone.
After your Shopify website is up and running, you can also easily understand the admin board with analytics, orders, products, etc. Every section also offers an explanation once you click on it. Basically, that's everything a beginner merchant is looking for!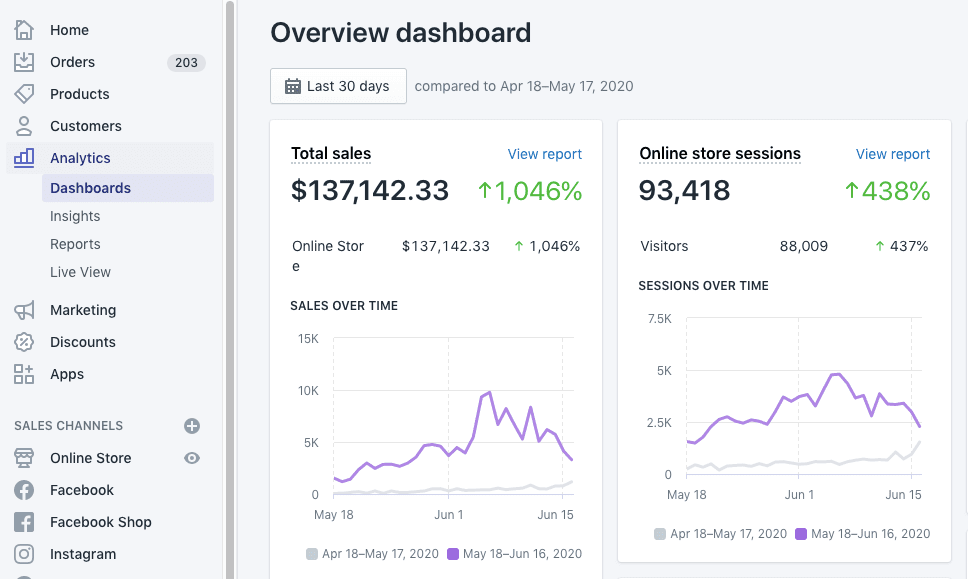 Ease of Use: Magento
With Magento, it is better to skip the tool entirely if you do not know how to code or do not have a dedicated developer on the team. Website building will require some coding (the more custom you go, the more code you will need), and its further management requires a pretty steep learning curve as well.
However, the reason behind the need for coding is customization. Magento is an open-source platform that holds unlimited potential for customization. So, developers can play around with the code and build highly scalable and fast API-led architecture.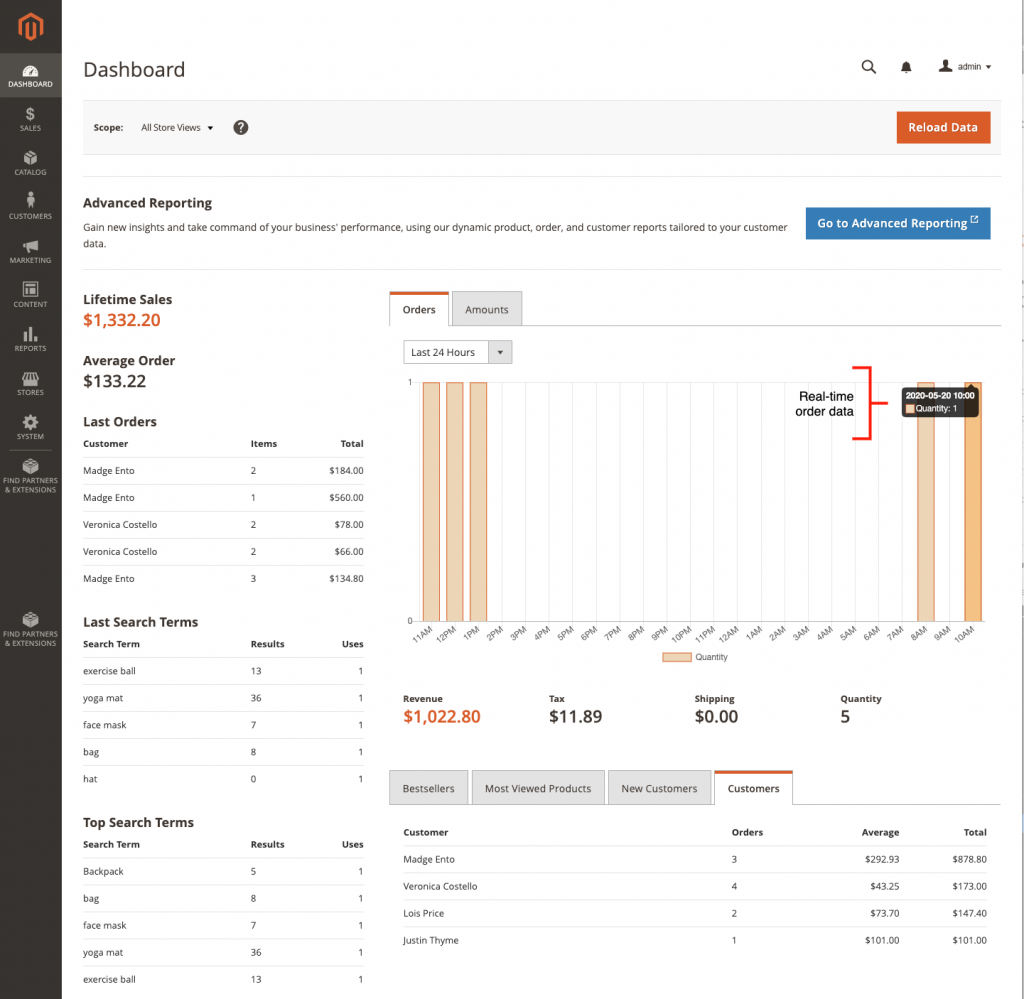 Features
The best platform for your business is defined by the number of native features it offers. After all, if they meet functional requirements for your ecommerce website, you'll save a pretty penny on extensions and custom development. Let's see what Shopify vs Magento have to offer.
Features: Shopify
Shopify presents a basic set of features for eCommerce management. However, it is more than enough for small businesses: it will help you manage all your business operations without overwhelming you with all the barely needed functionality. So beginner merchants might find the limited set of features a kind of a blessing.
With Shopify, you can manage the following business aspects:
Storefront: use more than 70 themes, customize, enjoy mobile-friendly solutions, and get a domain name
Shopping cart: use a free SSL certificate, manage shipping rates, manage abandonment rates through email marketing, install payment gateways, etc.
Store management: manage customer accounts and profiles, dropshipping, refunds, and email marketing
Marketing and SEO: benefits from the generated sitemap, customizable H1, discounts, social media integrations
Products: enjoy the easy inventory management, product organization, SEO product tags
Analytics: use detailed analytics to understand at which stage you lose customers and find areas for improvements
Keep in mind that different plans offer different features. For example, detailed reports are not available at the Basic plan. Learn more about the feature set of each Shopify plan here.
Features: Magento
Magento obviously outruns Shopify in terms of features. It can meet any specific business need of a mid-size business or enterprise. On top of the basics, you can also get:
Marketing and promotion: related products, upsells and cross-sells, recently viewed products, polls
CMS for informational pages
Unique design per product or category (all thanks to open-source code and built-in page settings)
Wish lists
Order tracking and email notification
Support for numerous languages and currencies
Customer segmentation
Advanced reporting
The feature set is defined by the edition as well. Magento preserves and even expands all the features of Shopify in the upgraded editions.
For instance, manufacturers and distributors will find a coveted B2B module in Magento Commerce and Commerce Cloud editions. They won't be able to sell B2B with Shopify but rather will have to move to Shopify Plus to access the B2B module.
Theme Selection
According to a survey, 48% of people consider a website's design to be the top factor determining the credibility of the business. Thus, a wide selection of themes is an important factor.
Theme Selection: Shopify
Shopify offers 81 themes and only 9 of them are free. Other themes will cost you $140-180 so keep that in mind while creating the launch budget. It also goes without saying that the customization options are quite limited in Shopify's themes.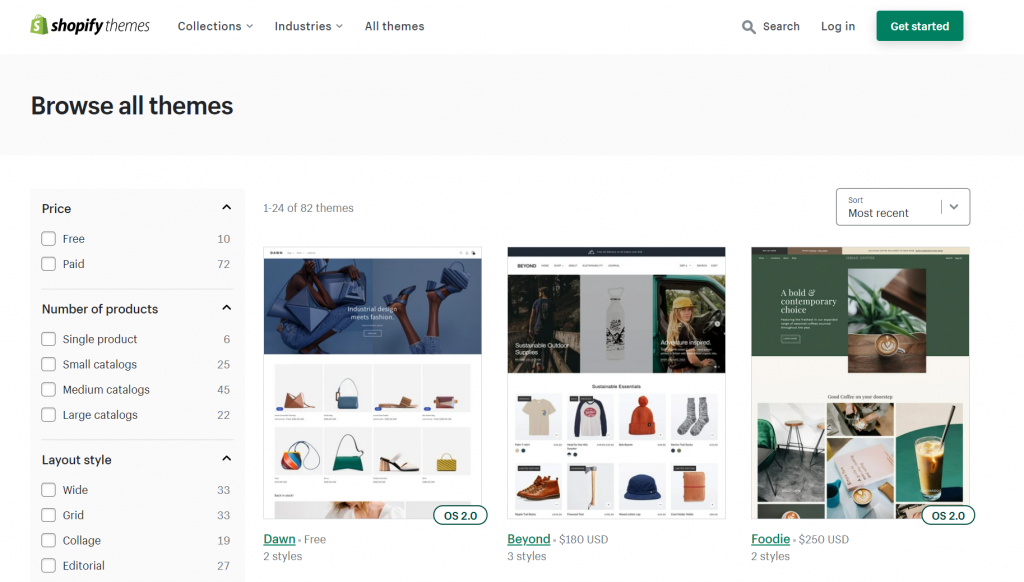 ​Theme Selection: Magento
Magento offers only 12 themes on the official marketplace that will cost you between $30 and $499. But don't fret, that's not the only source of themes for Magento merchants.
There are thousands of templates provided by the community of designers and developers on websites like Theme Forest and Monster. To give your store a unique look and feel, you can develop your theme from scratch, too. Check out a sleek design of Glassmania, a Swiss glass producer, who has managed to enhance the user experience as well as optimize the website for future growth.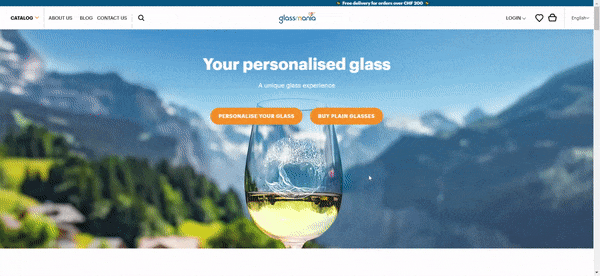 Apps & Add-Ons
Add-ons define how much you can extend a website's functionality: there are tools for SEO, email marketing, upselling and cross-selling, tip sections, etc. However, keep in mind that the more you add, the slower your website becomes.
Apps & Add-Ons: Shopify
Shopify offers 4,000 plugins and 1,500 of them are free to use. All of the plugins are easy to integrate and you won't need to involve the tech team for this purpose.
Apps & Add-Ons: Magento
Magento has 4,600 add-ons with all kinds of the needed functionality. You might need help from IT professionals in order to integrate add-ons on Magento. You can also consider Magento custom extension development if you can't find the needed feature.
SEO
SEO is essential for eCommerce. At least 43% of eCommerce traffic comes from Google's organic search, so it's important that your platform can place you on the first page of SERP.
SEO: Shopify
The SEO toolbox is quite limited in Shopify. You can only add meta tags, edit the website's structure, play around with keywords and alt text, or hide a page from the search robots. You will not be able to influence website load speed (which may become a problem after you add many plugins) or change URL structure.
SEO: Magento
In Magento, you can access a richer set of features. On top of the basics, you can also use best Magento SEO practices: canonical tags, redirects, URL edits, optimize descriptions, etc. Also, access to the source code will allow you to optimize it and help the Google bots crawl your pages faster.
Speed & Performance
According to Section.io research, people on average review 8.9 pages of the website if the load time is 2 seconds, versus just 3.3 pages if the load time is 8 seconds. So performance is of utmost importance when it comes to your eCommerce website.
Speed & Performance: Shopify
The websites that are hosted on Spotify usually have a faster loading time of 1.3 seconds. However, this page load speed is achieved only with a limited number of SKUs. Shopify manages the performance themselves, and they seem to take care of speed optimization very well as long as you don't add too many plugins or grow your shop considerably. Since you have no access to performance management, you will have to contact Shopify to try to resolve the issue once the page speed slows down.
Speed & Performance: Magento
In Magento, you are the one responsible for handling the performance. In the hands of a non-techie merchant, Magento websites will be slower than those of Shopify and can take 4,8 seconds to load. Fortunately, professional agencies can help you with Magento performance optimization, maintenance, and custom code.
Overall, it is normal: the more complex and visited your website gets, the more time it needs to get loaded. And you can still fix it if you want. Whereas in Shopify, you just hope that someone fixes things.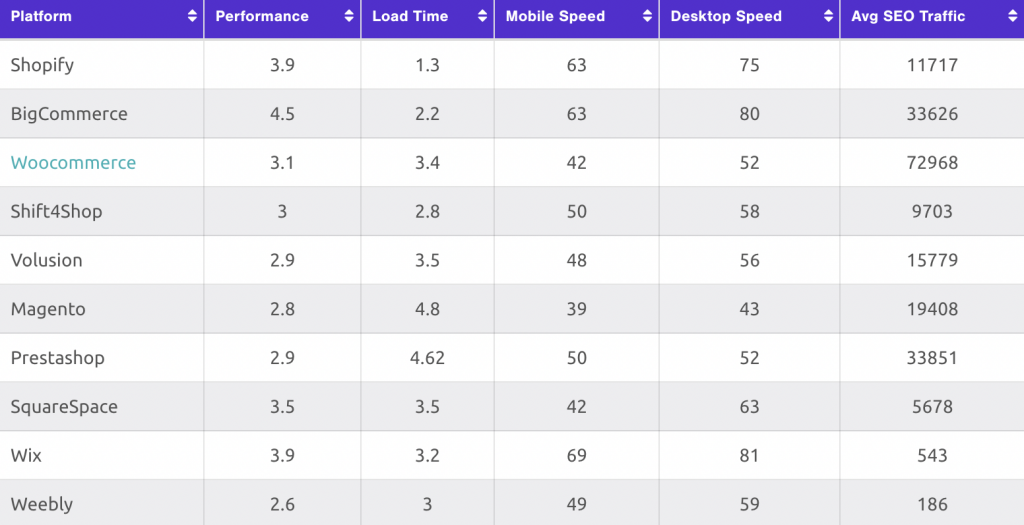 Payment Methods
The variety of payment options available on the eCommerce website influences the conversion rate. If a shopper sees a familiar and secure payment method on the website, they won't hesitate to proceed to the checkout.
Payment Methods: Shopify
Shopify offers 70+ payment gateways including PayPal, Stripe, Apple Pay, Amazon Pay, etc. They also work with international and local brands of credit cards. However, anything that goes beyond Shopify payments has additional fees.
| | | | |
| --- | --- | --- | --- |
| | Basic Shopify | Shopify | Advanced Shopify |
| Transaction fee if not using Shopify Payments | 2.0% | 1.0% | 0.5% |
| Online credit card rates | 2.9% + 30¢ USD | 2.6% + 30¢ USD | 2.4% + 30¢ USD |
Payment Methods: Magento
Magento offers both offline and online payment gateways out of the box. Apart from the native PayPal, Amazon Pay, Braintree, Authorize.net, and Klarna, you can still add whatever payment gateway you like without extra fees.
Scalability and Flexibility
It's important to choose the eCommerce solution that would be able to satisfy your long-term business goals.
Scalability and Flexibility: Shopify
With Shopify, to scale means to upgrade to a more expensive pricing plan. Shopify Advanced will give you the widest variety of features to expand your store at a fee of $299 per month. Yet, even this plan has scalability limitations. Once you get tired of constantly growing payment transaction fees (especially those conducted from abroad) and your business surpasses 8 storefronts (the max supported in Shopify), you'll know you have to migrate.
The same goes for flexibility. Shopify has its limits and you can do nothing for more advanced customization, even with the professional IT team.
Scalability and Flexibility: Magento
Magento poses no limits in scalability but you will have to involve the IT team. You will be able to handle more products, more customers on peak days, and even expansions to the international level. Magento is open-source and welcomes customization to any extent.
Security
You need strong security for an eCommerce store since you work with payment information, addresses, and other sensitive data. Data breaches can significantly damage your reputation: over a third of consumers report that they would stop shopping with a brand that has suffered a breach.
Security: Shopify
With Shopify, you do not need to worry about security: all patches and certificates are installed by Shopify's team. The platform is PCI compliant and provides SSL encryption to manage customers' confidential information. But keep in mind that Shopify is a hosted platform, so security maintenance is monitored for you. If you need more advanced protection, you will not be able to do anything alone, unfortunately.
Security: Magento
Magento 2 implements numerous security measures to ensure the maximum possible protection for its users. Magento 2 has introduced sophisticated approaches to preventing cross-site scripting (XSS) attacks and clickjacking exploits. The vendor also analyzes their system for any potential vulnerabilities and issue security patches every quarter to secure the merchants to the fullest.
Pricing
Plan the budget you expect to spend on maintaining your store and choose the appropriate eCommerce solution.
Pricing: Shopify
Shopify's pricing is quite straightforward: there are three plans with fixed monthly prices:
A merchant can also take advantage of a free 14-day trial period to see how Shopify works in practice. However, you should also keep in mind additional costs that come from themes ($140-$180), plugins, and payment processing outside of Shopify Payments.
Pricing: Magento
Magento costs are a bit more difficult to explain: pricing plans depend on your average gross sale revenue. There is Magento Open Source that comes for free but you will have too much pain with web development, hosting, domain, security, and other costs. Two paid plans are Magento Commerce and Magento Commerce Cloud coming at $22,000+/year and $40,000+/year respectively. You can learn more about Magento pricing here.
Also, take a look at our article on Magento Commerce vs Magento Open Source to understand which edition would work better for your specific case.
Support
There's almost no way to avoid technical issues with your store, so consider whether or not the solution provides the needed support services.
Support: Shopify
Shopify offers 24/7 support and you can contact them via chat, email, or phone. Basically, the support is there because you can do nothing from your side if there are problems with the system.
Support: Magento
Dedicated 24/7 support can be found only in Magento Commerce and Commerce Cloud. Still, even Magento Open Source can access multiple video tutorials, fora, and DevDocs. You can also submit support tickets to the Magento Help Center if any technical issues arise. Besides, you may consider hiring a dedicated agency that would provide Magento support services fully tailored to your unique business needs.
Shopify vs Magento Comparison Table
Let's summarize the aforementioned features of Magento vs Shopify in a concise table, so you can see all the pros and cons of Magento vs Shopify.
| | | |
| --- | --- | --- |
| | Magento 2 | Shopify |
| Launched in | 2015 | 2004 |
| Ease of use | Complex | Easy |
| Source code accessible | Open-source | Proprietary source |
| Hosting | On-site, third-party, Cloud-based | Cloud-based |
| Extensions | 4,600+ | 4,000+ |
| Cost | Free and premium editions | From $29 |
| Features | Feature-rich | Feature-rich |
| Ease of Integration | Flexible | Limited to Shopify API |
| Theme selection | 12 from the official marketplace and thousands of community-created themes | 60+ |
| Payment Gateways | Has 3 built-in payment gateways and supports fast API-led integration of any third-party payment method. | Supports 70+ payment gateways and charges an extra fee for payments via third-party providers |
| Security | Advanced security and regular updates | SSL certificate included |
| Multilingual capabilities | Built-in multi-lingual support. | It does not provide full multilingual capabilities. Third-party apps can be integrated for multi-lingual support. |
| Product Variants | Unlimited | Limited to 100 |
| Available Devices | Windows, Android, iPhone/iPad, Mac, Web-based | Windows, Android, iPhone/iPad, Mac, Web-based |
| Ideal Ecommerce Size | A large enterprise with lots of resources | Small companies wanting to go online |
What Is Better for You: Shopify or Magento?
By now, it should be clear that Magento and Shopify both target different merchants.
Shopify is the best solution for small retail to medium-sized businesses looking to establish an online presence. Such merchants may not have extensive technical knowledge or resources to hire a tech team, so they value ease of use, automatic maintenance and security, and ease of integration. They do not plan on expanding but rather want to start selling ASAP.
Magento is the best fit for mid-sized companies and enterprises which require advanced functionality and a high level of customization. Such merchants can afford a development team, seek extensive scalability and customization opportunities, and are ready to take care of maintenance, performance, and security on their own. Established business owners planning to scale and expecting huge website traffic volumes will find Magento a perfect ecommerce solution.
Magento vs Shopify FAQ
What Are the Pros and Cons of Shopify Versus Magento?
Shopify is an easy-to-use platform that offers all the needed eCommerce plugging and 24/7 customer support. On the other hand, it has limited customization features and a poor contact management system.
Magento has lots of customization options, which give you full control over the website's functionality and lots of potential for scaling your business. On the other hand, Magento Commerce pricing starts at $1,833 per month which is quite costly. Moreover, using Magento requires the involvement of an IT team.
Why Magento Is Better than Shopify?
Magento offers more opportunities for customization, scalability, and feature expansion than Shopify. You can also create add-ons on your own and add as many payment gateways as you like without extra fees. With Magento, you have endless control over your website maintenance, performance, and security.
Can Magento and Shopify Be Used Together?
No, they are different eCommerce platforms that are used for the same purpose of creating and managing online stores. Just choose the platform which is best suited for your unique business needs and utilize its full potential.
Building a store on Shopify may not require technical assistance, but web development on Magento (and Shopify Plus for that matter) surely will! We have sufficient expertise in both Magento and Shopify and will be ready to help.
Still left with questions about Magento vs Shopify?
Don't fret. Check our ecommerce development services and contact us for a free consultation.
I want my free consultation
Get in Touch
Looking for a partner to grow your business? We are the right company to bring your webstore to success.