Review of Multiple Custom Forms Magento 2 Extension for Advanced UI
Multiple Custom Forms is a Magento 2 extension aimed to simplify the process of creating front-end forms on your web-store. With its help, you can create, model, and manage all forms that you have on your website. And what's more, you don't require any coding skills to make changes in these forms.
Why do you need Multiple Custom Forms Extension for Magento 2?
Website forms can be used in multiple ways. You can use them to receive customer feedback, place contact information, or give a possibility to customers to return a product to receive a refund. With the help of Multiple Custom Forms extension, you can easily create and modify any forms you have on your website. And you don't require any special knowledge to do this – the extension is flexible and simple to use, making it possible for store and webpage owners to configure forms however they want to.
Main features of Magento 2 Multiple Custom Forms Extension
Create multiple forms for the website to add more useful information for customers and create a better customer experience.
Customize your forms using field types such as text box, text area, drop-down, radio buttons, checkbox, file attachments, and so on.
Upload files with a preview option to see how they will look like on your webstore.
Add an "I agree" option for the form submission.
Include reCaptcha for your forms to avoid spam.
What does it look like?
BeBelow you can find one of the examples of how you can add the extension to your Magento website. This is a screenshot of an online store we helped to build. It belongs to Watches of Mayfair, an international supplier of luxury watches and jewelry. You can find more about how we developed this website in our case study here.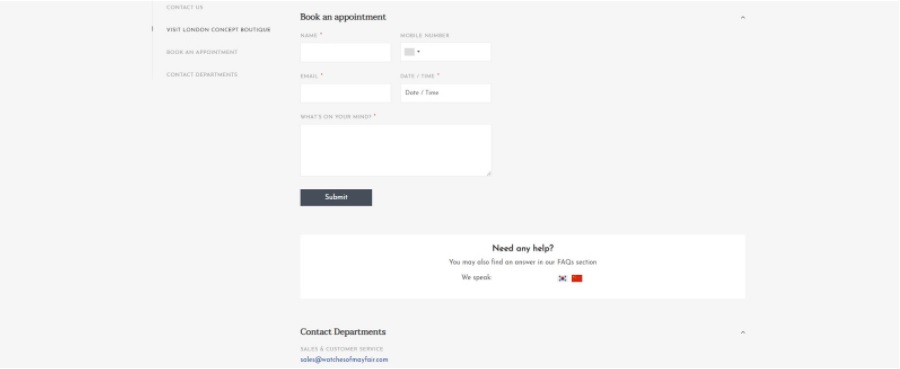 By clicking on the Contact Us option in the menu, the site transfers visitors to the Contact Information page that offers supplier's emails and telephone numbers, store locations, and an appointment booking form. Once the visitors fill in the form, a pop-up will tell them the form has been submitted successfully.
Available for
Magento Open Source v.2.1, 2.2, 2.3
Magento Commerce on prem v.2.1, 2.2, 2.3, 2.4
Magento Commerce on Cloud v.2.3,2.4
How much does Magento 2 multiple custom forms extension cost?
The price for Multiple Custom Forms extension starts at $199 for Magento Open Source edition and $349 for Adobe Commerce. The fee is paid once a year and includes 3-month support.
Where to buy
What to do if Multiple Custom Forms extension for Magento 2 doesn't work for you?
If your site requires custom forms but the extension doesn't meet your demands, we can create a similar extension exclusively for your website. For the details, please, see our Magento custom extension development services.
You might also consider reading: Top 20 free and paid Magento 2 extensions
Elogic recommends also:
Call for price
Product Reviews
Get in Touch
Looking for a partner to grow your business? We are the right company to bring your webstore to success.