Adobe AEM Magento Integration Explained in Details
Magento is a powerful ecommerce platform with its own content management system (CMS) to manage website content. That should be as clear as a day.
But it's no secret that Magento's built-in CMS doesn't go far when your business scales. It becomes more difficult to store your assets, share files, and manage content especially if you're selling across platforms. And that's when Adobe AEM integration comes in handy.
Adobe Experience Manager (AEM) is an advanced CMS and digital asset management (DAM) platform. Named a leader in the last edition of The Forrester Wave™: Agile Content Management Systems (CMSes), Q1 2021, AEM allows to get a merchant's content to the market fast and customize customer experience on the web. As the name suggests, it is owned by Adobe just like Magento, which gives an amazing opportunity for merchants to take the best of both worlds and seamlessly integrate them into a powerful ecommerce solution.
What is Adobe AEM, what are the benefits of it for Magento merchants, and how Adobe AEM Magento integration is implemented — read more in our material.
What Is Adobe AEM?
Adobe AEM is a powerful CMS used to create, edit, and manage digital content across various channels. It was initially a PaaS solution until 2020 when — to the delight of mid-size companies and large enterprises — it became a fully cloud-native SaaS application.
Adobe AEM presents a number of capabilities:
AEM Sites allows you to build experience webpages from scratch, deliver consistent and personalized content across channels, and launch multiple marketing campaigns from a single dashboard.
AEM Assets stores millions of files, automates the content flow between the store teams and outside partners, and uses AI to add tags to images for better search results and optimized user experience.
AEM Forms gives marketers the possibility to create smart responsive forms, set up automated responses or use interactive elements for each audience segment, and reuse content to build other forms and templates.
AEM Communities helps to quickly create an on-premise branded community site with forums, guest blogs, activity feeds.
Caution: Adobe has announced end of life for one of its capabilities AEM Mobile starting from April 3, 2021. New installs of AEM will not support AEM Mobile Apps functionality.
AEM natively connects to Adobe Analytics, Target, Creative Cloud, and other Adobe services, which gives all the necessary tools for digital marketers to study their audience, for creative teams to share and exchange files, and for the management board to oversee their business processes.
We realize how important it is for Magento owners to have the same vendor for their ecommerce platform and a CMS, so we've added AEM into our technology stack.
Why Should You Try Adobe AEM Magento Integration?
Your Magento store can have all the aforementioned content management capabilities. Quite a few brands have already opted for an Adobe AEM Magento integration, including Lenovo, Helly Hansen Outdoor Apparel, and TiVo, among others.
What's convinced those brands to integrate AEM in their stores? Here are a few benefits of Adobe AEM Magento integration.
Benefit #1: Real-Time Product Update
Imagine your team wants to put a product on sale. You have all your product catalog imported in Magento, and the update should be done in a special_price field. Thanks to AEM, updated product data (including the price, title, stock status, etc.) will appear immediately across all your ecommerce sales channels, be it your website or marketplace through which you reach out to your customers.
Benefit #2: Easy-to-Implement Marketing Campaigns
Now imagine one product update received good feedback from your customers, and you want to launch a whole campaign for this sales season. Do you call a Magento development agency to create a PWA or a single page for a short-term marketing campaign? Not after AEM Magento integration! With AEM, your marketers can create experience pages as well as product teasers and carousels in a drag-and-drop interface without the need to code. Products will be taken from the Magento database, and AEM will help you organize them on display.
Benefit #3: Improved Asset Management
While small businesses can store and handle their web content in Google Drive or using any other file-sharing tools, the built-in AEM DAM system will benefit large enterprises managing thousands of assets. The creative and marketing teams working on your Magento project can search, drag & drop, save, and publish their own assets and those of a different team. Meanwhile, you, as a manager, won't need to worry that storage space and DAM memory will end one day and you'll lose all your files.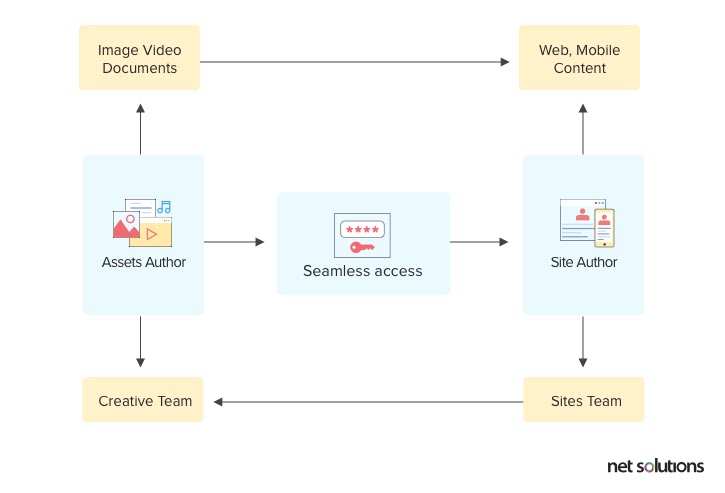 Benefit #4: Built-In Analytics Tools
AEM is already integrated with other Adobe tools like Analytics, Audience Manager, Campaign, and Target. You can easily add them and configure the information you need to collect from your customers to customize your marketing campaigns. And while Magento Business Intelligence (BI) does provide similar analytics reports, AEM will extend it with additional data and give predictive insights to identify your customer journey behaviors and points of friction.
Adobe CIF Connector & Integration Method
Adobe AEM and Magento are easily integrated thanks to a Commerce Integration Framework (CIF) connector created by Adobe. Adobe CIF connector enables AEM to access a Magento storefront with all its content and product attributes via a GraphQL programming language. You might have heard about GraphQL as a part of a standard tech stack of PWA projects like Vue Storefront and Magento PWA Studio.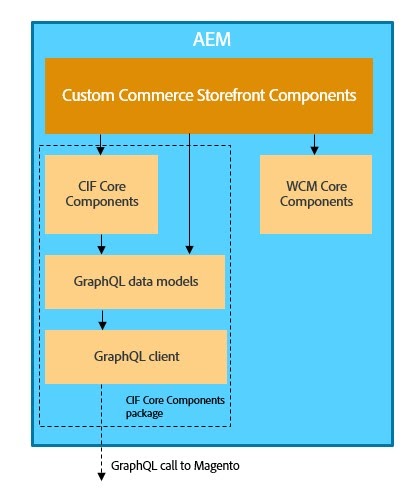 Why wouldn't developers just extend AEM to talk to Magento directly, you may ask? Well, the strength of a separate CIF connector lies in two areas:
CIF core components, including AEM Archetype and all the AEM Venia Reference Storefront (Magento PWA Studio's default theme) allow you to rapidly start a B2C project without the need to code everything from scratch.
Authoring tools, including pickers for products and categories, product console, asset finder, communicate with Magento product catalog and allow you to manage the items in a user-friendly interface.

What's happening when Adobe CIF connector is added? The high-level architecture of Adobe AEM Magento looks like this:
AEM Author components receives data from Magento and gives a product preview thanks to such tools as a product picker;
AEM Publish requests commerce data from Magento to render shopping experiences (like product catalog);
A content to a content delivery network (CDN) caches the data received from AEM components and later sends the assets and static files to the browser;
Web components for dynamic content (that is, client-side components) exchange non-cacheable data, like shopping cart transactions, and bypass AEM to render Magento experience.
AEM Magento integration should be done in a local developer's environment. The code to the Adobe CIF connector itself is open-source and can be accessed on GitHub. In theory, you'll need to
download the AEM core components and add a CIF code to your system;
connect them to Magento instance:GraphQL is typically enabled by default, so you can do this directly in AEM's OSGi configuration settings;
add commerce components in AEM: go to AEM start menu → Commerce → Products → Create → Bind Products.
…and watch AEM and Magento synchronizing!
An experienced programmer can deploy such an integration project in a day. The problem will be later to check the integration for any discrepancies and implement any customizations, if needed, which may take more time.
If it all sounds too complicated for you, we're here to help.
Headless or No Headless, That Is the Question
The tandem of AEM and Magento is priceless for a simple reason: you have a chance to join the new era of headless ecommerce.
If you're not ready to transform your business and go headless, you can stick to guns and use AEM as a CMS. On the other hand, if you believe headless approach is the next big step in your business development, Magento will run the back-office commerce operations and AEM will run on the front end of your storefront keeping your customers engaged.
There are four scenarios for your business model after Adobe AEM Magento integration:

Scenario 1: Experience-driven commerce. AEM owns the entire glass of your storefront and integrates Magento commerce services via GraphQL APIs.
Scenario 2: Hybrid headless commerce. AEM delivers content via API and HTML, and Magento delivers Commerce data via GraphQL. This deployment mode is not supported out-of-the-box and requires technical assistance (Elogic is here to help!).
Scenario 3: Commerce-led hybrid. Similar to scenario 1, except that Magento owns the glass and integrates AEM as a CMS. This is the least troubling integration pattern for Magento owners, which doesn't require changes in the rest of the storefront.
Scenario 4: Vertical hybrid commerce. AEM and Magento share the presentation layer of the storefront, as in Magento powers the checkout and My Account page and AEM — the marketing pages and the storefront catalog experience. This solution is a common one but also requires technical assistance, for you to ensure that all the user activities are handled properly by the two systems.
Overall, Adobe AEM Magento integration will allow the two systems to do what they excel at: run the commerce backend with Magento and do the marketing with AEM. And you as a merchant can take advantage of this duo!
At Elogic, we offer end-to-end assistance in implementation of any third-party system, including AEM. Check out our integration services and let us know when we can implement an Adobe AEM Magento integration for you!
Get your Magento store integrated with AEM
Streamline your marketing campaigns to the maximum
Integrate AEM now
Get in Touch
Looking for a partner to grow your business? We are the right company to bring your webstore to success.