Magento Integration with ERP: Step-By-Step Guide
Have you ever felt like you can't keep track of all the processes in your Magento shop? If the answer is 'yes'— your webshop has grown and needs some extra tools to keep operating more effectively. Magento 2 ERP integration will help you increase sales, deliver better service to customers, and run the business smoothly.
In this post, you will learn when you need to integrate an ERP system into your business, how to choose the best embedded ERP for Magento, and what system features you should take into account to manage your online store more effectively. We will provide you with some good answers, so read further!
What is ERP for?
Is it hard to take care of the rapidly growing order volume? Do you have delays in your orders more and more often? Or do you have a feeling that your customers are becoming more dissatisfied with the service? To solve all these issues, you need to integrate an ERP system into your online store.
ERP (enterprise resource planning) software is what an organization needs to manage its business process effectively, using a system of integrated applications to automate many back-office functions related to technology, services, and human resources.
In ecommerce, ERP helps to streamline business processes and manage sales.
What does the shopping experience look like after a Magento integration with ERP?
→ A customer adds the product to the cart and completes the checkout.
→ Then ERP software automatically sends a confirmation email to the customer, creating a shipping label.
→ ERP also can send a customer tracking email and show the profit you made from a sale.
Why Integrate ERP with a Magento Store?
The key benefit of Magento ERP integration is accurate, efficient data management. Thanks to the automated data flow, you can streamline all commerce operations — from human resources to manufacturing. And most importantly, rest assured that none of them gets out of your control.
Among many reasons why you should integrate Magento with ERP are:
Reduced silos & centralized data flow: you'll forget about multiple data platforms and login credentials; all data will be gathered in a single place and accessed by your team members 24/7.
Enhanced inventory management: you can track all your orders, monitor your warehouse and production, and forecast your inventory needs based on your sales.
Increased productivity: because you won't have to enter all back-office data manually, you can focus on other more important tasks as well as reduce the risk of human error.
Advanced reporting & analytics: all your company sales data will be in the palm of your hand, so you can make more informed business decisions.
Cost-effectiveness: you can save a pretty penny on IT and team training once you stop managing your business via multiple platforms.
Unlimited scaling: Magento will deliver stable performance no matter the number of SKUs, partners, and customers in an ERP.
Why Consider Magento ERP With Omnichannel Features?
Omnichannel is one of the hottest trends in ecommerce. And Magento ERP integration will help you jump on this hype train.
The integration of ERP and Magento creates a central data hub for multi-channel interaction without compromising the manufacturer's bottom line. Storing data in Magento ERP will create a cohesive user experience for customers at all stages of the interaction:
A store is equally well represented both offline and online (the same prices, service level, promotions, and assortment)
An online store is equally well represented on any device (laptop, tablet, smartphone)
The buyer gets the same experience both when visiting the online store and when visiting an offline store
Consumers use various channels to conduct purchases and create an exceptional experience at each step of the customer journey.
If you already have a Magento 2, you can easily integrate it into any ERP system with the help of Improved Import & Export. Integrating Magento ERP solutions will allow you to work more efficiently, improving customer experience and loyalty.
How to Choose an ERP?
Various ERPs work differently and provide numerous functionalities. So it's normal to get confused among so many options. Here's what you should do while choosing an ERP.
Articulate Your Business Needs
First and foremost, you should define what you want your ERP system to do. Obviously, you'd want to exclude the overwhelming data processes, but you'll have to focus on your needs. For instance, those who sell food online (especially B2B) prefer a formula-based ERP to calculate batches and ingredient amounts accurately. Wholesalers focus on ERPs with strong materials planning and supply chain features.
Examine ERP Functionality
Plan the choice of your ERP based on the data you need to be processed between the system. Here's your little helper. It's the list of data you might want to exchange between systems to keep it up to date.
Product management:
basic information about the product, changes in pricing and category
new category created or deleted
Inventory management:
update of product info and quantity after inventory sync up on the website from ERP
out of stock and In-Stock update respectively to the changes
update of product quantity after cancellation/return customer cancels/return
customers' notification, when something is back In Stock
Order management:
order number
customer info
product info
quantity
shipping details
tax info
coupon info (if applied)
invoice info
payment details
change in inventory respectively to the quantity purchased/canceled
Customer info:
name
email
billing and shipping info
Ensure an ERP Fits Your Current Ecommerce Systems
Integrating an ERP makes sense only if the data flow from your e-commerce system to your ERP smoothly. This will help avoid inventory and delivery delays and ensure consistency between systems.
For this reason, an ERP system should have several basic modules:
CRM module (Customer Relations Management) – a module to conduct sales and interact with clients, tracking the stages of each contract, the history of closed projects with each client, and so on.
Production management module – planning and control of the material resources to ensure the continuity of production processes.
HR-module (Human Resources) – a personnel management module, which includes management of sick leave, time off and vacations, notes of the HR manager for each employee, etc.
Analytical module – business analytics, visualization of indicators, generation of internal reports for building a business strategy.
Financial module – accounting and invoicing, tax reporting, and financial planning.
Find an Integration Partner
You can implement Magento ERP system integration yourself or use professional Magento development services of a third party.
If you are afraid that you are unable to predict all the functionality you might need for your ERP platforms — no worries. Some features may be added as extensions to the system. Many out-of-the-box features can also be modified or customized following your business needs. A reliable ecommerce integration partner will take care of all the technical issues, while you will focus on real-time data to make strategic decisions for the business.
Preparation for Magento ERP Integration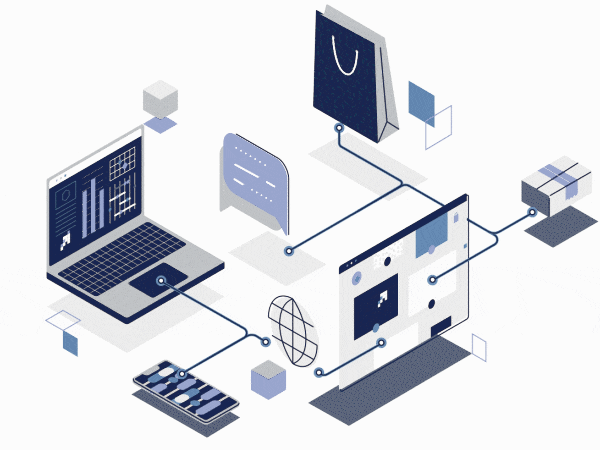 Once you have a general idea of what you are looking for, it's the right time to define what your Magento store needs and how ERP software can satisfy these needs.
To integrate Magento with ERP, follow these steps:
Step # 1: Understand the workflow of the orders and data setup in Magento.
To set up everything correctly, you have to know how order management works in Magento, as well as how to add and manage products.
In Magento, you can control product data by attributes. With attributes, you can also process other important order information that is relevant to the one that is passed over to ERP.
Thus, understanding how your data is already organized or how you want it to be organized is the primary step towards successful integration. Data includes product types, attribute sets, attributes, and data you need to send to your ERP platform.
Wrapping up the first step, you have to create the workflow design you want to follow. The more complex your workflow is, the more complex the integration will be. Another point to consider — future integration of other systems such as POS or PIM, and how they affect your Magento/ERP.
Step #2: Determine how you will manage your orders
While integrating ERP and Magento, retailers have multiple inventory management configuration options. These options give the opportunity to import orders through one single channel as well as develop separate pathways for orders received online.
Step #3: Take advantage of automation of the whole integration process
Store owners can avoid manual order entry and tracking number distribution workflows, saving time and money. Some ERP features bring the opportunity to users to automate the picklist generation process, a small tweak that reduces the need for front-office handling and further simplifies and accelerates fulfillment.
Types of Magento ERP Integration
Whether you're integrating an ERP system for a new Magento store or you've decided on it spontaneously during Magento migration, there are different ways of integration you might choose.
The most common types of Magento ERP system integrations are point-to-point, custom-built, or via a multichannel integration platform. To decide which one will suit you best, let's figure their main advantages and disadvantages.
Point-to-Point Solutions
This option would be the best for small retailers that do not plan to scale fast. Connecting an ERP system to Magento, in this case, is very affordable (around $100/month), and you can find this solution in Magento Extension Marketplace. Their main feature is offering a point-to-point connector, which means that your Magento store and your ERP are connected on both ends to each other. This connection allows for synchronizing data.
However, managing data won't be possible right away, since there's no operational platform in between them. There will be an additional need to choose a system to manage the data. Another restriction is in the flexibility of the platform while adding more sales channels.
A point-to-point integration doesn't allow for as much flexibility as you add sales channels. The reconfiguration of the system will become obligatory after there's a sales channel added.
Custom Magento-ERP Integration
ERP Magento 2 custom integration is implemented using both application programming interfaces (APIs) to synchronize needed data.
Of course, custom integrations are more complex and, as a result, more expensive. That's why there are companies that actually offer these services as their primary business offering. Therefore, the solution would be best for organizations with specific resources and requirements. To sum it up, there's no need for a custom solution for SMB, at least because the expenses will be unjustified.
Multichannel Magento 2 ERP integration
The multichannel solution is the platform designed specifically for Magento and ERP integration. This option includes an operational hub to store and manage your data. The primary data types, such as item, inventory, order, customer, and shipping are automatically synchronized. The platform uses connectors for Magento and your ERP, which makes configuration easy and flexible.
This solution is much more expensive than the aforementioned two. It costs up to several hundred dollars per month. The setup is free though. We recommend this solution to both SMB and enterprise sellers.
Still, the management in multichannel option is more efficient and easily adjustable to all the changes in the system. It also scales along with your business, thus fulfilling your ambitious growth plans.
Best ERPs for Large Magento Retailers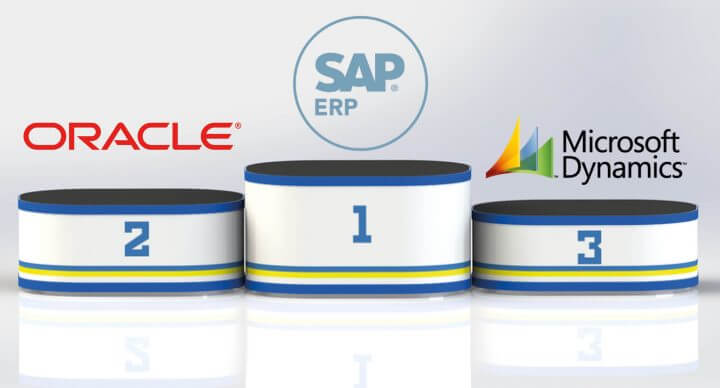 The ERP market today has a wide range of solutions to offer. However, when it comes to integration with Magento, it gets more complicated. The structure of both Magento and ERP is complex, so the integration is not that easy to implement. Nevertheless, many of the popular platforms have pre-built Magento ERP connectors. So the implementation of the system goes easier and faster. Let's look closer into the pros and cons of some best ERPs for Magento.
SAP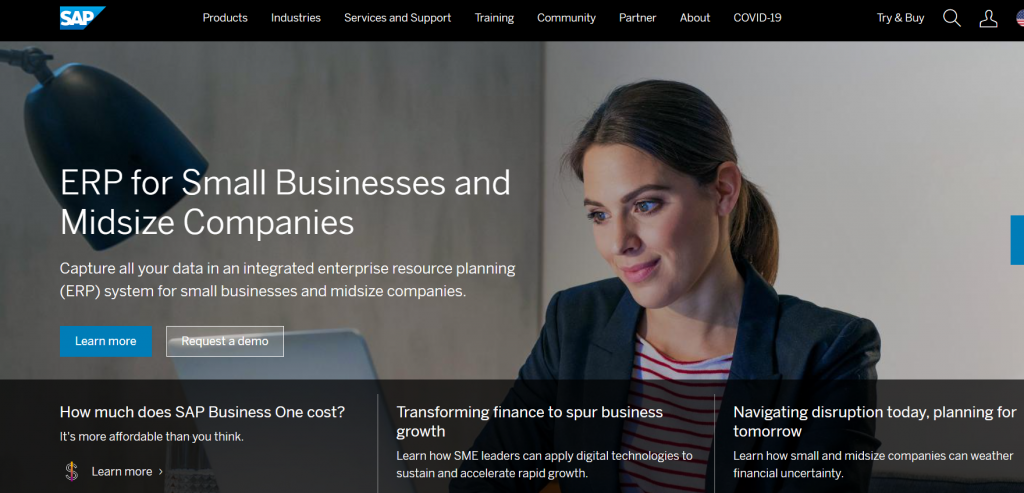 SAP is one of the clear leaders in the industry and one of the most trusted solution providers among customers. SAP has a variety of services to provide, especially for enterprises, that need complex and feature-rich solutions.
Advantages of SAP:
What makes SAP one of the best ERP for Magento 2 is that it meets industry-specific needs. Harness proven best practices and built-in processes for a wide range of industries – from manufacturing and distribution to professional services and retail.
It manages your entire business. It means that SAP applications give all the tools you need to operate more efficiently. You get rich functionality for finance, HR, supply chain management, e-commerce, and more if choose SAP.
SAP has earned a high reputation as a top ERP vendor. The company offers world-trusted software, which seamlessly integrates with CRM and other applications, incorporates the latest technologies – and can be deployed quickly in the cloud or via ERP support services.
Disadvantages of SAP:
The cost of software is a great disadvantage of SAP. The pricing ranges from $3000 to $7,000 for the extensions only.
SAP has a complex architecture. Thus, SAP Magento integration won't be easy either, requiring you to hire a Magento developer for the job.
Oracle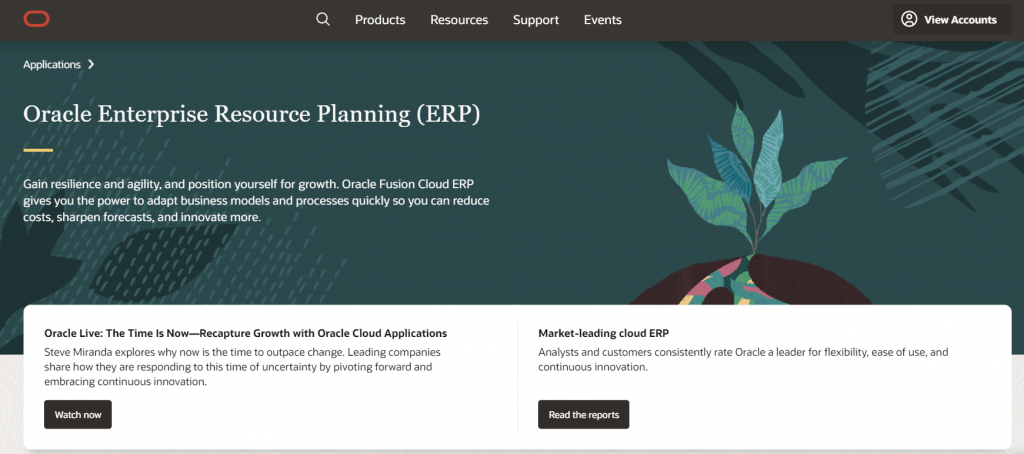 Oracle has long been considered a competitor to Magento. Yet, not many merchants realize how much power and value both systems bring to the store when integrated. Oracle ERP is a cloud-based software fit mostly for mid-sized to large enterprises and catering to different industry needs.
Advantages of Oracle:
Oracle is a mature company that offers a complete set of products and covers a wide range of businesses. Its rock-solid reputation ensures excellent customer support and steady performance for businesses of any size.
Intuitive user interface (UI) makes it easy to navigate and read data.
Oracle ERP offers a wide range of financial, risk management, and procurement features. Because it supports different country ledgers, accounting standards, and currencies, a business can expand its reach and operate in different countries without any troubles with financials.
Disadvantages of Oracle:
The price is fairly high, starting with the lowest total cost of ownership (TCO) of $12,000 and reaching up to $400,000.
The solution has limited customization possibilities to meet every business need.
Beginners may find the initial learning curve quite steep.
Microsoft Dynamics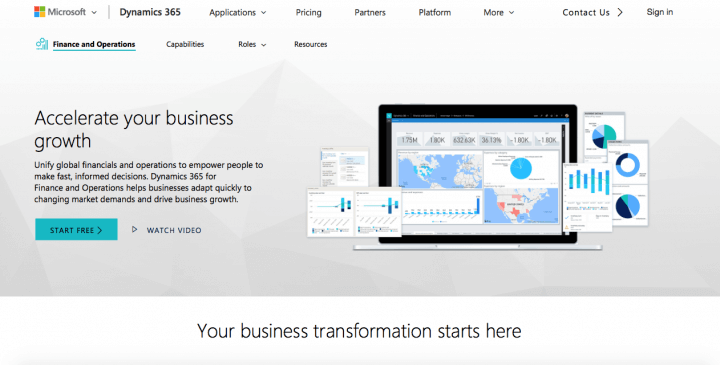 Microsoft Dynamics is a popular product on the market and one of the best ERP systems for Magento. It helps businesses gain insight into the accounting and logistical functions, take control of their supply channels, and manage inventory.
Advantages of Microsoft Dynamics
Microsoft is a certified Magento partner. There are 14+ Microsoft extensions available, so it will be easy to integrate the two systems.
Dynamics is customizable. It's easy to drive innovation with an intelligent application that is handy to tailor, extend, and connect to other apps and services you already use.
The solution offers a vast set of tools to modernize the supply chain, such as advanced warehouse, inventory, fulfillment, material sourcing, and logistics management.
Disadvantages of Microsoft Dynamics:
Some of the extensions are fairly expensive. The price might reach up to $15,000.
A steep learning curve makes this solution suitable mostly for large enterprises and international organizations.
Wrap-Up
Magento ERP system integration will improve your business efficiency, reduce the chance of human error, and enhance your website with customer-critical information like order status and onsite sales.
So choose your ERP wisely. Define your Magento needs, determine what you expect from an ERP, and get multiple quotes from different ERP providers to choose the best one.
On the technical side, you should definitely draw on the pattern of interaction between Magento and ERP you want to see and define data you want to pass between systems.
Let us know down in the comments in case of any questions or doubts. Or even better — contact us directly and get professional Magento ERP integration advice.
Get in Touch
Looking for a partner to grow your business? We are the right company to bring your webstore to success.