How to Implement a Magento ERP Solution for Ecommerce Without Spending Too Much Money [Based on a Case Study]
If you've had complaints from customers, there's a good chance your inventory and order management systems aren't working effectively. But there is a way to reduce operational costs and streamline your business while making it easier for your customers to get the products they want, faster.
This is where an Enterprise Resource Planning (ERP) system comes in. Over the years, we have worked on custom features of all shapes and sizes. In this article, we'll describe one case where we developed custom Magento ERP tools for our client, Dampfi, a Swiss company that sells vaping products.
First, let's dissect ERP to understand what it is and why it's so important.
What is ERP?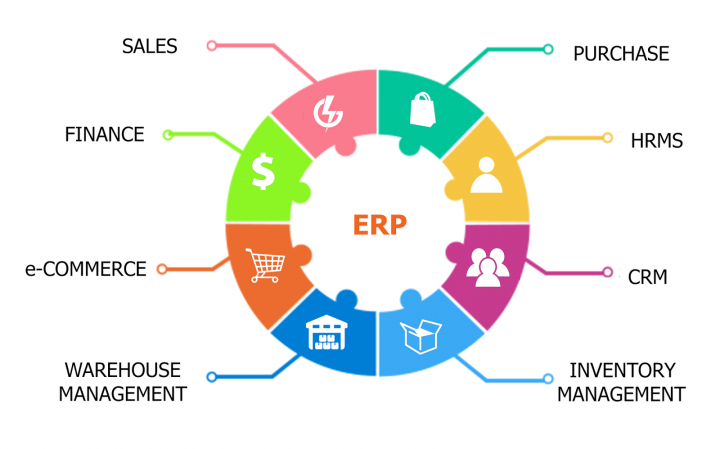 ERP is comprised of software used by all types of organizations (government, commercial, retail) to manage their business processes. Most businesses sell some kind of product or service and ERP systems cover everything needed to get the product from the manufacturer to the seller and from the seller to the buyer. The processes ERP covers include order and inventory management, customer relationship management (CRM), procurement, distribution, supply chain operations, and more.
Simply put, ERP software allows businesses to increase sales, and improve planning and productivity, through an all-in-one "central command center" where business owners can see analytics, statistics, and other important indicators.
We've established what an ERP system is — now we need to understand how it works and why you need one.
When do you need an ERP system?
Without an ERP solution, your business can suffer serious consequences like mixed up orders, incorrect shipping info, invalid inventory levels, and incomplete product information. All of these points will be reflected in your sales and ROI.
Most businesses can't function without an ERP because the manpower required to do what an ERP does isn't economically viable. Our client, Dampfi, decided to build an ERP system for this exact reason.
No large ecommerce business can operate without ERP. But what about small and medium-sized businesses? Do they also require ERP software?
It is theoretically possible for a smaller store to function without an ERP. For example, you can get by with pen-and-paper order and inventory management. There is also the somewhat less archaic Excel spreadsheet option, but in any case, managing a store manually is highly ineffective.
Realistically, the only scenario where you don't need an automated or semi-automated ERP is if you're just starting out with an online catalog or working on a proof-of-concept. In this case, you will still need an ERP eventually, once you decide to build a fully-functioning ecommerce store and look for which ecommerce platform is the right choice.
While there's no all-in-one solution software for every business process, ERP can take the brunt of your workload and bring your business processes together in a more cohesive way. With this in hand, you can help your company make data-driven decisions.
So how do you know what kind of system you need?
To answer that question, you first need to identify:
Your current order volume
How you fulfill orders, as well as your shipping methods and requirements (e.g. customs declarations)
If you need to connect brick-and-mortar stores or warehouses with your online store(s)
There are various ways to add a Magento ERP solution to your e-store. Here are your options:
4 ways to implement an ERP system in Magento
Which of these options looks like an optimal choice for you?
Magento store management tools out-of-the-box

Magento has very basic tools for managing your store. You can add products and product categories, manage inventory, and track orders directly from the Magento admin panel. This is a decent option for a store just starting out, but if orders start flying in, you'll quickly become overwhelmed.  


Third-party ERP integration

If your business has grown beyond the capacity of ERP extensions (the BoostMyShop extension supports up to 20,000 products and 500 orders per day) then it's time to look at an enterprise-level solution. Our ERP integration guide covers the specifics and pros/cons of ERP integration options like. SAP ERP, Netsuite ERP by Oracle, and Microsoft Dynamics ERP are the big three to look into.

The advantages of externally integrated ERPs include cloud-based database and more robust features. Granted, costs for integrating and customizing the ERP system are considerably greater than a native extension.

Magento ERP extension

Adding an extension is one of the easiest ways to quickly implement an ERP system. There are several popular Magento ERP extensions available — one of which is Embedded ERP by BoostMyShop (BMS). 

A native Magento extension has the following advantages: it uses a locally hosted database (not cloud-based), it's cheaper compared to third-party integration, it offers more control over customizations, and it's cheaper to customize.

Develop your own ERP from scratch



The most expensive option is to develop your own ERP system from scratch. This option is only viable for major industry players or government organizations. The costs of development, server costs, and time required to accomplish this endeavor are simply out of reach for most ecommerce stores.
Why our client chose to implement a Magento ERP extension
When our client approached us for help, they had already been using the Embedded ERP Extension from BMS. They chose it because it's open source and they could customize it to best serve their needs.
The standard version of the Embedded ERP extension offers the following:
Perfect integration with Magento's back office — access to all administrative functions of your website within the same interface
Synchronized and up-to-date data — Magento and the extension use the same database so your data is always up-to-date
Quick roll-out with easy installation and no deployment issues — all your data will be available wherever you are
Customization possibilities — you can customize the extension using settings, plugins, and custom modifications
The standard tools built by BMS were initially sufficient but eventually, Dampfi saw the need to optimize a number of processes to free up resources and automate routine tasks.
How we customized the Embedded ERP extension from BoostMyShop
Our clients don't always know exactly what they want. Sometimes they prefer to ask us how we see it based on our experience and we're glad to map all the tasks out ourselves. With Dampfi, the store owner had a clear picture of what he wanted and wrote detailed descriptions for every feature he needed to customize. Our job was to make the extension more efficient, and as a result, make Dampfi more efficient.
Smarter inventory management
Keeping track of inventory is a big challenge for any store owner and having products in stock is the only way your customer will have a successful purchase. No stock = no sale. Our task was to overhaul the inventory module to allow Dampfi to find a balance of stock between their warehouses and automate invoice processing.
Optimize and streamline the ordering process from suppliers
Before, Dampfi staff had to go through a tedious process of manually checking all products available from suppliers to find the best prices and then place orders. This time-consuming procedure cost staff approximately 8-10 hours per week.
We added a link to suppliers' websites for each product and options like color and price. Additionally, we added a field that shows whether the supplier has the product in stock.
For products not available at the time of ordering, we added a notification that shows what the problem is (e.g. a product is no longer available or not in stock).
Apart from showing the cheapest price for each product, we added the ability to create orders from suppliers directly from the admin panel.
Automated stock levels
Checking stock levels for each warehouse was done manually, so we decided to automate the process as much as possible. The client wanted the ERP module to automatically check the sales history for each product and identify the optimal stock levels depending on product popularity.
We customized the module to include a "last time checked" date for stock.
We added a trigger to notify staff to order more products from the supplier to achieve optimal stock levels for each warehouse.
Make pre-ordering "smarter"

Dampfi used the standard pre-order function that comes with the extension, but if the products were no longer available from the supplier, this could create customer experience problems (e.g. unfulfilled orders). That's why the system had to be upgraded to take product availability into account.
Dampfi has a parser, a tool that breaks down data they use to check supplier stock levels every hour. We created a service that allows Magento to communicate with the crawler.
Auto-balancing stock between warehouses
Under or overstocking creates turbulence in cash flow and can potentially lead to the loss of disposable capital. Because Dampfi has two physical stores and a warehouse for online sales, they needed a tool to automatically identify how much stock needs to be transferred between the three warehouses to achieve ideal stock levels.
We improved the stock balancing system called Transfer Helper to show how much stock needs to be transferred between warehouses to maximize sales and prevent under or overstocking.
Automated parser for processing invoices
Products received from suppliers need to be manually added by staff in order to show accurate stock levels. This takes up valuable time that can be spent focusing on your core business. Inaccuracies in stock levels are a major turn-off for customers who become disillusioned and no longer want to buy from you. All of these factors made this a priority task.
We developed a parser to automatically go through each supplier invoice to add the newly arrived products to the stock levels to ensure that customers see the most up-to-date information.
Custom tools to get orders shipped quicker
Amazon Prime's one-day shipping has already been rolled out, and this almost unbelievable achievement is possible due to having the best order management in the industry. Dampfi already had one-day shipping, but they needed to automatically generate customs declarations and develop a unique warehouse system to put together orders faster than ever before.
Generating CN22 customs forms
Since Dampfi is a Swiss company, any goods sent outside the European Union require a CN22 label — a customs declaration form that must be fixed to the outside of the package.
We created a tool that automatically generates CN22 declaration forms in PDF form for orders that need to be fulfilled outside the EU.
Pick2light warehouse system
Warehouses are notoriously difficult to navigate, especially when you have lots of small goods on multiple shelves. Dampfi decided to use an innovative solution called Pick2light —  place small LED lights above products that light up when an order is received.
We wrote code that communicates between Magento and the system of LED lights based on Raspberry Pi, a credit-card sized computer. For example, if a customer's order has multiple products, the lights indicate which products staff members need to grab.
Takeaways
When it comes to choosing an ERP system, you have to first identify your business needs. When you know what you need to accomplish and where you have gaps, it's easier to justify spending more on a third-party integration rather than a Magento ERP extension. If your store has under 20,000 products and 500 orders per day (the limits of the Embedded ERP extension) then an extension is perfect because you can customize it to maximize your time.
Anything can be customized if the underlying architecture allows it. The beauty of Magento is that it's an open source ecommerce platform. Combined with the open source extension from BoostMyShop, the flexibility to create and customize any feature can become a reality.