Magento Website Design: Cost, Time, Tips & More
Did you ever happen to think of how to increase sales? You may think of many features, but there is one, that is crucial. This feature can multiply sales rates, as well as it can prevent a customer from purchase, even if the product you offer is good enough. Yes, we are talking about the DESIGN!
They say that,
Devil is in details.
And you know what? Seems like that's how it works. Nowadays details mean more, than ever before. The same with User Experience. We want to share one magic formula with you:
Better design = better sales
Just remember it. That's the rule. And we will explain to you why. First of all, let us show you some stats:
70% of small business website miss Call to Actions on their home pages
85% of potential customers think, that the Mobile Version of the website should be faster
47% of users averagely are willing to wait for a page to load for a maximum of 2 seconds
39% of visitors will leave a website if images don't load or load for too long
66% of users will prefer beauty over plain design
44% will never go back to the website, where there is no Contact information
38% of visitors will abandon a website if it does not produce attractive content/layout
48% more traffic comes from websites that have 51-100 pages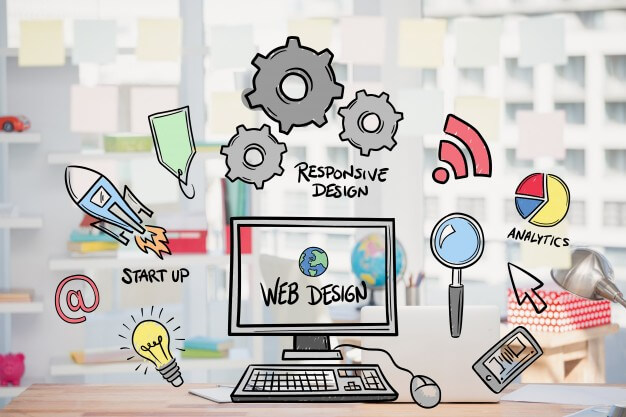 The stats analyzed, show how important the design is, and highlight once again that design and sales are directly proportional to each other. It is because of the User Experience, which either makes a user purchase something or abandon online shop forever. Once you realize how important the design of your web store is, let's check on what could be the options for you.
Template vs Custom Design
There's always such question appearing when it comes to design. We are not against the templates. Some of them are cute and useful, however, you have to keep in mind, that you need an online shop, which is supposed to make money, it is not just a blog for fun. So what do you have to pay attention to, while choosing how to design your Magento website? First of all, keep in mind the theme of your shop. The more you follow the theme in the design, the more essential it will look to the customer.
So let's start with overviewing the disadvantages of templates?
Using templates will usually lead to the mismatching of the theme of the store
Due to a large number of animations and additional features site is overwhelmed.
Typically, templates are not optimized in terms of performance, which significantly impairs the conversion.
Templates are usually hard to custom, which makes it difficult to improve the design in the future.
Often, customizing a template takes more time than creating a custom design.
Why worthy?
If you need a simple solution and you are not ready to spend a lot of money — template might be a good alternative. Such templates are customized and designed by the themes. The themes give the site its appearance and functionality. You can find many themes available at ThemeForest or Elegant Themes or other similar sites in order to reach the look of a site you want as well as have certain functionality.
If you feel like you can do it yourself, you may want to try some constructing services as Wix or other. Significantly, the services come along with hosting, email, and e-commerce. They also have a big library of themes available. Some of the services are free of charge, and some charge a monthly fee.
All in all, templates are quick and easy to use. They may cover some basic needs of your business, however, extended solutions and more complex features for e-commerce will be hard to implement. However, no template design will ever perform as well as the custom one.
NOW,
here are some advantages of the custom design:
Custom design always takes into account business logic of the customer
It allows UX best practices to be taken into consideration
Custom design is always optimized in terms of conversion
Such design will completely match the theme of the store
All the required features can be added from the beginning
SEO best practices are considered
Design is created according to what kind of ROI you're looking for from your site

What should you know before?
Custom design requires special technical skills. You won't be able to create a custom design for your shop unless you are a decent developer yourself. Hiring a developer will cost you money, of course, however, it totally justifies all the funds invested, once you get an awesome custom design.
Read further to know, how much it may cost to create a custom design. And the last thing — time. Keep in mind that a good design can't be ready within few days. So make sure you are ready to wait until everything comes out perfectly.
How long does it take? We also will answer in the paragraphs below.
How much is the fish?
You probably just brought up in mind this famous song of Scooter. Take a minute to enjoy it and let's go back to the main part:
Expenses and timelines
So,
When it comes to Magento website design you surely would like what is the cost of design you need. Well, first of all, both time and expenses will depend on the needs you have based on your online store's type. If you don't know the type yet — here's a little guide for you, so can figure out the type right now.
Retail Store (a store that sells goods to the public)
Wholesale (refers to a type of business that buys large quantities of goods directly from manufacturers or distributors, warehouses, and resells them to other businesses. Due to high-volume purchase orders, wholesalers are typically able to buy products from manufacturers at a lower price and add their margins).
Marketplace (a type of e-commerce site where product or service information is provided by multiple third parties, whereas transactions are processed by the marketplace operator. Online marketplaces are the primary type of multichannel e-commerce and can be a way to streamline the production process)
Shop-catalogue (trend is intended for consumers to shop online and enjoy several discounts and some other advantages. A catalog supply website includes prices, discounts, tools, shipping options, different methods of payment, and more).
Once you are clear about the type of your shop, you can move further. Your Magento website design cost will also depend on the quantity and complexity of the pages as well as from the figuration of static pages. Those are:
homepage
account page
product page
category page
cart
checkout
The cost of the project you are about to approve must include next stages, named on the checklist below: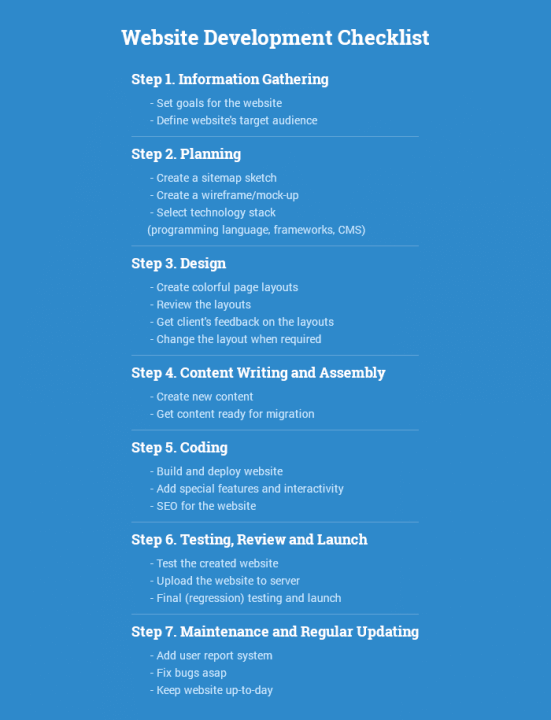 Aside from the steps mentioned, Magento e-commerce website design contains some steps, you have to pay some extra attention to. Those are:
The mockup layout
The actual layout of the design
The adaptation of the layout to the Magento
1. Mockup layout
The mockups are very important part of Magento web design since they reflect the design choices for:
color schemes
layouts
typography
iconography
the visuals of navigation
the overall atmosphere of the product.
There is one thing, that is the cornerstone of your online shop's design. Beautiful design is not enough. It has to be
RESPONSIVE!
That means, that your site should both look and perform well on all the devices. (PC, laptop, tablets and mobile phones). The statistics show, that more and more customers tend to go shopping online on their mobile phones.
Here are some most common reasons, why customers leave the websites: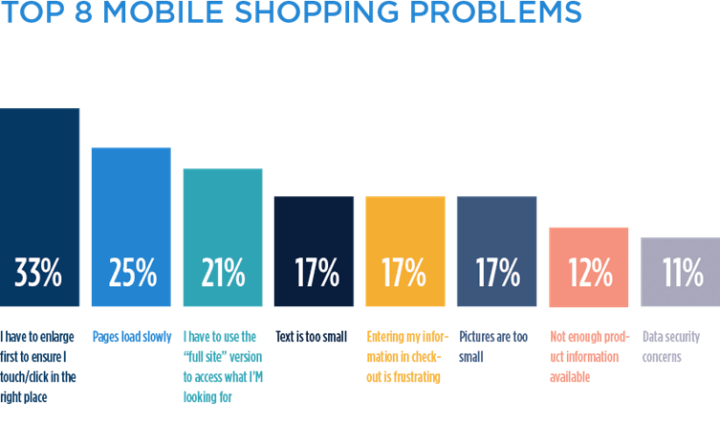 Now,
Here is a short guide through the structure of what should mockup consist of. It will help you think of many details as well as avaoid common mistakes.
Content layout. How the content is going to be displayed on the page. Consider the size of each piece of content, so everything looks harmonically and doesn't overwhelm.
Contrast. Make sure there's enough contrast, so there's enough legibility of the text against the background. Use color contrast to highlight the most important information on the page.
Colors. You can create a different atmosphere and mood by the colors you use at your site. You may find many useful bits of advice in this free guide Web UI Design for the Human Eye.
Typography. May seem not as important as colors but never underestimate the fonts. It is an essential part of responsive design. Draw attention to the typography size, font, style, and spacing, so the overall picture looks good.
Spacing. Leave your visitor some free space to relax for a moment, enjoy what he saw, let him have private space on your site. Free space is not an empty space, that needs to be filled like it was back in the days. Now it is a powerful design tool. Remember, that the more negative space is around an element, the more attention is paid to it.
Navigation Visuals. All the info is structured, so the information architecture is outlined. The last step you need to approve its final appearance.
Who: designer
How long: 80+ hours (full time)
How much: Q-ty of hours x Designer's rate

2. Layout of the design
At this stage what is happening — is that the developer is transmitting the mockup (usually .psd) to the site. It is an important stage, at which the visual image turns into a functional site.
The developer should combine both design and development in order to come up with picture-perfect reproduction of the mockup given, which will be operating smoothly. The logic of the functions of your online business should also be designed and implemented.
Most of the times, first to be created is a home page. Afterward, all the sub-pages are added, according to the hierarchy of the website that was previously created. Frameworks and CMS are also implemented to make sure that server can handle the installation and set-up avoiding issues.
Who: Frontend developer
How long: 80+ hours (full time)
How much: cost is calculated with the next formula:
Q-ty of hours x Dev's rate x Q-ty of Devs
3. Magento 2 adoption
At this stage, all the adoption is done. It means, that Magento website designers do everything to make the visual image of your site operate on Magento properly. Adoption is the most time-consuming stage, as well as one of the most important.
Then, all the special features are added in Magento. It is crucial for the developer to have a clear understanding of the website's logic, so everything turns out to operate well. Plugins and extensions are also added at this stage, as well as some custom modules if needed. Another important thing you have to know — the valid code is pretty important for SEO. So the better everything is done, the more chances you have to be highly ranked by Google.
Who: Frontend developer
How long: 150+ hours (full time)
How much: Q-ty of hours x Dev's rate x Q-ty of Devs
4. Additional work and costs
Unfortunately, it's still not the end. Good thing, you are at the finish line, however, there's still some work left as well as some additional expenses, you might not have thought before.
So, you'll need a backend developer on your project to cover the backend tasks on your site. Usually, it takes 40+ hours. His cost you can calculate by the formula above.
The project may take longer and even turn out to be not what you supposed to be if there's no project manager. Don't underestimate his value on the project, since he is that person, that takes away all the obstacles from the devs way, as well as takes care of keeping to the estimates and follows deadlines. He will be on the team the whole time, however, he usually gets paid not by hourly rate, but by the fixed price (% from the project cost).
Also, the total cost will also include expenses for extensions and custom solutions required. The content creation (photo shooting, retouching) will also need some extra budget. If you would like to use some extraordinary fonts you will need to pay for downloading them too.
All in all, custom design for Magento 2 website usually takes 3-4 month, depending on the amount of work, quantity of pages, need of extra customization.
Bonus tip:
The development company, that is going to provide you with the solution you need may not always include to the cost of the project such things as E-mail templates: transactional emails, order emails etc.
Extra bonus! UX Tips and Tricks for Category Page
Make parent categories available for selection & link them to a page
Use the same subcategory within multiple main categories if necessary
Create "What's New" category or filter
Don't use confusing (stupid) names
Optimize product filters
Use high-quality images, that are relevant to the content
Show review ratings
Minimize clutter on your category pages
Optimize your search
SEO optimize your category pages
We have a lot of tips more to share, so make sure you check out our next blog posts and see them all and figure out about how to make your website better!