The Guide to Shopify Plus: Benefits and Core Features
Ecommerce businesses often face the same troubles as they become more successful in various markets.
Their ecommerce solutions have a tough time processing increased traffic, the performance slows down, and the system simply can't ensure warm welcome across markets. Upgrading to a new, more powerful enterprise ecommerce platform is the answer, and with dozens of products, it's critical to learn as much as possible to make an informed decision.
Today, we'll discuss why you might want to upgrade to Shopify Plus.
There are a lot of Shopify Plus benefits your business can unlock — from broader customization to feature integration to automation. Of course, you want to know what industry will benefit from it the most, what advantages of Shopify Plus to expect, and how it differs from standard Shopify. And if you're considering switching to it, you'd want to know how to make this process friction-free. Find the answers in our Shopify Plus review below.
Let's start with the most important question.
What Businesses Will Benefit From Shopify Plus?
If you're a small DTC startup that just got into an exciting ecommerce journey, you may bookmark this article and get back when you have a proven vision of your product, market acceptance, and buyers. Because let's face the truth: Shopify Plus is expensive (starts from $2,000/mo if billed annually, excluding transaction costs).
However, if you're a long-time player in the ecommerce field with an already-established brand, loyal clients, and stable income, then considering a Shopify upgrade makes sense as it's a great tool to plan further growth.
Who will immediately reap the benefits of Shopify Plus?
Enterprise-level businesses
B2B companies
High-growth merchants (fashion, beauty, electronics, etc.)
Luxury brands (fashion, cars, jewelry)
With Shopify Plus, they'll get stellar ecommerce platform performance, customized design, and cross-team platform management to cater to the needs of thousands of customers worldwide.
But that's not the whole list of advantages. Let's discuss some more major Shopify Plus benefits for online stores.
The Main Benefits of Shopify Plus
A massive volume of customers shouldn't be an excuse for having a one-fit-all design or feature set, and the global enterprise selling internationally knows that customization and localization are paramount to becoming successful.
Read more: Functional and Non-Functional Requirements for eCommerce Website
But they also want a tool that would help cross-teams manage their tasks centralized but independently. And Shopify Plus can provide them with it. Here's how the users of Shopify Plus can benefit from the platform.
Design flexibility and customization
The look and performance of the website are essential if you want to keep your client. Shopify Plus offers you a wide selection of free and paid themes and, unlike its younger Shopify sibling, allows you to customize them through code (CSS or JavaScript).
Another Shopify Plus feature is that you can set up and customize your checkout page, adjusting not only the look but also functionality, like one-click checkout, coupon/code field, and other marketing tools. Plus, you'll be able to do A/B testing to see which theme performs better with your target audiences.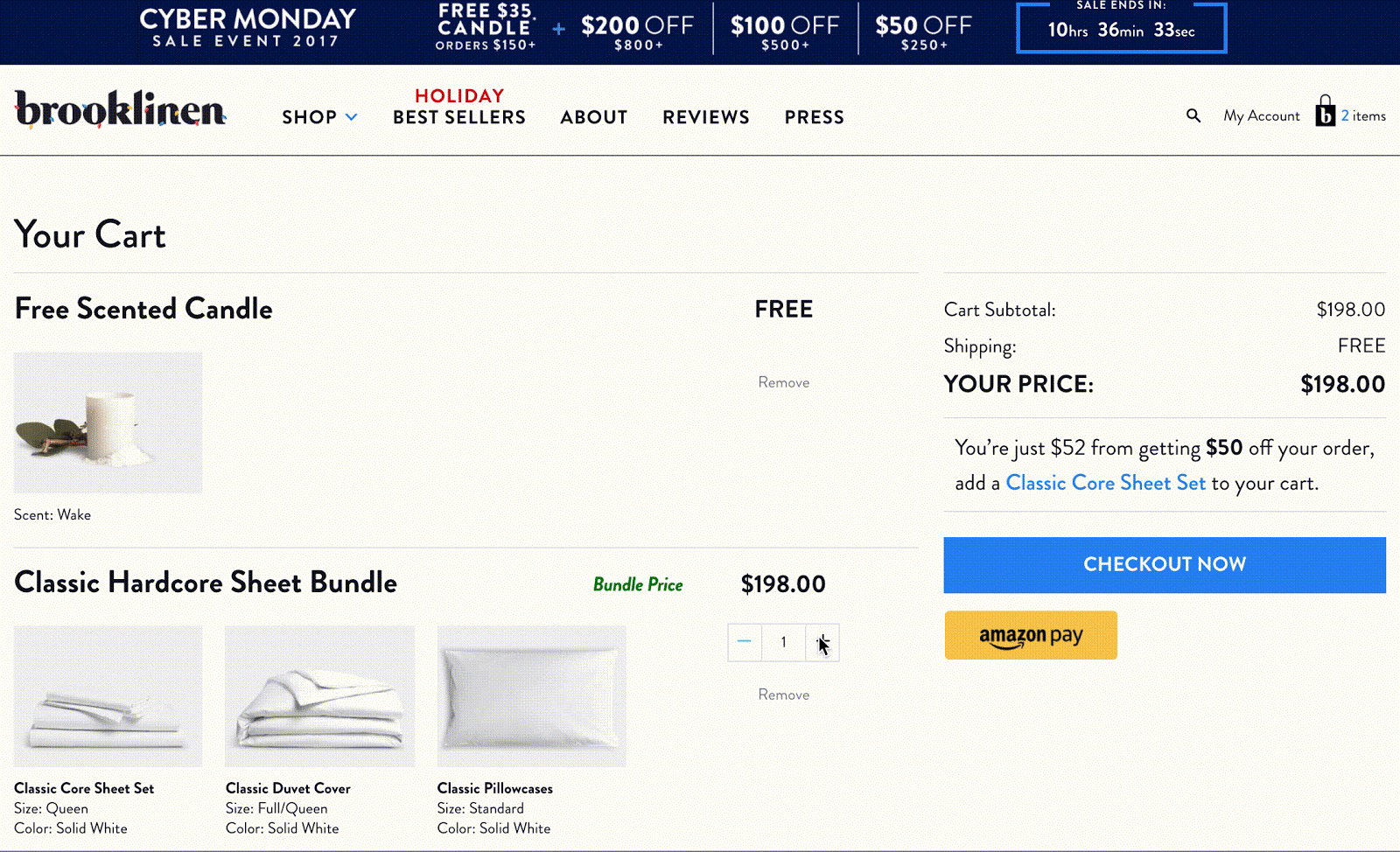 Keep in mind: While Shopify Plus has an edge compared to its regular Shopify plan, you'll still need to hire Shopify Plus developers to customize everything. Adding more custom fields to your checkout or integrating social media and additional payment methods won't be a problem, and you'll surely have more control over your checkout design.
However, for more specific integrations (like Google Maps for retailers from the MENA region) or a minimum order quantity rule (like Elogic did for Saudi Coffee Roasters), you'll need a development team to work around the SaaS platform limitations.
Access to the script editor and API integration
Shopify Plus doesn't offer theme management only — it's also customizable feature-wise. This option is unique to Shopify Plus. It allows you to run custom codes without using third-party tools. It also gives you greater control over the promo, special offers, and discounts a particular user gets.
But that's only a part of the deal.
Because it offers API integration, you can seamlessly add various plugins and tools into your infrastructure. There are a lot of useful solutions for tracking, shipping, accounting, customer service, and more. All that will help you personalize the experience for your clients worldwide worry-free. So when you compare the pros and cons of Shopify Plus, the script feature might be the one that will rule in favor of upgrading to this ecommerce platform.
Cross-platform selling
eBay, Etsy, Pinterest, etc. — all these marketplaces are great channels to sell your products, and if you already do multichannel commerce, you know how tough cross-platform management can be. One of the major Shopify Plus advantages is that it makes it simple. How so?
It offers various platform integrations, which means you can run a backend management of eBay or Etsy separately from different accounts while keeping it on the same platform. This offers greater management control and provides opportunities for in-depth cross-platform analytics and adjustments.
Optimized traffic processing
As an enterprise, you already have high ecommerce traffic that, during high seasons or peak days (like Black Friday or Christmas), can grow exponentially, especially if you launch a marketing campaign. Naturally, you want to manage the heavy traffic and make sure that discounts and deals are applied to specific products.
While Shopify Plus offers unlimited bandwidth to deal with sudden traffic upticks, it also has a tool that helps you manage the process. It's called Shopify Plus Launchpad. You can use it to:
Change visibility depending on the location
Lock your store to prevent traffic spikes
Set up captchas to fight bots
Manage scripts for upselling or cross-selling
The best part? You can do this optimization in real-time from a single panel.
Workflow automation with Shopify Flow
Routine and repetitive activities need automation to save time, decrease the risk of human error, and allow a lot of tasks to be performed in the background simultaneously.
Shopify Plus's exclusive feature called Shopify Flow makes it happen. It offers pre-built workflow scripts ready for set-up as well as the possibility to write your own based on specifications. Here are the workflows you can automate with Flow:
Purchase tracking
Email sequencing
Customer segmentation
Algorithm-powered product recommendation
This is one of the features of Shopify Plus that will help you streamline and automate complex operational processes and give your analytic teams better visibility and data to create effective business strategies.
Improved wholesale management
Since wholesale and retail businesses have different strategies and needs, separating their management is necessary. With Shopify Plus, you can operate your wholesale store from a designated account with the features needed for B2B businesses, like a custom quote, delivery and shipping set-up, quote calculator, etc.
Keep in mind: If you have both wholesale (B2B) and retail (B2C) shops or target different countries (let's say, Europe and the USA), you won't be able to manage your store under one administrative panel. Shopify Plus will have to log into different admin panels to handle each of these stores.
Read more: Magento 2 vs Shopify Plus: Impactful Differences Commerce Enterprises Should Know About
These advantages are handy when it comes to creating an ecommerce growth strategy. Let's review the Shopify Plus features that will become available after set up.
Features You Get by Upgrading to Shopify Plus
When you replatform to Shopify Plus, you'll unlock a different functionality of an ecommerce platform than standard Shopify offers. Let's review the Shopify Plus features that are worth the money.
API resources. Shopify API resources are available in specific Shopify plans, but Shopify Plus members have unique features that are Shopify-Plus only. They are Gift Card, Multipass, and User for REST, and publish and unpublish scripts in GraphQL to automate product listing.
Shopify organization admin. This option allows managing the stores from a single location in organizational-wide mode. It offers Users, Stores, and Shopify Flow settings to control, add, and modify users and stores, and also automate processes within stores and across the apps.
Specialized apps and channels. These features were specifically designed for high-growth channels. Enjoy Wholesale channel for B2B sales, Launchpad for traffic and product optimization, Script Editor to customize code and functionality, Bulk Account Inviter to activate customers' accounts, and Transporter app to import customer data during platform switching automatically.
Customizable checkout. With the checkout liquid design file, you can create a branded checkout page and improve brand awareness while giving people the checkout option they expect. Plus, you can add a Google Tag manager to sell products on Google.
Launch team support. Shopify Plus members are assigned a launch support team that assists with set-up, migration, online launch, and strategy.
Merchant success program. You can enroll your employees into the program and help them discover features that will help them operate your business more successfully and update their knowledge.
Unlimited staff accounts. If you can get from 2 to 15 staff accounts in other Shopify plans, with Shopify Plus, you'll have unlimited staff accounts. In this way, you'll have the technical base to grow your personnel and provide them with access and permissions based on their roles and responsibilities.
Permission control. Not every user should have the same access or permissions to do activities. Shopify Plus permission setting allows you to assign level-based permissions to your collaborators, partners, and admins, website-wide or app-by-app.
9 free expansion stores. Shopify Plus got you covered if you plan to localize, internationalize, and run your business in different physical locations.
Shopify Plus Partners. One of the underrated Shopify Plus benefits is its community of partners specializing in service or app management in various industries. Shopify Plus has special audit programs the partners should pass to receive certification and provide you with the best services.
Up to 100 custom themes. Shopify Plus allows you to have up to 100 active themes on your account. It gives you opportunities to test which one performs better, develop marketing campaigns and customize the site look for that, analyze the hot spots and remove unnecessary functionality to improve performance.
Free Shopify POS Pro. Businesses with Shopify Plus receive free access to the POS Pro tool that can be used for both online and brick-and-mortar stores. With POS Pro, you have advanced inventory management, daily sales reports from all locations, local pickup and delivery fulfillment, sales attribution, and all those standard features available to Shopify POS Lite users.
Shopify Plus Academy. This is a library of self-guided training on skills and techniques you can use to grow your business.
These features help Shopify Plus stand out from the crowd. Let's see how much they cost.
Shopify Plus Pricing
Shopify Plus starts at $2,000/mo annually. The final price, however, depends on your average sales volume, type of products and location, your business model, etc. For example, if your monthly sales volume is over $800,000, then you will be charged an additional 0.25% of each transaction.
Plus, if you don't use Shopify Pay as your payment processor, the platform will also charge 0.15% per transaction. If you do use Shopify Payment, you need to check the rates applied by card issuing systems, as they're based on the card type used for checkout (Visa, MasterCard, American Express) and not on location.
Read more: Payment Gateway Comparison: Price and Fees
What is included in Shopify Plus at no additional cost?
All necessary POS tools for any of your land-based stores and online platforms (other plans come with an $89/mo annual charge on top of the price plan)
Unlimited staff accounts
Up to 20 locations and languages
9 free expansion stores
Tax automation
24/7 merchant support
You can find more information and compare Shopify Plus to other Shopify plans here. Let's see what successful brands already enjoy the benefits of Shopify Plus.
Popular Brands that Use Shopify Plus
From news to sports apparel and cosmetics, Shopify Plus is a choice of businesses from different industries. Here are three examples of international companies whose ecommerce is built on Shopify Plus.
GymShark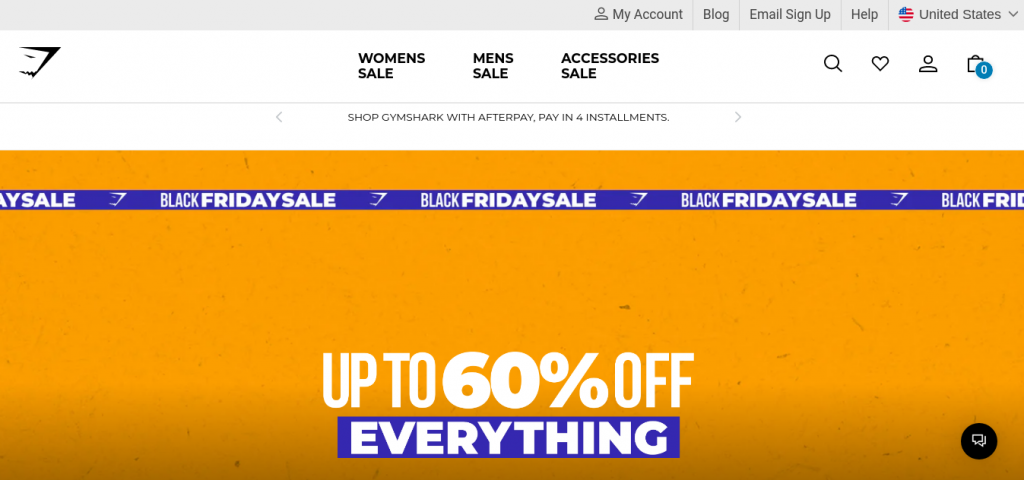 GymShark, a sports apparel and accessories company, is run on Shopify Plus. No wonder, as they are represented in 131 countries and partner with online retailers worldwide. They needed a platform that could support seamless international business processes, change themes depending on marketing campaigns, and handle international delivery.
BuzzFeed News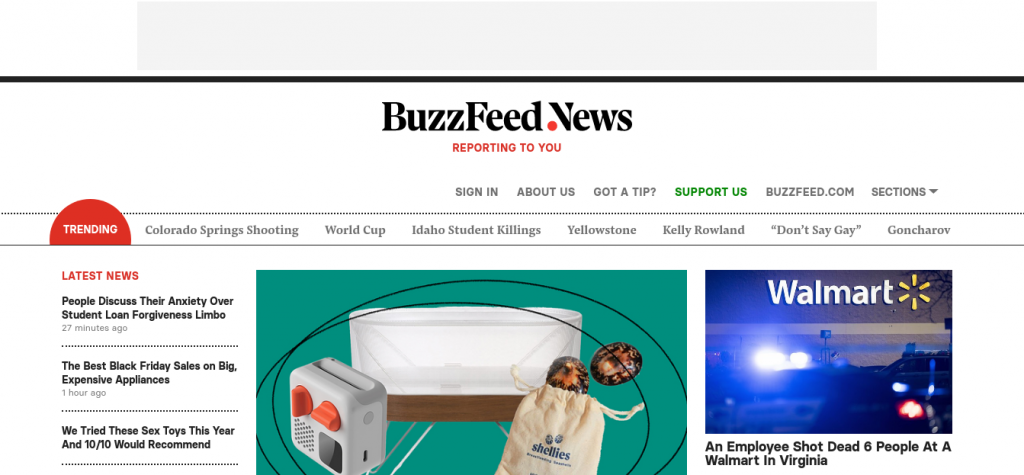 BuzzFeed News, an online news division of BuzzFeed, uses one of the biggest benefits of Shopify Plus — a customized theme and design solution. It helps them publish the news user-friendly and divide it into sections, so those interested in Culture or breaking news can easily read the whole coverage on the topic.
Read more: 10 Best Ecommerce Website Design Ideas for Your Inspiration
Kylie Cosmetics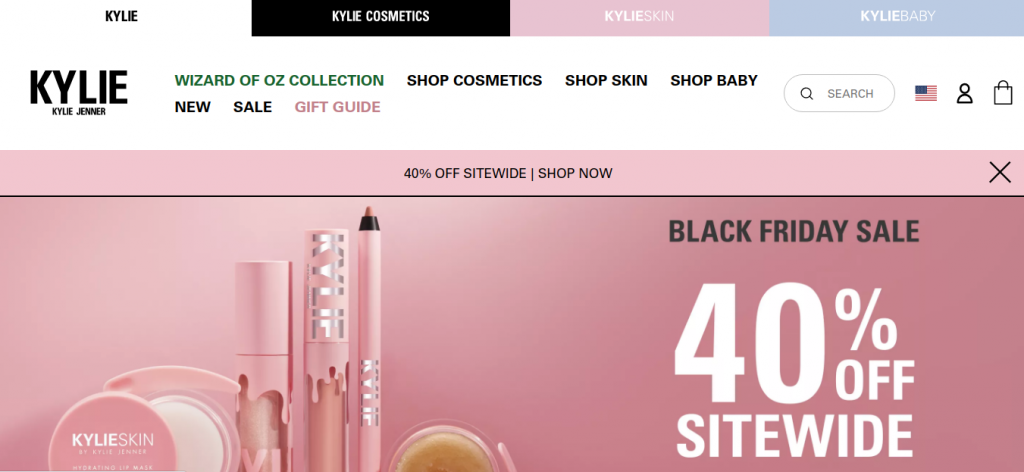 Another world-known brand to use Shopify Plus is Kylie Cosmetics. Since the brand has both online store, pop-ups at land-based shops, and a brick-and-mortar store, it needed a solution that would allow centralized management. And Shopify Plus is exactly the solution they chose for that. This brand nails the bundle and promo deals, and with Shopify Plus, they have a reliable platform to customize every marketing campaign.
These brands are just a few of those high-growing companies that need a flexible and powerful ecommerce platform. Are you ready to upgrade your platform, attract more clients, improve store management, and automate workflows? If your answer is yes, we have an offer for you.
Migrate to Shopify Plus with Elogic
Migrating or launching an ecommerce platform becomes easy with Elogic. With over 13 years of experience in ecommerce development, you will reap multiple benefits while partnering with Elogic:
A large pool of Shopify Plus developers: you can either hire an individual developer or the whole team to work on your project.
Proven record of success: let our reviews and portfolio with over 500 successfully launched projects speak for itself.
Flexible collaboration models: you can hire us part-time or full-time and pay on a time-and-material basis or a fixed price.
A free account or project manager: we'll supervise the development process and ensure you receive the highest-quality services on time.
Embark on a better ecommerce experience with a certified Shopify Plus Partner!
Book a call with the Elogic team today
Build a Shopify Plus store
Final thoughts
Switching to a more powerful ecommerce platform is essential if you're looking for the tools to implement your business strategies and remain a top player in the industry. And if you're looking for an enterprise-level platform that's easy to use and easy to maintain, Shopify Plus is the right choice.
Shopify Plus allows you to focus on scaling your business, not solving the tech side of it. With Shopify Plus benefits and exclusive features, you can streamline and automate routine processes, personalize the customer experience, sell and deliver worldwide worry-free, and connect with the specialists that can help elevate your business further. The only thing you need is a professional setup. And that's what we at Elogic do.
Our ecommerce development team is ready to consult you on the platform choice, set up a solution, deal with data transfer, and provide on-demand service and maintenance. In other words, we're an all-in-one team to power your Shopify Plus account with the necessary tools and programs that will help your team run business with confidence.
Contact us, and let's talk about your project!
Frequently asked questions
Does Shopify Plus have disadvantages?
Shopify Plus's largest drawback is its high upfront cost which can be a setback for many startups and small-to-medium businesses. Plus, you need Shopify Plus developers to configure and integrate all solutions necessary for your business.
Another disadvantage is that it doesn't allow listing specific products (like virtual or downloadable products), so not all industries will find it the best fit. It also has SKU quantity limits: you can initially download a max of 50,000 products and then add up to 1,000/day, which is not so convenient for marketplaces with large catalogs.
What is the difference between Shopify and Shopify Plus?
Shopify and Shopify Plus differ in their different functionality, feature set, and cost. Features of Shopify Plus are more suitable for enterprise-level businesses with complex level-based management, while standard Shopify plans are solutions for startups and SMBs. Here you can compare their feature sets and price plans to decide which one will work for you.
What are the Shopify Plus benefits for B2B?
Shopify Plus is a great choice for wholesale B2B businesses as it allows the company to distribute the management responsibilities across the teams and enable level-based access and permission. Plus, it offers a separate account for B2B merchants, where you can provide the partners with a custom quote calculator, templates, and catalog sharing.
How to understand when I should upgrade to Shopify Plus?
You should upgrade to Shopify Plus if your existing platform doesn't perform according to the demand and can't handle the traffic spikes. Plus, if you plan overseas market expansion, you should switch to Shopify Plus as it will help you handle inventory management, shopping, banking, currency exchange, support and returns.
Get in Touch
Looking for a partner to grow your business? We are the right company to bring your webstore to success.